Ellen Smith > Reynolds

1840-1935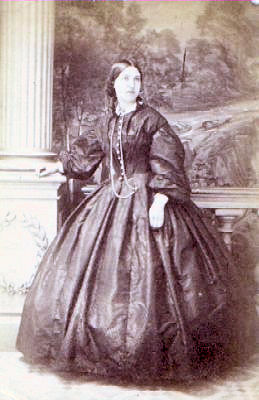 Ellen Smith - probably taken at about the time of her marriage
Father: Dolphin Smith (1805-1885)
Mother: Maria Atherton (1812-1903)
Born: 10th August 1840 at Ramsbury, Wilts.
Baptised: 8th September 1840 at Ramsbury, Wilts
Census: Ramsbury 1841: Oxford Street
Census: Sandridge 1851: Water End
Confirmation: Sandridge 30th April 1858
Census: Sandridge 1861: Farmer's Daughter, Water End Farm
Married: 8th November 1864 at Ayot St Peter, Herts
Husband: Jacob Reynolds (1835-1926)
Son: Harry Finch Reynolds (1865-1947) Born 27th August 1865 at Sandridge.
Daughter: Lizzie Gertrude Reynolds (1867-1952) Born 20th March 1867 at Sandridge. Married Cecil Scott in Sandridge in 1895
Son: Frank Ernest Reynolds (1869-1949) Born 1st January 1869 at Sandridge. Married Isabel Gibson Brough in Hawick in 1902
Son: Arthur John Reynolds (1870-1959) Born 18th August 1870 at Sandridge. Married Lily Barker in Kimpton in 1903
Census: Sandridge 1871: Hammonds Farm
Daughter: Rose Mary Reynolds (1872-1948) Born 15th July 1872 at Sandridge. Married Arthur Frank William Martin in St Albans in 1912
Daughter: Ellen Frances Reynolds (1875-1950) Born 19th December 1875 at Sandridge. Married Richard Thomas Grove in St Albans in 1904
Census: Sandridge 1881: Heath Farm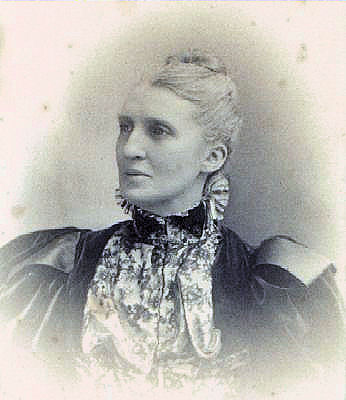 Ellen Smith - in her middle age
Census: St Albans 1901: Heath Farm See My Ancestors in the 1901 Census
Death: 31st December 1935 at 66 Sandridge Road, St Albans
Burial: 3rd January 1936 at Sandridge
To be completed - Add Will
If you can add to the information given above tell me.