SAYER, St Albans area, mid 19th century

June 2001
Courtnay Sayer (Courtnay.Sayer @t btinternet.com) told ENG-HERTFORDSHIRE-L My SAYER family has its roots in South Norfolk with one branch setting up home in Bungay, Suffolk. My Bungay great great grandfather made a will in 1848 naming as executor his brother William who was said to be a farmer of Winches in Hertfordshire. I have searched all my modern maps and the Hertfordshire county site on GENUKI and cannot find Winches anywhere - can someone on the list tell me where (or what) Winches is/are
A useful tool in such cases is the 1881 census CD with Viewer version 3, which allows you to search for any string. The string "Winches" does not occur but a search for "Winch & Farm & Hertford" came up with a Winch Farm House in the parish of St Peter, on the road between St Albans and Hatfield. A check on Andrew Dury's Map of 1766 shows Winches Farm on the road between the two towns. It is also marked on Bryant's 1822 map and a modern street map shows "Winches Farm Drive, St Albans" in the same place near Oaklands College.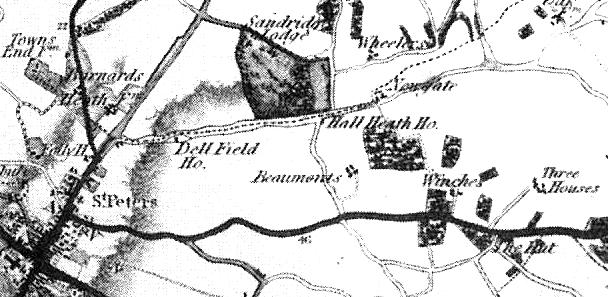 An extract from Bryant's 1822 map of Hertfordshire showing Winches to the north of the St Peters (St Albans) to Hatfield Road. Sandridge Lodge was a short-lived name for Marshalswick, and Bernards Heath (which I am researching) is in the north west of this map.
A look at the 1851 census transcript shows the following household, living at Hut Toll Gate, St Peters Parish, St Albans, in the right area (see "The Hut" on the above map) - no specific name for the farm property being given:
| | | | | | | |
| --- | --- | --- | --- | --- | --- | --- |
| William | Sayer | head | 55 | Farmer of 64 acres employing 4 labourers | Suffolk | Thwaite |
| Mary Ann | Sayer | wife | 46 | | Herts | St Albans |
| Richard | Sayer | nephew | 19 | saddler | South America | New Granada |
| Thomas | Calvert | nephew | 10 | scholar | Middlesex | London |
| Sophia | Webb | servant | 20 | servant | Herts | St Peters |
| William | Larford | servant | 18 | agricultural labourer | Herts | Smallford [St Peters] |
| Ephriam | Eames | servant | 15 | agricultural labourer | Herts | St Peters |
Interestingly there is another Sayer living not far away in the village of Sandridge, and listed in the 1851 census. He came from Harling, in the south of Norfolk, close to the Suffolk boundary, so may also be of interest to you:
| | | | | | | |
| --- | --- | --- | --- | --- | --- | --- |
| Robert | Sayer | head | 30 | bricklayer | Norfolk | Harling |
| Sarah | Sayer | wife | 30 | bricklayer's wife | Herts | Sandridge |
| Mary | Sayer | dau | 7 | scholar | Herts | Sandridge |
| Charles | Sayer | son | 5 | | Herts | Sandridge |
| Samuel | Sayer | son | 3 | | Herts | Sandridge |
| Charlotte | Sayer | dau | 1 | infant | Herts | Sandridge |
| Charles | Paul | brother-in-law | 21 | carpenter | Herts | Sandridge |
| William | Edmonds | lodger | 43 | labourer | Herts | Wheathampstead |
The 1862 Post Office Directory lists Robert Sayer of Sandridge as a "grocer and bricklayer".
A brief check of my press files reveals the following news item, published in the Herts Advertiser of 7th December 1861, which probably relates to the above Charles Sayer.
Joseph Walker, of St Albans, who did not appear, was charged with trespassing on lands at Beech Bottom, belonging to Earl Spencer, in the parish of Sandridge, in search of rabbits, on Tuesday, November 19th, and was convicted on the evidence of William Burgoine and Charles Sayer, of Sandridge. Ordered to pay fine and costs amounting to £1 4s 6d, or in default of immediate payment, to be imprisoned for one month, with hard labour
September 2002
Kathy Sayer (?) writes: I stumbled upon your reply to Courtnay Sayer when trying to plug a gap in my records of my Sayer family, also from South Norfolk (Thwaite). I know about the Bungay Sayers and guess Courtnay must be a relative.

The link re Hertfordshire is that Kelly's Directory for 1858 (?) lists my Great Great Grandfather, Daniel Wilby Sayer, as being the Miller at Pickford Mill, Wheathampstead. He was born in Rumburgh, Suffolk in 1832, married Elizabeth Gibbs of Abbots Langley in 1858. 3 of their 5 children wre born in Herts: Arthur Daniel in Abbots Langley, 1858; John Calvert and Minnie in Wheathampstead, in 1863. By 1865 the family had moved to Mapledurham where Daniel Wilby was the miller at the water mill.

I was puzzled by this foray into Herts but now expect that millers went were the jobs were available and his uncle William of Winch Farm (born 1795 Thwaite, brother to Daniel born 1803 Broome - Daniel Wilby's father) may have told him about a vacancy at Wheathampstead.

I am still looking for Pickford Mill. I recently visited the Mill in the main street at Wheathampstead but that is known as Batford (?)Mill. It must be somewhere else but is not marked on the OS map. Any help you can give will be much appreciated.
Thank you for the information, which I am passing on. If the trade directory lists your ancestor as Miller this would indicate that he was the principal at the mill, rather than merely an employee. However he may have rented, rather than owned the mill, or he may have been the agent who ran the mill for the owner.
Batford Mill is on the southern end of Harpenden (which at one time was included in the parish of Wheathampstead). Pickford Mill was a few hundred yards upstream in an area now surrounded by Harpenden. Pickford Mill was a paper mill in 1775 and continued in this role shortly after Shadrack Clark became bankrupt in 1849. The last reference to papermaking is in the 1851 census when Philip Weedon lived there. However it reverted to flour milling by the 1870's by George Bates who had introduced steam power by 1886, It later became a rubber factory. [Summary of information in Wheathampstead and Harpenden.] Your ancestor was presumably there at the time of the 1861 census.
October 2002
Courtnay Sayer (Courtnay.Sayer @t btinternet.com) sent some update information: Sometime ago I posted a question on the Herts List about an ancestor William SAYER who was said in a will to live at Winches in Herts and you very kindly provided me with data from the 1851 census return. That return showed that a Richard SAYER, nephew, was living with William at the time and his place of birth was said to be New Grenada, S. America. This information lead me to search for Richard's family and to cut a long story short this has lead to me making contact with SAYER relatives now living in Bogota, Columbia and others living in the USA. In September the Colombian family came to England and we held a reunion with others SAYER descendents living in Herts and Shropshire. All of this followed on from your kind help with solving the Winches connection and I would like to send grateful thanks from all off us who met up last month.
I am delighted that my advice has help to lead to a successful reunion.
November 2002
For the earlier history of Pickford Mill see VALLANCE, St Albans area, late 18th/19th centuries
Keith Burrell (kmoya @t i4free.co.nz) of New Zealand wrote: Have read your article on the Sayers. The re-union you mentioned was that of the Sayers in Shropham, Norfolk, of which I have a Thomas Sayer b 1796 in Shropham and married to Mary b 1798 They were all millers including their sons. Is this any relation?
December 2005
Peter Day (peterjday @t ntlworld.com) wrote: There is a reference to Winches Farm on this page. My g-g-g-g-grandfather lived at Winches Farm from late 1840/early 1841 to his death in 1845. I have found the farm on the 1766 map, and a lovely detailed estate map of 1827. The Tithe Map and Awards of 1840 show it to be tenanted by William Knight. Winches formed part of the estate of Thomas Foreman Gape and there is an auction catalogue of 1920 with further details of the farm. It was at this auction that the farm was sold out of the Gape Sttled Estates. One of the fields was known as "White Gate Field" and it was immediately adjacent to the Hut Toll Gate, and I strongly suspect that the "White Gate" referred to the tollgate across the Hatfield Road at this point. I was amazed to find that the farmhouse and one of the outbuildings still survives amidst the modern housing estate crammed onto the fields on the north side of Hatfield Road.
Thanks for the information. The Gape family were major property owners in the St Albans area over many generations.
If you can add to the information given above tell me.
Page updated December 2005