June Howlett
(
howlett @t wn.com.au
)of Cunderdin, Western Australia, says
I have been tracing the Rooke family back to Hertfordshire from Tasmania. Benjamin Henry Rooke was my husbands 2X GGfather. He fought in the Spanish war, he was when he retired a Lieutenant Colonel. His (Benjamin Henry) father was also a Benjamin Rooke as was his Grandfather. Benjamin Henry had broken with family tradition of becoming a Lawyer to go to war. I have the last will & testament of Benjamin Henry's grandfather dated December 1814 in which is mentioned property. I would be very grateful if you would know of what property is mentioned.
The will reads.. ------Lands, Tenements and Hereditaments in Hertford aforesaid, together with my (household/leasehold) property consisting of the parsonage house, garden and offices, glebe, land and tythes of the parishes of All Saints and Saint John's Hertford with the liberties of Brickendon and Little Amwell which I hold of the Reverend Mr. Orme(?) to hold the same unto and to the use of my son.....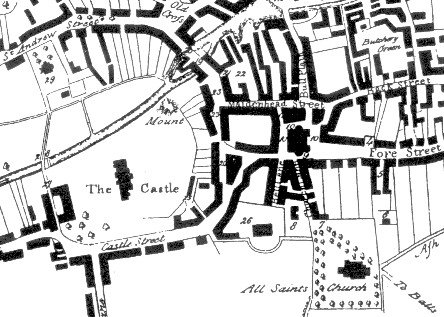 Detail of Lewis Turnor's "History of Hertford", 1830
as reprinted in the Victoria County History of Hertfordshire.
For lower resolution of whole map see Hertford
4 Site of Old Goal now the Shambles and Poultry Market
5 Chequers Yard
6 Hales Free Grammar School
7 Green Coat Charity School
8 All Saints Parsonage
9 Town Hall
10 Market Place
...
26 Bailey Hall
The will records that Benjamin Rooke held the parsonage of All Saints Church, Hertford, on a lease from the Reverend Robert Orme, vicar of All Saints. This immediately raises the question of where the Vicar was living - as the parsonage would have been associated with the church - and would not have been the Rev. Orme's personal property. The mystery is solved by a look at Cussans, which lists the dates of the ministers. This shows that Robert Orme became Vicar of All Saints, Hertford, on 7th June 1786, and remained in the post until his death. However, in addition he became Rector of the parish of Essendon (to the west of Hertford) on 11th December 1790. He is listed in living at Essendon in the 1839 Pigot's Directory, and was buried there on 23rd October 1843, aged 82. He obviously did not want both properties - so leased out the parsonage at Hertford.
A look at modern map shows that a new road has been built between the church and the town, but a check on multimap for Church Street, Hertford, shows that the building nearest the new road in called the "Old Vicarage" - so it is presumably the house.
Cussans also records details of memorials in All Saints Church - and gives the text of a tablet on the wall at the end of the North Transept:
Agnes Isabel, wife of B. P. Rooke, Esq., M.D., Director General Medical Department, Bombay, who was born in this parish, January 31st, 1811, and died at Bombay, July 15th, 1857
Unfortunately, after Cussans' book was published the church burnt down in 1891, and was totally rebuilt in 1895 - so I expect that the tablet was lost then.
Cussans does not mention any other Rooke memorials in Hertford, but the All Saint's Burial Register (as indexed on the National Burial Index) shows the following entries between 1800 and 1850:
16 Jan 1804 Mary Ann Pope ROOKE 3m
12 Mar 1808 Henry Kinder ROOKE 4m
22 Jan 1817 George ROOKE 18m
24 May 1818 William ROOKE 35
17 Jul 1821 Caroline ROOKE 3m
7 Feb 1823 Ann Kinder ROOKE 44
30 Oct 1823 Benjamin ROOKE 81
31 Dec 1849 Benjamin ROOKE 76
June says: I have found a mention to ROOKE on your site with a connection to Willian.
This is an extract from a trade directory - and I know no more about it than you - you should read the page Memorial Inscriptions.
June also says: I live in a very small country town and my only form of research is the Internet. Any advice at all would be appreciated.
I am well aware of the distances involved in Australia - and the size of the smaller towns - having spent a year down under. However your position is not as bad as you may think. A very significant amount of information is available to order on microfilm through LDS Family History Centres. Your nearest centre is at Northam - which I gather is about 58 km by road or rail from Cunderdin - and this is about the same distance I have to travel to consult exactly the same microfilms in Hertford - and I live in Hertfordshire! You can find the address and opening hours on familysearch.
August 2003
Anne Stevens nee Frost (anne_s @t vianet.ca) says that there is a reference to Rev. Orme in The Story of Essendon, written in 1975 by J.R. Steele and also a later book, Essendon, the Village On A Hill by 2000 The Essendon Society.
I do not have ready access to these books - so if anyone would like to do a review of either or both of them I would be happy to publish details on this site.
There are web pages for Hertford and Essendon
If you can add to the information given above tell me.