Pouchen End, Hemel Hempstead
16th to 19th century
September 2002
Bryan Mundy (bryan @t mundy.co.uk)of Pouchen End Hall, Hemel Hempstead, writes: I am very interested to know the history of my house. When it was first built, what it was before the extensive modification to the facia and building in 1864.
The starting place for such a search is the Victoria County History for Hertfordshire - which draws a blank - suggesting that it is not a historic manor house - or similar early building - although it may have been a less distinguished farmstead.
The next place to look is The Place-names of Hertfordshire, and this is more helpful. Its earliest reference is to Punchin End in 1598 (reference J. Norden, Hertfordiae Comitatus), Powchen End in 1617 (Halsey Estate Papers at HALS) and Pouchen End in 1623 (Miscellaneous Books, Land Revenue, PRO, volume 216).
A look at early Hertfordshire County Maps provides further clues. It is Punchin End on Seller's 1676 map (one of the earliest which shows sufficient detail) but not shown on Oliver's 1695 map. It is Pouchin End on Warburton's 1749 map and Pouching End in Bryant's map of 1822. Individual buildings are shown on Andrew Dury and John Andrews, large scale Map of Hertfordshire published in1766:-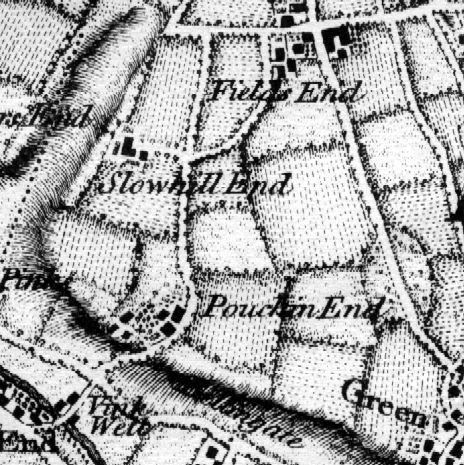 It is listed under Hemel Hempstead in the 1868 Post Office Directory for Hertfordshire - as Thomas Horsfall, Esq, Pouchen End. While it's absence from the 1860 directory possibly not significant (because this directory had poorer coverage than later editions) the fact that it was improved in 1864 could well be significant. [At about this time this time nearby Boxmoor was expanding rapidly to support the early commuters who travelled towards London to work, and a number of smaller country houses came "into existence" presumably for the same reason.]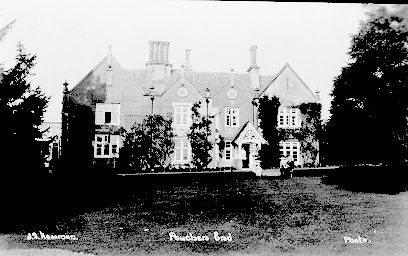 Early 20th century postcard of Pouchen End [Dacorum Heritage Trust]
The 1881 Census shows the James Nevill Fitt, a 47 year old living on funded property, was living at Nutfield Lodge, Pouchenend, with his wife and family, and there were two cottages, occupied by George Biggerstaff, ploughman, and Henry Hill, cowman, and their families.
It could be well worth looking at the early census returns (1841-1871) as has been done for nearby Chaulden House - see Chaulden House, Hemel Hempstead, 1766 onwards. For the earliest records you may have to try HALS, in Hertford.
September 2004
John Elliott (jcelliott @t kingedwardvi.devon.sch.uk) writes: With reference to Bryan Mundy's questions relating to Pouchen end. I believe My Great grandfather Samuel Taylor and his wife Mary Tweedale lived there up to his death in 1935. I am uncertain whether any of his children were born there. But I know my mother (Jean Daniell b1919) grew up there along with her sister Margaret and brother Roger. My Grand mother's name was Ellen Mary Taylor, but she was known as "Nellie"(1888-1967). She had a sister Irene who died young and a brother Roger who died in WW1. Her other brother was known as "Quinto" (1893-1975) since he was the fifth Samuel Taylor. They had connections with Argentina.
It is rumoured that Samuel Taylor Senior committed suicide believing he was bankrupt, presumably after the Wall Street Crash.
I did a quick check of Kelly's directories for Hertfordshire (published at about 4 year intervals). Samuel Taylor of Pouchen End is listed in 1912 and 1933 but not in 1908 or 1937.
I also checked the DHT web site, which contains the following entry under Bourne End:
Taylor, Lieutenant Roger Cecil, 7th South Staffordshire Regiment, of Pouchen End. Killed in action at Ypres on 4 October 1917. Age 20. Son of Samuel and Mary. Bard Cottage Cemetery.