Brenda Pembroke.(brenda.pembroke @t sky.com) of Ash Vale, Surrey, writes Samuel Goodman died in 1682/3 Hertford. He was a headmaster at Christs Hospital school. Unfortunately the records are quite burnt and don't indicate his age at death, so I can't work out his possible birth. Would there be another way to find out as I have three possible births, 2 in London and 1 in Hertford in 1625 In 1625 they have his name as Samwell.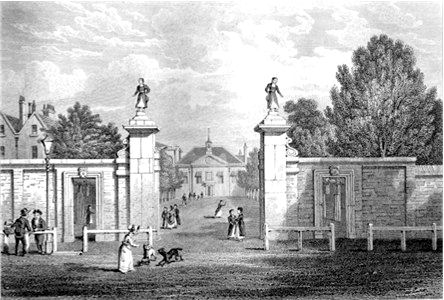 Entrance to the Hospital from Lewis Turnor's "History of Hertford", 1830
First a brief synopsis of the founding of the school in Hertford in the late 17th century. Christ's Hospital started in London and the Victoria County History records "Early in the sixteenth century the number of children admitted had overflowed the narrow limits of the Old Grey Friars in Newgate Street, [London,] which had become the Founding Hospital and school of Christ's Hospital. A branch establishment for a master and 140 boys had already been set up at Ware in the Place House there, which still shows a statue of a bluecoat boy in a niche of its front wall, though now let out to private tenants. In 1683 the foundation stone was laid of another overflow house at the east end of the town of Hertford. It was finished in 1695 and cost £5,235, an enormous sum in those days, almost entirely found by subscriptions. Two pillars flanking a handsome entrance gateway presented figures of a blue coat boy and a blue coat girl."
Chauncy, writing in 1700, gives a lengthy account of the foundation of the charity in London, but is frustratingly short of detail about the Hertford end - which is disappointing as he was on the relevant committees of the charity. Turnor, writing in 1830, in his History of Hertford, has a lot to say about the school, and gives the date of 1704 for the use of Place House, Ware - and an article in the Hertfordshire Countryside about Place House says that it was acquired by the Hospital in 1674, He includes the above print showing the entrance gates, but is mainly concerned with the 18th century. William Lempiere's A History of the Girls' School of Christ's Hospital, London, Hoddesdon and Hertford includes a transcript written by Chauncy in 1680 about the purchase of the land on which the Hertford school was built. It also names the carpenter (W. Atwell) and bricklayer (W. Ginger) involved in building the nurses accommodation in 1693 and 1694 and includes a transcripts of some relevant accounts. The first matron at Hertford is listed as Mrs Pricilla Moss in 1707.
The above information immediately raises a problem. The Samuel Goodman who you say was buried at Hertford in 1682/3 died several years before the school had been built in the town, so he cannot have been a Christ's Hospital master at Hertford. However he might have been from Christ's Hospital, Moorgate Street, London, visiting Hertford to inspect the site of the proposed building. If this is the case he would only have a very fleeting connection with Hertfordshire - so it is not very likely he was born in Hertford or that there would be other mention of him in Hertfordshire records. (Of course, if the Samuel Goodman buried in 1682 had no connection with Christ's Hospital he could well have been born in Hertford and may be the one whose baptism you found in 1625. See Right Name, Wrong Body?)
Your best bet is to see if you can locate further information about Christ's Hospital to see what mention they make of Samuel Goodman. It is clear that Lempiere (who had been deputy clerk at the Hospital) had access to many original manuscript documents from around 1680 when he wrote his book in 1924. These were presumably in the Hospital's own archive - and may still be there. In addition there are a considerable number of books relating to the Hospital - and you should try the Guildhall Library in the City, the Society of Genealogists, the London Metropolitan Archives, and possibly the British Library as well. There may also be specific information at HALS, in Hertford.
October 2010
Brenda Pembroke.(brenda.pembroke @t sky.com) writes again saying: I have a book which indicates Samuel was a headmaster, appointed in 1674 in Hertford. He was the second head after an Aaron Peters. He may not have died in 1682, but his appointment did. He was married, as his wife helped him at the school. The book I have is "Christ's Hospital" by G. A. T. Allan, revised by J. E. Morpurgo. Can you help?
Your mention of Aaron Peters leads me to the following passage in A History of the Girls' School of Christ's Hospital, London, Hoddesdon and Hertford:

As Hertford was destined to become eventually the permanent home of the Girls, let us turn to the beginnings of the establishment there which was originally intended for little boys.

No Master's name is given until 1656, when, at a visit by the Treasurer (Richard Glyd) and Colonel Bromfield, they arranged that 22 boys should go to a School kept by Mr Aaron Peter (or Peters) at 2d. per week each to be paid quarterly. 12d. per quarter was thought too little the previous year.

In 1674 it was ordered

that no child be admitted under 7 years of age, and that all children that hereafter shalbe admitted, if there be not room in this Hospital to receive them, be sent to nurse at Hartford or Ware where there are School Masters to teach and instruct them, and not permitted to stay in London with their parents or others, who may suffer the said Children to runn up and downe streates in this Citty, dirty and nasty, to the great discredit of this Hospital.

This was a most important order, for in the first place it stopped the admission of actual infants; and in the second place it abolished the system of allowing children to remain "at Nurse" in London.

These were decided advances, but the system of sending young children living with Nurses far from home to Schools over which the Governors had no control could never have been satisfactory.

. To overcome the educational difficulty the Governors resolved in 1680 to provide a School of their own. Tidings of this reached Mr (afterwards Sir) Henry Chauncey, a Barrister residing near Hertford, and he wrote the following letter to Mr Parrey, the Clerk of Christ's Hospital".:
This shows that there was a school at Hertford in 1656, with a headmaster called Aaron Peters, to which Christ's Hospital farmed out boys "at Nurse" at 2d a week, which it could not accommodate in the London Hospital, The book comments that "the system of sending young children living with Nurses far from home to Schools over which the Governors had no control could never have been satisfactory".
I don't have access to Allan's book "Christ's Hospital" (first edition published in 1937) but my interpretation of the above extract from Lempiere's book is that the Christ's Hospital School at Hertford was built in 1683 because the Charity did not want their boys looked after in a school provided by someone else. Much depends on the meaning of the word "appointment" when you say that Samuel Goodman was appointed headmaster in 1674.
My guess is that Samuel became headmaster (and possibly owner) of the school at which Aaron Peters had been headmaster (and possible owner) and the Governors of Christ's Hospital confirmed previous the contractual arrangements. On this basis Samuel would not have been a headmaster of Christ's Hospital School in Hertford (your original question) because he was dead, or his contract terminated, before the school at Hertford was founded. However he may well have had boys from Christ's Hospital in his school. In these circumstances he is more likely to have a background linked to Hertfordshire than to London,
In this context one would expect Samuel (who presumably could read and write) to come from a family of some status, There are several wills for Goodman at HALS (though none for Samuel), including two maltsters Richard Goodman in 1664, and James Goodman in 1679. Much depends on why you are interested in Samuel and how much effort you are prepared to put into the search.
If you can add to the information given above tell me.