SPARROW, Christs Hospital, Hertford, 1822
September, 2005
Eunice and Ron Shanahan (ears @t gil.com.au) of Queensland Australia have a web site http://www.home.gil.com.au/~ears/index.html which contains many example of old English letters with helpful commentaries. At the time of writing none of these letters relate to Hertfordshire but Eunice sent me details of the following letter, from A. Sparrow of Christ's Hospital, Hertford, to Mr Royde of Newgate Street, London, dated 24th January, 1822, asking if I could identify the people involved.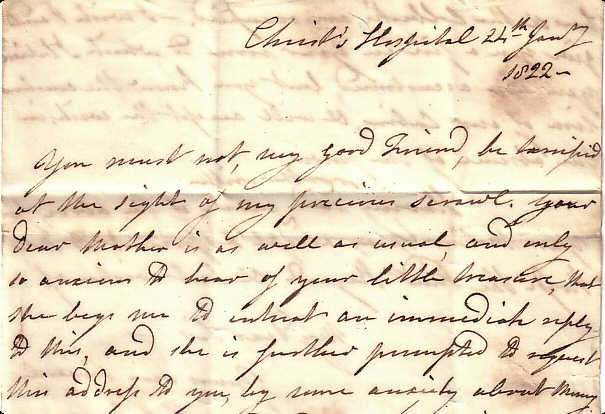 Christ's Hospital 24th Jany
1822
You must not my very good Friend be horrified at the sight of my precious scrawl. Dear Mother was well as usual and only so anxious to hear of your little treasure, that she begs me to instruct and immediate reply to this, and she is further prompted to request this address to you, by some anxiety about money that was transmitted to you early in last week, of which the Colbecks have received an account that it reached you. In addition to the above I know that she experiences much serious solicitude for your own health, and will become very uneasy if you do not write or come.

I hope that you recollect that there will be a well-aired bed, if you prefer the latter, though hers and the Colbecks are occupied - I wish I could give you a fire in your room, to which I believe you are accustomed but you know the <condition/construction?> of our cabins and will accept the wish in the absence of the power.

Having said, or rather written much of the above for your mother, pray accept & present to Mrs Royde the kind regards and best wishes of
my dear sir
yours very sincerely
A. Sparrow

If Mrs Hopkins is still with you, pray wish kind remembrances, assure her of my best thanks for her great attention to a poor fidgetting traveller
On the outside there is a note written in a different hand
W. Royde letter from A Sparrow, Mrs Royde anxious to know the fate of £30 sent last week before the date of this
24th January Christ's Hospital
Mrs Royde very anxious about poor Mrs Royde's health.
A check of the book A History of the Girl's School of Christ's Hospital, London, Hoddesdon and Hertford produced the following extracts relating to the Hospital at Hertford appear to be relevant:
On the death of Mrs Elizabeth Duncomb in 1787 Miss Richardson was promoted. She only lived until 1793, when Miss Ann Sparrow, the Under Mistress took her place. [page 35]

As the Masters were not concerned in the care and management of the children outside their classrooms, the very important Office of Steward was created. His duties were to ward all the boys on admission and to keep a list of their names, ages, etc., and of the names of the girls. [page 37]

Mr Royde, the Writing Master, was relieved of part of his duties - though retaining the instruction of the girls in Writing - and was appointed Steward. His wife was appointed Matron to superintend the Nurses, etc., and a resident Cook was chosen. [page 38]

Then on a representation in 1817 from Miss Sparrow, the Head Mistress, that "the girls have not sufficient recreation for play and exercise," it was resolved, on her recommendation, that their work "be limited to the whole of the linen for the children at Hertford and to boys' bands both for London and Hertford." Also that instead of whole-day holidays (which occurred at irregular intervals) the girls should be allowed, at the Upper Mistress' descrecion, two afternoon holidays. [page 39]

Miss Thompson was promoted to the post of Upper Mistress on the resignation, after 37 years' service, of Miss Sparrow, who had become blind. [page 40]
The appendix lists the following appointments:
Head Mistress: 1793 Miss Ann Sparrow (succeeded 1826)

Steward: 1800 Mr Stephen James Royde (succeeded 1803)

Medical Officer: 1803 Mr Thomas Colbeck (succeeded 1834)
To fill in some more details I checked the National Burial Index. An Ann Sparrow (no age given) was buried at All Saints, Hertford on 12th September, 1842
A Stephen Joseph Royd (aged 58 - almost certainly the same person as "Stephen James Royde") was buried at All Saints, Hertford on 31 May 1803, while a Mary Royde (82) was buried at All Saints, Hertford on 10 January 1823.
Guessing that the W. Royde on the note on the outside of the letter might have been a Mr William Royde, son of Stephen, I looked for and found:
William Raffles Royde baptised on 3rd April 1774 at St Nicholas Cole Abbey, London, son of Stephen Joseph and Mary Royde. Familysearch then showed 10 christenings for these parents at this parish between 1768 (Jospeph William Royde) and 1782 (Charlotte Royde). In the same parish Stephen Joseph Royde married Mary Lutwyche on 3rd May, 1767.
So the following are likely conclusions on the letter.
The comment on the "precious scrawl" may well relate to the fact that Ann Sparrow resigned from her post because of blindness in 1826, and her sight - and hence handwriting - could have been failing badly by 1822.
The worried Mrs Royde who sent money to her son, Mr Royde, in Newgate Street, London was almost certainly the elderly Mary Royde (who had been Matron at the Hospital) who died in 1823. Stephen Joseph Royde was her husband, former Steward at the Hospital who died in 1803, and father of the Mr ?(William Raffles) Royde, in London.
Mr Royde, in London, was apparently married ("& present to Mrs Royde the kind regards") and maybe "your little treasure" was a grandchild.
The Colbeck reference is almost certainly to Mr Thomas Colbeck, who was medical officer at the time.