Brenda Owen
(
Brenda @t owennet.freeserve.co.uk
) of Welwyn Garden City writes:
Information Known: 1871 Census RG10/1373 Hertfordshire/St John/County Prison. George HODGE. Prisoner-unmarried age 20. Agricultural labourer . Born. Herts Cheshunt. George was married the following year March 1872. I have traced my Hodge family back to 1787 in Cheshunt.

How do I find out where the prison is? I have looked on the maps I have of the area. Also how do I find out when and what he was imprisoned for?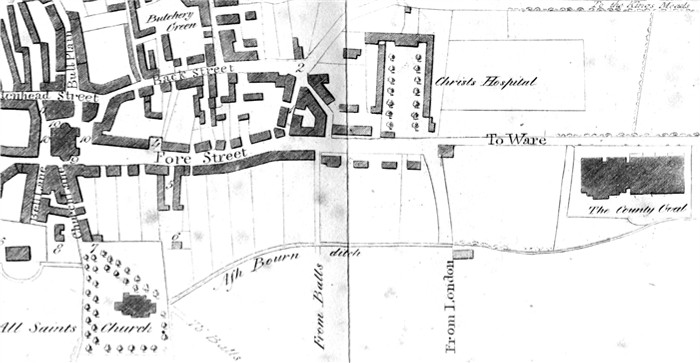 Detail from 1830 map of Hertford - showing the Goal on the Ware Road.
From Turnor's History of Hertford
At the time your George Hodge was in the County Prison at Hertford a new prison was being built at St Albans. I don't know when the prisoners were transferred from Hertford to St Albans - but it is possible he was moved there during his sentence.
There are three likely sources of information, assuming he was tried in Hertfordshire.:
Court Records - HALS definitely hold earlier records - and I am pretty certain that they will have the relevant records.
Press Reports - Once you know the date of the trial you may well find an account of the trial in the local press. If the trial was in Hertford it could well have been covered by the Hertfordshire Mercury (copy HALS).
Prison Records - If the above fail there should be records of his imprisonment. I have never used such records - but believe that they are at the Public Records Office at Kew.
It may be that he was only in prison for a short time, and for instance a poacher might get a sentence of one month's hard labour. You may find Simon Walker's books Crime in Hertfordshire of interest.
There is a web page for Hertford
If you can add to the information given above tell me.