Martin Morris (martin.morris @t telia.com) in Sweden writes: My mother's family Overell (William) came from the Aspenden area. Lived at Tannis Court Farm at least up to end 1800's. Not sure when they arrived or left exactly; probably beginning 1900's. I believe they farmed 4 or 5 neighbouring farms. The church at Aspenden has many Overell graves. I don't get over often, based abroad for work. Have you any idea when Overell's arrived in the area? I do not know if they owned the farms. My grandpa WJF Overell was born at T C Farm.
First little about Tannis Court Farm.

The name is believed to be related to a Lucas Taney and Peter de Thaney who lived in Aspenden in the 13th century. [The Place-names of Hertfordshire]

The ownership of the manor of Tannis (also written Tanneys and Tawnys) is documented between 1424 and 1609 in the Victoria County History for Hertfordshire.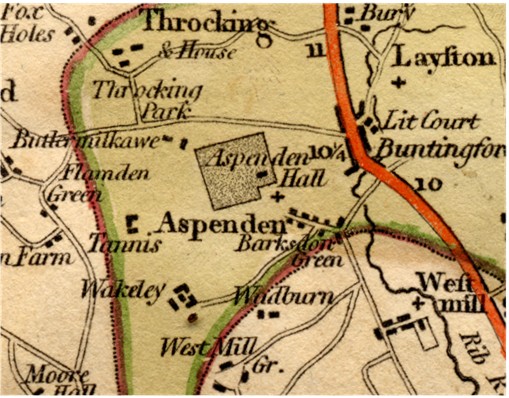 from Charles Smith's map of Hertfordshire, 1808
Cussans, in his History of Hertfordshire, does not mention Tannis - but I notice that a Mr W. Overell was farmer at Wakeley when the book was written (Edwintree volume published 1872).
Then OVERELL - and likely spelling variations - such as OVERALL and OVERILL and perhaps OVERHALL
The fact that you are in Sweden is not a major handicap at this stage of your research as significant information is available throughout the world - as follows:.

Online: familysearch indexes extensive records of baptisms and marriages - mainly prior to 1837. Ancestry provides access to the 1851 to 1901 censuses and, for example the 1851 census shows that William Overell (14) and Charles Overell (13) were at a school in Puckeridge and were recorded as being born at Tannis, Herts". For information about accessing these web sites online see the Tutorial.

A number of Hertfordshire trade directories are available online.

There may also be relevant information on FreeBMD, Rootsweb and GenUKI (and other sites).

Purchase materials: The most relevant are likely to be the Hertfordshire Burial Index 1800-1850 and the militia lists for Aspenden - both from the Hertfordshire Family History Society.

Through the LDS Family History Centres: (there are 25 in Sweden - see familysearch for addresses). Here you can arrange to see microfilms of a wide range of documents on microfilm, including the Aspenden parish registers and the 1841 census (not yet available for Hertfordshire online.)
The above should keep you busy for some time, and mean that you are well prepared to make the most of any periods in England by concentrating on the things you can't do in Sweden.
If you can add to the information given above tell me.