Robin Stemp
(
stemp39 @t waitrose.com
) of Cambridge writes:
I am trying to find information on the Revd. John Sutton, 3rd son of Robert Sutton Esq., of Rossway. he married Emma Fardell, a collateral ancestor of mine in 1839. Do you know where the Suttons lived in Rossway? John Sutton became the Rector of Reepham, Lincolnshire, then he died sometime before 1856, when Emma married again.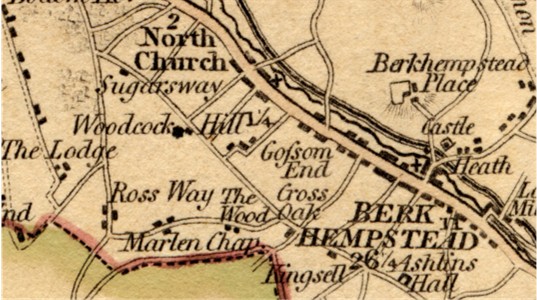 Rossway is a large county house, in the parish of Northchurch, to the west of Berkhamsted, close to the Buckinghamshire border - as Charles Smith's map of 1808 shows. The earliest records show it was a small manor in 1432 but became a sizeable country seat. It was purchased by Robert Sutton, a London mercer in 1802 who had enlarged the estate to 570 acres by the time of his death in 1848. The estate (and house) were sold in 1863. Details of its history are given in Scot Hastie's Berkhamsted: An Illustrated History, and there is a picture of the house as rebuilt in 1865-67 in A Hertfordshire Valley.
Robert Sutton is listed as being at Rossway in the 1839 Pigot's Directory (under Berkhamsted). In the 1851 census Wadham Locke Sutton (unmarried merchant, 35, born Highgate, Middlesex) was living at Rossway with three resident servants and a gamekeeper in a nearby cottage. Cussans' History of Hertfordshire that Wadham Locke Sutton was Robert's youngest son so he must have been a brother of the Rev. John Sutton.
You don't say what sources you have already checked for information about John Sutton, apart from, presumably, the marriage certificate. I have not checked the 1841 census for Northchurch which may contain a reference but as he was born in Finsbury, Middlesex, (Ancestry 1851 census), had presumably trained for the ministry in either Oxford or Cambridge University before 1841, and lived in Lincolnshire where he married a Lincolnshire girl, I would not expect there to be many, if any, specifically Hertfordshire sources of information about him.
There is a web page for Northchurch
If you can add to the information given above tell me.