John Seller's Map of
Hertfordshire
1676
| | | |
| --- | --- | --- |
| | | This illustration of the 1694 map comes from the online catalogue of the Gillmark Gallery, 25 Parliament Square, Hertford, who priced it at £75 in March 2001. |
John Seller was a map seller in London from about 1660 until his death in 1697. His County map of 1676 is reproduced in Four County Maps of Hertfordshire at a scale of approximately 2.4 inches to the mile and while the map bears his name as publisher it is a new survey, probably carried out by John Oliver and engraved by Richard Palmer. More information about the map is given in Printed Maps of Hertfordshire.
For the parish of Sandridge the map shows: Sandrig, Marshall Wick, Sandridg Bury, Hill End, No Mans Land House, plus three windmills on Bernards Heath (unnamed)
The survey was used as the basis of a later map which in 1694 was published in an atlas "Anglia contracta, or a description of the kingdom of England & principality of Wales ... in several new mapps of all the countyes therein contained by John Seller ..."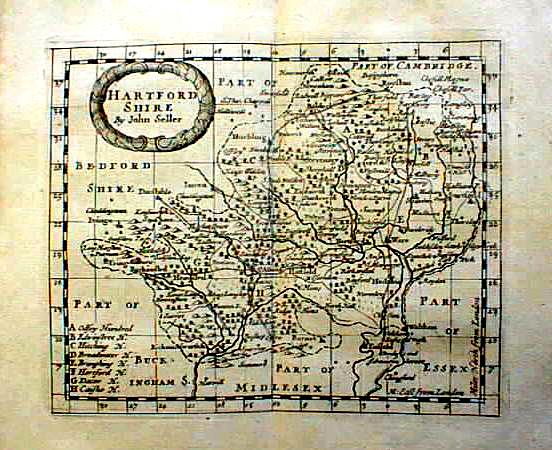 The above illustration of the 1694 map comes from the online catalogue of the Gillmark Gallery, 25 Parliament Square, Hertford, who priced it at £75 in March 2001.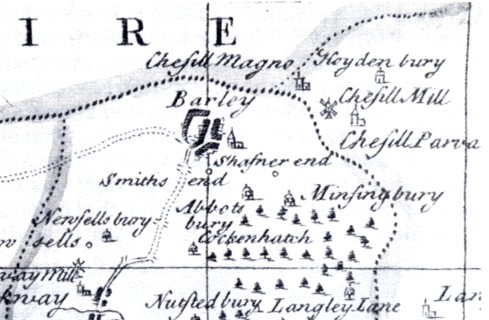 Detail showing Barley (reproduced from Old Windmills of Chishill)
Page updated March 2006