Sources of Information on
Bishops Stortford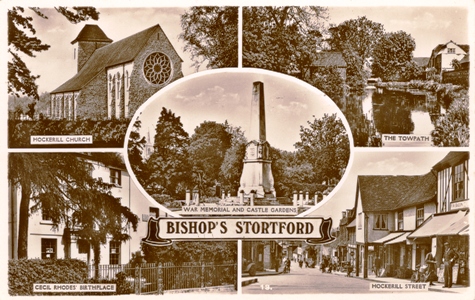 Book: Violet Sparrow has written the following books: Remember [Bishops] Stortford; The Book of Bishop's Stortford & Sawbridgeworth: Yesterday's Stortford: Bishop's Stortford in old picture postcards: Wish Your were Here ... Bishop's Stortford: Bishop's Stortford, A Pictorial History
Books with Frith Photographs: Bishops Stortford A Photographic history; So You Think You Know Bishops Stortford; Bishops Stortford, An Illustrated Miscellany; Walk Around Historic Bishops Stortford
Book: Bishops Stortford and its Story
Book: Bishop's Stortford - A Short History
Book: Peace, War and Afterwards - includes letters by a soldier billeted in the town in 1915.
Book: Bishop's Stortford College, 1868-1968
Book: Early Churchwardens' Accounts of Bishops Stortford, 1431-1558
Book: In Praise of Bishop's Stortford. 20th century drawings, etc.
Suzanne Woolner (sdwoolner @t hotmail.com)has written mentioning Bishop's Stortford and Sawbridgworth in Old Photographs by W. J. Wright (published by Budding Books in 2001 - many second hand copies available)
Local Paper: Herts & Essex Observer
Web: Bishops Stortford and Thorley - A History and Guide - A very useful site with 150 pages and 750 photographs.
Web: Bishops Stortford - Town web site with a little local history
Web: Rhodes Arts Complex and Bishop's Stortford Museum
Web: The East Herts District Council web page also contain a page containing some historical information, and links to other possibly relevant web sites.
Web: The History of the Workhouse contains significant information about the workhouse.
See also Vital Records
If you know of other books, websites, etc, relating to this place, please tell me.
Page created October 2007