Brent Pelham
Adjacent Parishes: Anstey, Berden (Essex), Clavering (Essex), Furneux Pelham, Great Hormead, Meesden, Stocking Pelham
It is in Edwinstree Hundred and the Bishop Stortford Union
Brent Pelham Church from Highways & Byways in Hertfordshire
At the time of the Domesday Book there is a single reference to Pelham but by the end of the 12th century the three villages Brent Pelham, Furneaux Pelham and Stocking Pelham can be identified. Brent Pelham had three manors. There was the manor of Brent Pelham (also known as Greys), the manor of Chamberlyns and the manor of Beeches. The history of these manors is described in the Victoria County History for Hertfordshire.
BRENT PELHAM (1 mile from Essex border and S miles E. from Buntingford) is an interesting village, formerly called Burnt Pelham because, as tradition states, both village and church were destroyed by fire during the reign of Henry I. Traces of the fire existed in the days of Norden (circa 1548-1626) The church — near which the old stocks may still be seen — is Early English, with the embattled western tower so frequent in Herts. It is locally famous for a tomb in the N. wall, said to mark the resting-place of one Piers Shonkes, a serpent slayer who lived in the time of William I. The tomb bears some allegorical figures, which have been the subject of diverse interpretations. Pelham Hall (E. E. Barclay, Esq.), "a alight but well contrived House in this Mannor, near the Church," was built in 1620 by one Edward Newport. It was once owned by the Floyers or Flyers, a family to whose memory there are several memorials in the church.
Hertfordshire Little Guide 1903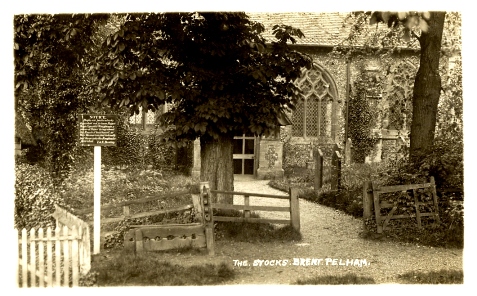 The Stocks, Brent Pelham (undated post card)
Brent Pelham (6 miles N.E.) was formerly called Burnt Pelham owing to a devastating fire here in the reign of Henry I. The Hall, built in the early 17th century, has Jacobean panelling. The Beeches, of similar dating, was the original manor house. The village stocks and whipping post may still be seen near the church which is an ancient structure. Here is an interesting tomb, said to be that of Piers Shonks, the dragon slayer.
This small and picturesque village is the centre of the Puckeridge Hunt and the kennels are located here.
Braughing Rural District Official Guide 1971
Brent Pelham Hall

posted in 1908
Web: There is a web site for The Pelhams.
Some modern pictures of Brent Pelham on Geograph


by Simon Judd

by Richard Thomas

by Robert Edwards

by John Salmon

by John Salmon
WILLS: This parish was in the peculiar of the Dean and Chapter of St Pauls Cathedral and this means that wills before 1845 are held in the Guildhall Library, in the City of London. There is a card index at HALS. See Wills at Hertford, 1415-1858
See also Vital Records
If you know of other books, websites, etc, relating to this place, please tell me.
Page updated December 2007