Hunsdon is in a fertile part of the county, 22 miles from London, 5 miles west of Sawbridgeworth and 7 miles east offrom Hertford; 5 miles from Ware station south-east, and 2½ miles from Roydon station, and 3 from St Margaret's station. The church, situated on an eminence near Hunsdon House, contains several handsome monuments, and a curious mural brass of a huntsman, The living is a rectory; the incumbent is the Rev. Richard William Thackeray. There are two of the family of Calverts residing here, who own the principal part of the property of the parish, one of whom is the proprietor of Hundson House, originally the property and residence of Cary, Lord Hunsdon, cousin to Queen Elizabeth, and also a residence of that Queen, Queen Mary, and Edward VI. The area in acres is 1,866; the population in 1841 was 430, and the Income Tax assessment in 1842, £2,774.
Post Office Directory, 1851
---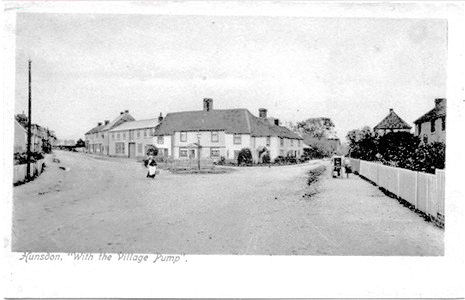 Hunsdon "with the Village Pump"
Hatfield Series post card - probably 1905-10 - While the pump cannot be clearly seen a woman is carrying a bucket of water away from it.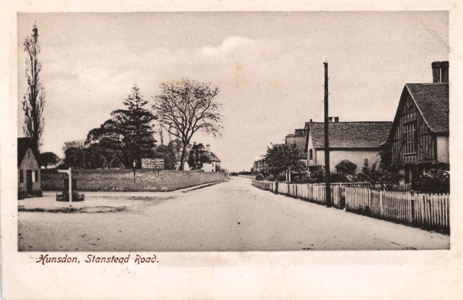 Stanstead Road, Hunsdon
Hatfield Series post card No 38 -- probably 1905-10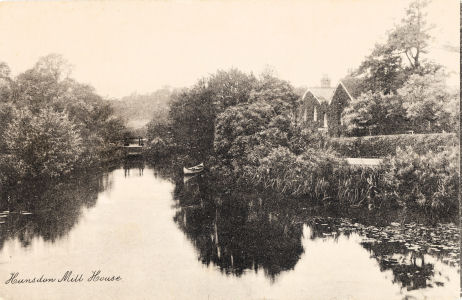 Hunsdon Mill House
Published by C. J. Lilley, General Stores, Hunsdon, Herts
---
Books
---
Web Sites
www.hunsdon.org.uk includes significant information - including searchable transcripts of the parish registers.
Royal Hunting Days at Hunsdon - an attractive walk round the old Hunsdon House estate and the village.