Ippollitts or St Ippolyts, is a place name which is very prone to being mispelt and the village on modern maps (St. Ippollitts) is spelt differently to the dedication of the church (St. Ippolyts). The following place names from the 1881 census almost certainly all refer to it:

Iplits | Ipolits | Ipollitts | Ipollyts | Ipolytes | Ipolyts | Ippatyts | Ipplits | Ipployts | Ipplyts | Ippolett | Ippoletts | Ippolits | Ippolitss | Ippolits | Ippolitss | Ippolitts | Ippollit | Ippollits | Ippollitts | Ippollyts | Ippollytts | Ippololits | Ippolts | Ippolytis | Ippolyts | Ippolytts | Ippoplitts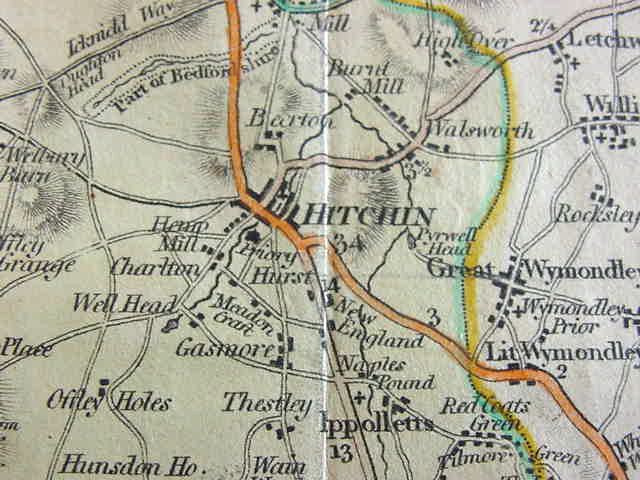 Detail from Charles Smith's map of Hertfordshire (1808 edition)

St Ippolyts Church
Frith postcard 49745A - Photographed 1903
IPPOLITTS, a parish in the hundred of Hitchin and Pirton, county of Hertford, 1½ mile (S.E by S.) from Hitchin, containing 671 inhabitants. The living is a vicarage, united with Great Wymondley in 1685, in the archdeaconary of Huntingdon, and diocese of Lincoln, rated in the king's books at £11. The church, dedicated to St. Hippolytus, has at the western end a square tower, embattled, and surmounted by a short spire: adjoining the church-yard are two almshouses, endowedby a person unknown.
Topographical Dictionary of England, 1831
Who was St Ippolyts?

We have a choice of known facts and of legend.

St. Hippolytus, a Roman theologian, who died about 236 A.D., produced a valuable study of the Liturgy and worship of the Apostolic Church. The third Eucharistic Prayer in the Alternative Service Book widely used today is believed to be based on a prayer written by St. Hippolytus.

There are also legends of a St. Hippolytus, Bishop of Ponto, who was dragged to death by wild horses. This saint may also have been the younger soldier who guarded St. Lawrence before he was martyred, and who was converted by Lawrence's fortitude.

From the name Hippolytus comes the connection with horses (hippos = horse in Greek). Another story is that Hippolytus was no Roman saint but a man known to be skilled in taming colts and in treating sick horses.

Thus St. Ippolyts Church became known as a place to which sick horses were brought to be blessed. In various parts of the church representation of horses can be seen - as on the Lectern.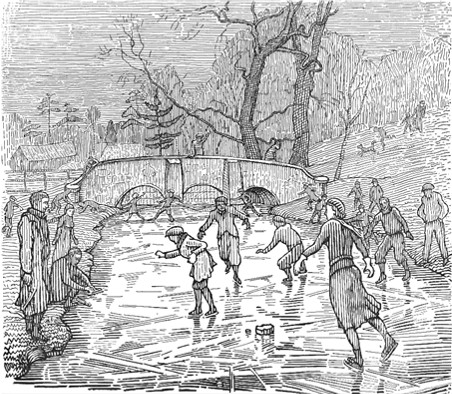 Skating at St Ippolyts
from The Story of Hitchin Town
The Ippollitts Local History Group (p.j.skeggs @t i.c.24.net) has provided details of the following books:

A Parish Remembers Ippollits 1900 to 1950, ISBN 0 95171355 07 £12.99 each
A School Remembers St Ippolyts 1846 to 1992 ISBN 0 9517135 5 8 £12.99 each
St Ippolyts by Daphne Rance, ISBN 0 905858 38 7
The Yeomen of Ippolyts by Daphne Rance, ISBN 0 904378 48 9
The July 2010 issue of the Hertfordshire Countryside includes an article, The Patron Saint of Horses whish deals with the patron saint of this parish.
See also Hippolytus of Rome (on Wikipedia)
If you know of other books, websites, etc, relating to this place, please tell me.
| | | |
| --- | --- | --- |
| July 2010 | | reference to Herts Countryside article |
| November 2010 | | Wiki links |
| December 2010 | | Church guide |