Kelshall
Adjacent Parishes: Guildon Morden (Cambs), Royston, Sandon, Steeple Mordon (Cambs), Therfield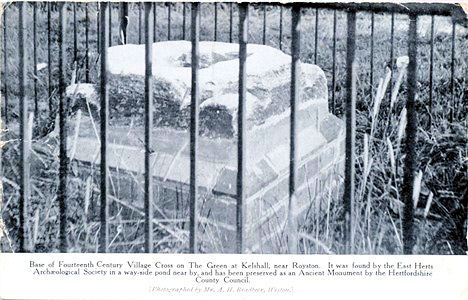 Base of Fourteenth Century Village Cross on The Green at Kelshall, near Royston. It was found by the East Herts Archæological Society in a way-side pond near by, and has been preserved as an Ancient Monument by the Hertfordshire County Council.
[Photographed by Mr. A H Bradbeer, Weston]
Posted in 1916
KELSHALL is a village in Odsey Hundred, 4 miles south-west of Royston, 5 miles north-west of Buntingford, and 7 miles east of Baldock, upon the chalk range. The area of the parish is 2,090 acres, and the population, in 1841, was 270. The living is a rectory value £379, in the gift of the Bishop of Ely, and incumbency of the Rev. T. R. Birks. The assessment to the income tax was £2,758 in 1842. Here are a parish church and a school, principally supported by the rector.
Birks Rev. Thos. Charles, M.A. (rector)
Hagger Miss, blacksmith
Hagger Miss Lavender, shopkeeper
Hagger Mrs. Mary, beer retailer
Harper Joseph, blacksmith
Nunn Joseph Phillips, farmer
Smith Joseph, shopkeeper
Staines Mrs, mistress of National School
Trigg John, farmer
Vaughan Joseph Henry, farmer
Letters received through Royston Office.
Post Office Directory, 1851
Martin Hagger (martin @t hagger.org) writes: I had to smile at the Kelshall extract from the 1851 Kelly's directory - which I am sure you have transcribed correctly. Lavender Hagger the shopkeeper was most definitely a Mr (father of at least 5 children) and NOT a Miss. And his son, also named Lavender, was the blacksmith. Lavender junior actually died in 1849, but (as I'm sure you know already) these directories were often a couple of years out of date.
Book: Then there were two
Book: Village Chronicles
If you know of other books, websites, etc, relating to this place, please tell me.