February, 2007
Josephine Richards
(
jkatierichards @t yahoo.co.uk
) writes:
I have a death certificate from 1933 that gives the place of death for my grandfather as Libury Hall, Little Munden RD. Standen is the sub-district for registration. Was it a recuperative hospital for the London Hospital?
The manor of Libury, Little Munden, has a long history which is available on the online version of the Victoria County History, and a quick google for "Libury Hall" and Munden will show you that it is now a 38 bed care home with a Great Munden address.
In 1933, the year your grandfather died, Kelly's Directory (under Little Munden) says: "Libury Hall has been converted into an institute for aged and indignant foreigners, and the land is leased by the Libury Hall Fruit Farm." So was you father a foreigner? and (tongue in cheek) did he have something to be indignant about.
More interestingly the 1912 edition records: "Libury Hall has been converted into a German Industrial and Farm Colony, to provide work and shelter for German-speaking unemployed and destitute men; the property is vested in three trustees, viz: Baron Bruno Schröder, C.A. Bingal esq. and Baron William Schröder."
In 1917, when the First World War was well underway, the entry had shrunk - but still mentioned the German connection: "Libury Hall has been converted into a German Industrial and Farm Colony, the property is vested in three trustees, viz: Baron Bruno Schröder, C.A. Bingal esq. and Baron William Schröder."
By 1922 the description the German connection had been lost: "Libury Hall has been converted a Farm Colony; the property is vested in three trustees, viz: Baron Bruno Schröder, C.A. Bingal esq. and Baron William Schröder."
By 1926 the entry was identical to the 1933 one quoted above. It may have been some kind of home ever since - but I don't have relevant data to hand.
A further google search provided a long article "The Settlement of Germans in Britain during the Nineteenth Century" which puts the German connection with Libury Hall in perspective. It says that Libury Hall "almost served as a German workhouse for the indoor relief of paupers." See home.clara.net/mawer/ppanayi.html. There are links between the German Hospital that opened in Hackney in 1845 and the London Hospital - with many reference available to you on google.
---
A quick google search has suggested two places where you might get information.
The second is via the German Embassy. Its web site contains a
news item
entitled
Charmaine von Mallinckrodt and Baron Bruno Lionel Schroder receive the Cross of the Order of Merit of the Federal Republic of Germany
. It is dated 27 September 2006 and includes the words "
And for many years you, Mrs. von Mallinckrodt, worked with tireless devotion for Homelands, the home for elderly Germans in London. You have – with Tim Schroder – been associated with Libury Hall, which provides vital help to Germans and other foreigners in need
." This shows that the
Schroder
family have been involved with
Libury Hall
for about 100 years - so may well be able to help with your enquiry.
February, 2008
Vicky Ayadi (vickyayadi @t hotmail.com) of Stevenage writes: I am interested to find out about Libury Hall In Dane End, I know it is now a registered care home, but what before, what are its origins?
As mentioned above, the history of Libury Manor is given on the online version of the Victoria County History but there appears to very little easily available information on the building itself, before the Germans became involved.
An inspection of the building by someone who knows about English Architecture should be able to say something about the age of the current building. It would appear that is of no great historical/architectural interest as it is not listed in The Buildings of England: Hertfordshire or on the Images of England web site, which contains information on listed buildings.
A quick check of the book The Protected Valley: A History of Little Munden, reveals that a John Cock was tenant of Libury Farm in 1841, his landlord being Graciana Spence, who died in 1858 when it when it became the property of Henry Lowry Jearrad. "At the turn of the century Libury was converted into a German Industrial and Farm Colony to provide work and shelter for German-speaking unemployed and destitute people." The wording suggests that the current buildings may have been built circa 1900 - which would explain why there are so few nineteenth century references.
If you want to find more about Libury Farm in the 19th century your best bet is to find out who was living there at the time of the censuses. To get you started I give details of the information in the 1851 census. It was listed as "Libury Farm" - with the husband/head of household away on the night of the census:
| | | | | | | |
| --- | --- | --- | --- | --- | --- | --- |
| COCK | Mary | Wife | Mar | 31 | Farmers Wife | Codicote |
| COCK | William | Son | Unm | 16 | Farmers Son | Yardley |
| COCK | Elizabeth | Dau | * | 6 | Scholar | Little Munden |
| COCK | Emily | Dau | * | 5 | Scholar | Little Munden |
| COCK | Sarah | Dau | * | 3 | * | Little Munden |
| COCK | Eliza | Dau | * | 2 | * | Little Munden |
| COCK | John | Son | * | 3mths | * | Little Munden |
| COCK | Mary | Visitor | Unm | 41 | General Servant | Yardley |
| SPRIFFINS | Frances | Serv | Unm | 17 | General Servant | Walkern |
| MUNT | David | Serv | Unm | 15 | Ag Lab | Yardley |
| LIVINGS | George | Serv | Unm | 35 | Ag Lab Ploughman | Yardley |
In addition to looking up the entries in the 1841, 1861, 1871, 1881, 1891 and 1901 censuses you could fill in more details about the inhabitants using the techniques described in the tutorial. In addition HALS holds a number of interesting documents from the parish chest - some of which may contain references to Libury.
June 2008
Marj Bennett (marged36 @t btopenworld.com) of Southport, Merseyside, writes: When I sent for my German great-grandfather's death certificate, I discovered that he had died of lung disease at Libury Hall on 12th June 1916. I know that he was taken there from the Isle of Man, where he had been interned presumably as an undesirable alien. His name was John Henry Cors. He had been in England since at least 1877 and had 12 English children.
I decided to have a "google" to look for other similar cases, and found a report headed "St. Stephen's House: Friends' Emergency Work in England 1914-1920." which was published by the Emergency Committee for the Assistance of Germans, Austrians and Hungarians in Distress. It quotes the case of one family that was helped, which also relates to a German who died at Libury Hall:
English woman, bad health, very thin, hysterical and unbalanced, affectionate mother, five children, youngest not weaned at outbreak of war. Husband, elderly German waiter, went to Libury Hall, first winter of war, as they were starving. Remained in internment till the beginning of 1917, when he was removed to the German hospital, dying of cancer. I first saw this family in Lusitania week. They were starving in a frightful Lambeth slum, woman half-distracted and on verge of suicide, refusing to accept any help, defiant and quite desperate. Children frightened and depressed, neighbours hostile; almost no furniture. Altogether a terrible case, even worse after the husband's death. The woman scrubbed theatre floors all day, returning quite exhausted; house-work not done; two babies, one an invalid, left entirely to the care of a highly sensitive little girl of seven, herself half-starved, verminous and failing in health, according to the doctor "from nothing but sheer misery, physical and mental." A very bad air-raid (1917) made matters worse. This child was then adopted and is now well, happy and very intelligent.
The following quote comes from the book "The Internment of Aliens in Twentieth Century Britain":
The Home Office established some unusual internment camps. For example, the premises of the German Industrial and Farm Colony were taken over for such a purpose. This happened at the start of 1915 because of 'an urgent need for an institution for elderly, infirm and rheumatic men whose health is likely to be very seriously injured by detention in Military Camps'. By May 1915, Libury Hall contained 188 internees and continued to operate as a farm colony producing most of its own requirements. The management remained in the hands of W. Müller, the pre-war director, who now acted under the supervision of a British Commandant, and a few police officers. This institution still had 83 inmates in February 1920."
As Libury Hall was officially used as an internment camp I checked the National Archives index and there are extensive records covering this use of Libury Hall which could well be worth checking, as some may include the names of the people interned there.
December 2008 - Note on earlier history of Libury
Colin Hague (crhague @t btinternet.com) of Windsor, Berkshire, provides some earlier information: My g-g-g-grandfather George LAWRENCE (approx 1787-1839) farmed Libury / Lybury / Lyebury Farm with his wife Charlotte (née GODDARD). They wed at Great Munden 16/07/1807. His father John (approx 1759-1797) is listed as a Yeoman, as his his father John (b app 1733) before him, and hence they may well have farmed the same land.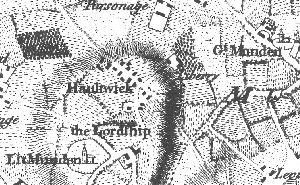 I would assume that the Lawrence family were tenants of the Spence family, Cussans records that Robert Spence, Citizen and Fishmonger of the City of London purchased the Manor of Libury / Libery in 1608 and was held by a Spence until Miss Gratiana Spence died in 1858. It then passed to Henry-Lowry Jearrad, who was heir-at-law.
The map is a small detail from Dury & Andrew's 1766 map showing Liberry, between Little & Great Munden. Libury was nearer Great Munden church - and since a parish boundary change in 1883 it is now in Great Munden, although members of the Lawrence family may well have used the nearer Great Munden Church as I notice that Cussans records that there were Lawrence family gravestone at Great Munden. (I wonder if they are still there?)
See also
May 2011
Poultry Farm, Libury Hall, Ware, Herts

The card was printed in Saxony, and the back is compatible with a pre-WW1 date. There is no publisher information but the card is numbered "R 11382" and the stamp box is numbered "30837"

The card of Libury Hall (above) has a similar back numbered "R 11388" and "30838"
S J Howitt writes: There is an unmarked plot with a simple stone marked "For the foreign persons who died at Libury Hall and are buried in this place" at St Edmund and The English Martyrs RC Church Old Hall Green.

There are some named records but not all and re the 1st World War internments according to the NRA at Kew these would have been lost during the bombing of Red Cross Geneva 1940.

Nicholas Rowe writes: Like several of your earlier correspondents I am researching a man who died at Libury Hall, and his family. His name was Julius Bernhard Philipp. He died at Libury Hall on 27th April 1942, aged 75. Like the previous family history researcher on your site I have found that his death certificate merely specifies the informant, a G Rowley, 'Causing the body to be buried'.

Julius Philipp (aka Joseph Barnard Philipp after the Great War) was born in Germany in 1868 and was a manufacturers agent at the time of his death, and had been a commercial clerk at the time his daughter, Cora Stephanie, was born at Beulah Hill, Norwood, in 1900. He and his partner, Helena Rose Copland, lived at various addresses in South London, including Fieldhouse Road, Balham. They were not married, probably because one or both of them was already married; Julius Philipp describes himself as married in the 1939 Register of Civilians.


There is a reference in a Dundee newspaper of 1938 (available from the British Library's newspaper archive online). This featured an article entitled, The Foreign Bits of Britain. While the writer's objective was clearly political in that the original subject was the planned settlement of German refugees from the Sudetenland in an unnamed village in Scotland, there is a lengthy paragraph about Libury Hall German Farm Colony. At that time it was used exclusively as an old peoples' home for German residents.


The man I am researching had a partner at the time he died, a much younger woman named May Oven, whose birth was registered in Ware, and who was granted probate of his estate, some £40. However, as they were not married it does not appear that she had any authority over burial arrangements. The 1939 Register of Civilians shows them as living in Islington, London. The question arises as to how they met. Julius Philipp may have had a connection with the Hall during the Great War, and possibly again in the early 1930s when he disappears from the London electoral registers, having lived there since the late 1920s.

I have an unused postcard that presumably dates from before the Great War and which was printed in Saxony. This card shows a row of building called Das Altenheim (the old peoples' home), Libury Hall, Ware, Herts. These consist of a single-fronted detached house and four bungalows on one side of a lane. At the end of the row of bungalows is a building that looks like a small chapel. On the opposite side of the lane there is a row of small trees, each enclosed in fencing. On the Ordnance Survey map of 1923 that you feature on your website these buildings can be easily identified on the western part of the site where the lane turns a corner leading away from the main group of buildings.


So it can be seen from Julius Philipp's death that Libury Hall continued to be used as a residence for people of German origin as late as 1942.
Since 2014 the British Newspaper Archive has extended its cover and I have added a few news items to the list given above.