Gorhambury

in the Parish of

The Tudor House of Gorhambury
For details of its construction see Bricks: Gorhambury

REMAINS OF GORHAMBURY HOUSE
Hertfordshire
London: Published by Vernor, Hood & Sharpe, Poultry, Aug 1, 1803
Engraved by J. Greig from a painting by G. Arnald
For the Beauties of England & Wales

GORHAMBURY

Of Sir Nicholas Bacon's mansion of 1568 the porch and masonry of the Hall and one projecting wing survive. The Porch is a would-be classical composition with Tuscan attached columns flanking the entrance arch on the ground floor, and Ionic columns and niches flanking the two-light flanking windows. It led to the screens passage. The dais end of the Hall is marked by a large window.

In 1777 a new house was begun by the third Viscount Grimston. The architect was Sir Robert Taylor. The house is ashlar-faced and has a grand Corinthian portico raised on a plinth with broad outer staircase and three windows on each side ... [The Buildings of England: Hertfordshire]

Printed Sources
The Grimstons of Gorhambury
Gorhambury Guide Book
Early Stuart Household Accounts
A Gentleman's life in Soho and St Albans, 1660-1689 - The Gorhambury Account Books for Sir Harbottle Grimston in Herts Past & Present
Web Sites
Wikipedia: Old Gorhambury House; Nicholas Bacon; Francis Bacon; Earl of Verulam
St Albans History contains many relevant items
Visitor Information
Other Information

Old News: Archery Meeting at St Albans in 1829

Manor Rental of Gorhambury, St Michaels, St Albans, 1655
If you have a relevant question why not Ask Chris

If you know of other books, websites, etc, relating to this place, please tell me.
St Albans, Gorhambury Ruins of Lord Bacon's House
card numbered 23285, posted 1902

Gorhambury Ruins

Postcard painted by Sydbie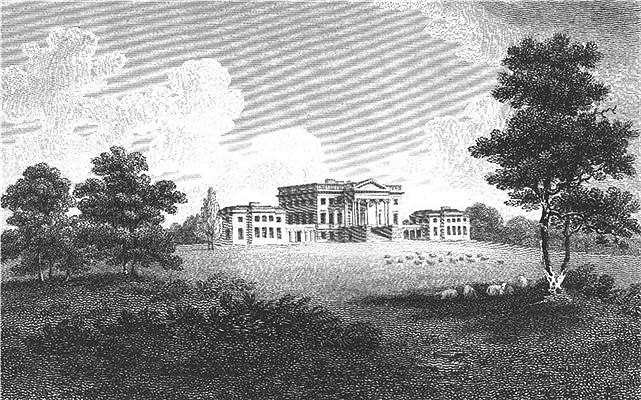 GORHAMBURY
(Seat of Lord Viscount Grimston)
Hertfordshire
Published by Vernor, Hood & Sharpe, Poultry, June 1, 1806
Engraved by J Greig from a drawing by E Shepherd
For the Beauties of England & Wales
Gorhambury House W.
Published by Boots
Undated - circa 1920??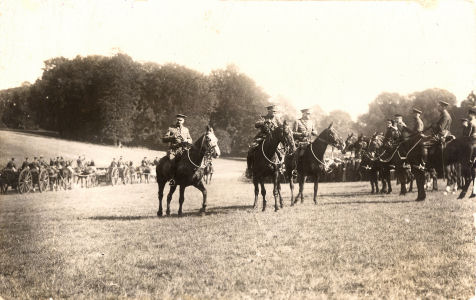 Lord Kitchener inspecting the troops on the Gorhambury Estate, September 1914
If you can add to the information given above tell me.
| | | |
| --- | --- | --- |
| November 2011 | | Significant restructuring with separate book pages |
| January 2012 | | Sydbie picture of ruins |
| September 2012 | | Page reformatted |
| May 2014 | | Link to new Kitchener page |