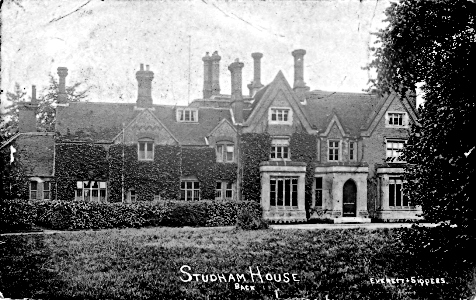 Studham House (Back)
Published by Everett & Sippers Posted Markyate 1904
This is my present country residence.
Shall expect you down one weekend in the Motor ...
STUDHAM, a parish partly in the hundred of Dacorum, county of Hertford, but chiefly in the hundred of Manshead, county of Bedford, comprising the hamlets of Humberstone, Studham, and part of that of Market-Street, and containing 774 inhabitants, of which number, 173 are in the hamlet of Studham, 3¾ miles (W. by S.) from Market-Street. The living is a discharged vicarage, in the archdeaconry of Bedford, and diocese of Lincoln, rated in the king's books at £9, endowed with £400 royal bounty, and in the patronage of the Crown. The church is dedicated to St. Mary.
From the Topographical Dictionary of England, 1831
The Hertfordshire portion of the parish was transferred to the civil parish of Markyate in 1897.
Book: A Short History of Studham
Rose Cottage, Studham
There is a very detailed account of the history of the Village on the BLARS web site.
If you know of other books, websites, etc, relating to this place, please tell me.
| | | |
| --- | --- | --- |
| June 2010 | | Post card of Rose Cottage |
| November 2012 | | BLARS link |