| | | | | |
| --- | --- | --- | --- | --- |
| | | Post Cards published by Raphael Tuck - Oilette series | | |
Raphael Tuck were major post card publishers and introduced the Oilette Series of paintings on post cards in 1903. These were organised in sets and all cards in the same set have the same number, and would have been issued at the same time. The web site http://tuckdb.org/ contains extensive information on the Tuck Cards - including images and dates.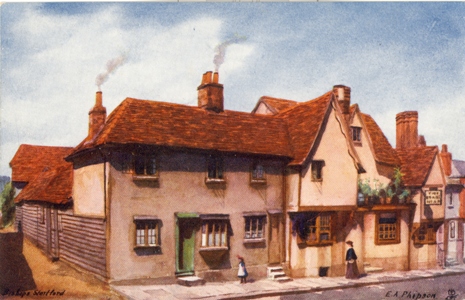 "Quaint Corners" 6227 - Bishops Stortford, by E. A. Phipson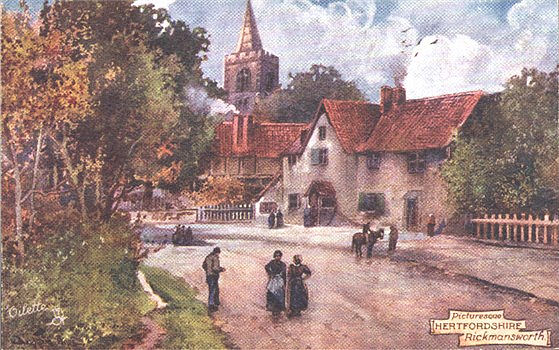 "Picturesque Counties - Hertfordshire" 7425 Rickmansworth

"Picturesque Counties - Hertfordshire" 7425 Honey Lane, Hertford (posted 1908)

Who was Bartram Hiles

The Picturesque Hertfordshire postcards in set 7425 all appear to be by the same painter - with a signature (the above is the best example) and what is probably a date year. Unfortunately all the publisher's records were destroyed in 1940 - and I asked if anyone could help identify the artist.

In January 2007 Ann Roberts kindly told me the artist was Bartram Hiles. A check using Google shows Frederick John Bartram Hiles lived from 1872-1927 and became an important painter despite having lost both his arms in an accident at the age of eight!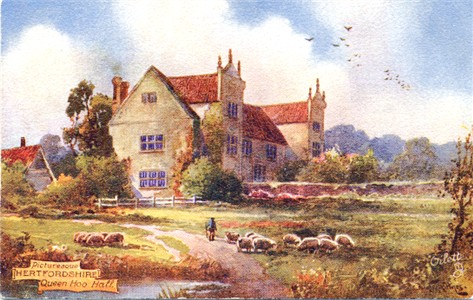 "Picturesque Counties - Hertfordshire" 7425 Queen Hoo Hall, Tewin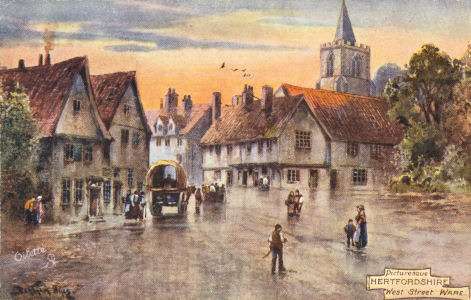 "Picturesque Counties - Hertfordshire" 7425 West Street, Ware
"St Albans"

Oilette Series

7752

Earliest known posted March 1908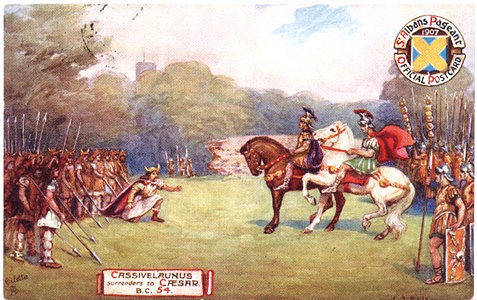 "St Albans Pageant" Series 1 (1907)
Raphael Tuck were one of the earliest postcard publishers. They started publishing Christmas cards about 1870 and their trademark of an artist's easel, etc., was registered in 1881. Their first postcard was published on 1894 and they became the leading postcard publishers, particularly in the art rather than photographic reproduction field. The subjects were very varied, and a number of their sets, such as the ones illustrated above, were view cards. Unfortunately their head office (and the record of the cards they had issued) was destroyed in an air raid in 1940.
Some Oillete cards where sold by John Thridgould & Co, wholesale stationers and post card publishers in their own right.
If you can add to the information given above tell me.
Page updated January 2011