Clients' Account General Ledger Volume "C"
1851-1860

William Brown
Auctioneer & Land Surveyor, High Street, Tring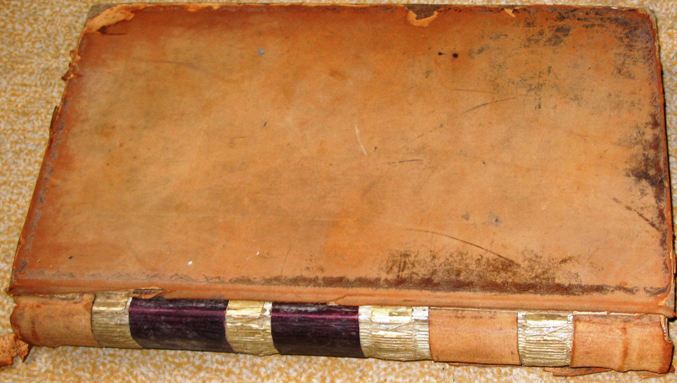 General
This leather-bound accounts book bears no identifying marks, but is understood to have come from the archives of Brown & Merry of Tring and the contents support this origin. While it is not labelled (the leather on the spine has disintegrated and any original label has been lost) there are accounts being brought forward from volume "B" and others being carried forward to volume "D". It is not currently known whether volumes "A", "B", "D" and possibly later volumes survive.
At the front is an A-Z index in which clients' names and page numbers have been added. This is followed by 283 numbered double page spreads (folios), the left hand page being used for debit entries and the right hand for credit entries, with matching totals when the account is settled.
The first entry is dated 6th February 1851 and the last "normal" entry I have located is October 1860 (folio 211) recording the purchase of "36 Farmers a/c Books" from Messrs Simkin, Marshall & Co, of Stationers Court [London?]. However there are some late election entries up to 1868 on folio 9. There was some "filling in" of part empty pages well before this date and it could be that the first new entries in Volume "D" were made in 1856 or 1857.
Entries range from a single transaction - such as a valuation for probate to very extensive work relating to estates which include a number of different properties. About 10% of the ledger relates to one account, that of the Revd. James Williams of Tring Park, where William Brown would appear to have been the estate manager with entries relating to the payment of wages and collecting of rents.
Geographically most of the "business" is either directly connected with Tring, or with nearby places in Buckinghamshire and Hertfordshire.
The manuscript index of the original volume is available online:
All 283 folios are now online and may be accessed via the draft calendar which has the following layout:
1
The Administrators of the late Mr Thomas Mead, Hadnal Farm, Eddlesborough
1851
image
Mr James King, Winslow (Preparing evidence for case of Lowdnes vs King xors)
1855
Mr Thomas Horwood, Marsworth (re contract for building cottages at Marsworth - builder Mr Mortimer, Carpenter Mr Newman )
1856
2
Revd.James Hitchuinson, Berkhamsted Rectory (Valuation and sale of furniture)
1851
image
Walter Hume Esqr., Feltham (Selling estate at Berkhamsted by Auction - paid for by Mr Lindsay. Other names: Wright, Bonner)
1855
Messrs. Lake & Walker, Lincoln Inn
1854
3
Messrs Lucas & Lovett, Brewers, Rowsham

Agreement with Mrs Jane Clarke for George Inn, Tring (1851)
Agreement with Mr Samuel Sallerye for George Inn, Tring (1854)
Inclosure at Cheddington, names: Bonnest, Miss Lucas

1851
image
| | | |
| --- | --- | --- |
| Column 1 | | Folio Number |
| Column 2 | | Original Description (with some spelling corrections, and non-Hertfordshire county names added) together with a short note as to content, including names and places mentioned if not too numerous. [Further short notes will be added over the next few months] |
| Column 3 | | Earliest date for entry |
| Column 4 | | Link to relevant note. Notes will be added for the more interesting Hertfordshire entries, initial examples being for Amsden and Chesterman. They may also be in the form of answers to questions, such as Philbey. It is planned to add one or two new notes a month. If you can document some of the un-noted folios, particularly for entries relating to Buckinghamshire, your help would be much appreciated. |
| Column 5 | | Link to large image of complete folio pages. |
Some Snippets
On a first examination I found much of interest - and there is much detail (names, places, etc.) which would tie up with other records. I noted references to New Mill (folio 11), the canal (folio 124), the proposed Tring to Oxford railway (folio 125), several Tring pubs (for example folio 247), and much more. I even noted that my Aylesbury ancestors (Locke & Son) supplied £74 7s worth of bricks and lime for building work for the Rev James Williams of Tring Park (folio 237). There are also entries for the Tring Agricultural Association (folios 77, 223, 269) and dozens of entries for the disposal of property, often on behalf of the executors of the deceased. Account with solicitors often identify the solicitors clients - which may have their own accounts with William Brown. Many of the entries relate to Buckinghamshire and for example William Brown was involved in legal matters associated with the estate of Lord Lake, of Aston Clinton (folios 106, 148, 149, 150).
In many cases background knowledge can make an innocent looking entry seem rather more interesting. The first entry on folio 9 reads "Paid expenses attending the Election at Aylesbury & to Kirby for refreshment for voters at the Angel Inn." Treating electors had been a regular activity in Aylesbury for generations - but this was in April 1851 and the Reform Act had been passed. This election lead to a parliamentary enquiry into the conduct of this election in Aylesbury. One of my relatives was involved in illegal treating voters in his Aylesbury public house and gave evidence. Perhaps William Brown an/or Mr Kirby were summoned to give evidence about providing free food and drink at the Angel!
I also noted that William Brown made a lighting rate in March 1851 for the Churchwarden and overseers of Tring (folio 40) undoubtedly to pay for some "new-fangled" gas street lights. He also made a set of drawings for a building and boundary wall of proposed Cemetery at Tring with specifications and estimate. This must be the extension graveyard which is now the open space by the Frogmore Street Car Park.
At the time of the account book Tring Park was still associated with the Kaye family - but was let to James Grout, and after his death the Rev. James Williams. Prior to his death James Grout was clearly interested in acquiring more properties and commissioned William Brown to visit and make reports on possible acquisitions (folios 41 & 42). William Brown was also involved with the estate after his death (folios 43, 190, 249, 276 and 277). In addition William Brown effectively acted as estate manager for the Rev Williams - and about 10% of the volume relate to this activity, starting with folio 68. To complicate the picture there are many references to Tring Park topics on the folios of other clients - while in some cases the tenants, etc., mention on the Tring Park pages turn up elsewhere in the volume.
Assessment
Basically this book is a goldmine of information at several levels - and is of wider interest than just Tring. While the Client's index is useful if you know who the client was, there is no quick way to finding other personal names, place names, etc. My reaction is that it really is the kind of document which would benefit from a much more detailed index - and is the type of document which proves very valuable in a records office context, where it could be used by many interested people.
The idea is to make all the original pages accessible, and to dynamically build the calendar, and the collection of supporting notes as quickly as time and resources allow, initially concentrating on the more interesting Hertfordshire folios, and those which mention large numbers of names of tenants, tradesmen, etc.. If I get specific requests for more information about a particular folio that will be given priority. Completed additions will be announced on this site's Newsletter - but may be visible online at the draft stage. The biggest problem relates to the references to the tenants at Tring Park (Joseph Grout [draft notes in preparation] and Rev Williams [draft notes in preparation]) because over 10% of the folios refer to these accounts - and quite a number of other folios contain trading references to the Park or its occupier.
Detailed Notes on Selected Topics