Pat Ashton (pat-ashton @t supanet.com) writes I have just started to search for my family. My maternal grandfather was Harold Reginald Horn, youngest son of a family of ten children of William Horn (I think of Handside Farm). His family are listed as guests in your Herts Advertiser article of the double wedding on 1st July 1893 of 2 Cox sisters to Harry Reynolds and Henry Mardall. (Page heading: Holinshead, St Albans area, 19th century) My great uncles and aunts names are J & W Horn, Mr & Mrs T. Horn, Mr and Mrs W. Horn, Mr and Mrs W. J. Horn and Mr and Mrs F. Lowe (all listed). Have you any further information/pictures about my family please?
The following summarises the information on some old computer files (unfortunately written for a now "dead" data base package) which means I cannot transfer the data easily.
William James Horn was born at Handside, Hatfield, the son of William Cooper Horn and Mary Ann Woodhouse, on 16th June 1837, his father dying in 1839. He lived all his life at Handside Farm and married Sarah Cox in the St Albans Registration Area in the July-September quarter - and Sarah Cox was the daughter of my ancestor Thomas Cox. I have details of the following children. [Highlights indicate updates in November 2013]
Mary Ann Horn 1861-1864
Thomas Cox Horn

1862

-1924 Married Elizabeth Gertrude Low in 1886 and Constance Harvey in 1892 - died in Australia
Susan Horn

1864

-1919 Married Frank William Lowe
Elizabeth Horn 1866-1937 Married Percy Edward Webb in 1894
Helena Sarah Horn 1869-1872
William Cooper Horn 1870-1964 Married Mary Harvey in 1900
Herbert Henry Horn 1872-1883
John Beasney Horn 1874-1965
Harold Reginald Horn

1876

-

1966

Married Eleanor Barker in 1903
Mildred Annie Horn 1882-1974
The 1881 census shows that William James Horn was then farming 600 acres, which must have been one of the biggest farms in the area. His widowed mother was in the house as were his wife and surviving children.
I may have some pictures and press cuttings, and may be able to fill in a few more details once I know what you haven't got - but because of other matters cannot look them out immediately. However I do have a large photo album of unidentified individuals, apparently Cox relatives, which may include some Horns - and if you have some pictures we might be able to match them up.
Have you seen the book Hatfield: A Pictorial History, by Sue Kirby and Richard Busby, published by Phillimore in 1995? It includes a parish map of Hatfield in 1824 giving the farm names and a photograph of Upper Handside Farm before it was demolished in 1932 to make way for Welwyn Garden City. It says before the Horn family took up occupation the farm was previously farmed by the Battell, Tharp and Fearnley-Whittingstall families. It is undoubtedly not a complete co-incidence that William James Horn's wife Sarah Cox's mother was a Tharp or that the Cox family was associated with the adjoining Stanborough Farm, Hatfield.

Stanborough Farm, home of the Cox family in the 18th century
From Hatfield and its People
December 2001
Cousin Pat Ashton replied: Thank you for your detailed info. I went off to get some ink for the printer to print it all out! I didn't know there were 5 girls of the ten, or that 2 girls died young. My grandfather, H.R.H. called Reg., told me that Herbert died of encephalitis.

William Cooper Horn lived in Welwyn Garden City when I was a child in the 1940s-50s, opposite the house of John Beasney and Mildred Annie Horn, in Handside Lane. His house was called Bramfield (his wife's home I think). He married twice, (I was at his second silver wedding,) and had 1 son William (Bill) who was a rubber planter in Malaya. Bill was a prisoner of the Japanese in the War, escaped, was recaptured, and retired to grow Cox's Orange Pippins (! nice touch) in Steeple Bumstead, Essex. He married and adopted a child, who has 2 children of her own. I saw her at his funeral some years back. (Not in touch) I remember Gt Uncle Will saying 2 brothers had married 2 sisters - about himself I think, not sure which marriage.
Cousin marriages among the well-to-do farming families were very common - see Who is related to Who and it may be that if you can find out who the sisters were it will be possible to slot them into the cousin network.
Harold Reginald Horn married Eleanor (Nellie) Barker. Any info on her? She had a sister, Alice, brilliant mathematician, went to Cambridge University in the early days of women being admitted, and emigrated to Australia. I think there are family out there (don't know them). H.R.H. and Eleanor had 3 daughters, Margaret (Peggy), Nancy Mary born 1914?, and Gwendolen Mildred my mother born 1915. Eleanor died when my mother was 12 years old, Peggy died in her 20s after emigrating to Canada and becoming a nun, Nancy was ill with a depressive type illness/ schizophrenia following these events- all her life- and died in 1997, and Gwen my mother died in 1964-5 leaving 2 children. I am the younger.
Reg Horn must have married in 1903/4 as on 27th June 1903 "Mr R Horn and Miss Barker" gave a marmalade dish at the marriage of my Great Uncle, Arthur John Reynolds to Lily Barker while on 27th July 1904 "Mr and Mrs R Horn" gave a brass cake stand at the marriage of my Great Aunt Ellen Frances Reynolds to Richard Thomas Grove. When I researched this over 20 years ago I found that Lily Barker was a descendant of Vince Barker (1806-1871) of Kimpton, and was told that Reg Horn's wife was not related. A quick check of the 1881 census, using the information you give suggests that the follow entry for Potterells Farm, North Mimms, Herts, relates to her family:
| | | | | |
| --- | --- | --- | --- | --- |
| Thomas BARKER | 42 | Watford | Head | Road Surveyor (County Offs) |
| Susan BARKER | 36 | Streatley, Beds | Wife | |
| Eleanor BARKER | 6 | North Mymms | Daur | Scholar |
| Alice M. BARKER | 4 | North Mymms | Daur | |
| Philip BARKER | 2 | North Mymms | Son | |
| Alan G. BARKER | 10 m | North Mymms | Son | |
| Annie PLUMMER | 22 | Streatley, Beds | Serv | Nurse (Domestic Serv) |
| Elizabeth THRUSSELL | 14 | Hitchin | Serv | General Serv |
I haven't any hard info, just stories and memories of the youngest 4 of William James Horn's family. I know there is a photo of William James Horn and Sarah at their Golden Wedding (1910?) and another of all their assembled children, partners and grandchildren. If or when I can, I'll send you a copy. (Not in my possession).

My grandfather's second wife was Constance Elizabeth Strong, brought up at Waterend, Sandridge. Her older sister, Helen, married into a Somerset family and her (younger?) brother Tom was killed in the First War, a great sadness. No issue I believe of these marriages. My grandfather was Bank Manager with the National Westminster Bank in Luton. He always wore a straw hat in the summer, supporting local industry, he used to say. He was lean and fit and played golf till he was 80, regularly winning the silver teaspoon trophy, at Verulam Golf Club. (He lived in St Albans.) He regretted he didn't win a full set of 12, only 11!
I am interested in the reference to Constance Elizabeth Strong - I haven't come across the family but my great great grandfather, Dolphin Smith lived at Waterend.
As a young child, growing up in Welwyn Garden City, I felt knitted into this family network, occasionally met Aunty Vi and Aunty Ena (actually cousins) children of the older Horns. But my mother who had been sick for many years died before the older generation, and it had all vanished by the time I left college and married. So reclaiming information about them all is amazing!!! and so appreciated. Thank you for your help Chris.
A lot of my basic information came from a cousin, Beryl Elizabeth Grove, who died in 1991.
There are family graves by the door of Lemsford Church (if it hasn't been grassed over). I thought Tom's was there too. I didn't know he'd gone to Australia.
I have made a search of my "Bernards Heath" press files (basically a selection of newspaper reports particularly covering the period 1860-1900). These contain a number of references to W. J. Horn of Handside, Hatfield.
The Herts Advertiser of 2nd March 1889 included portraits of County Councillors - including W J Horn. He was also the treasurer of the Hertfordshire Agricultural Society, the earliest reference I have being from the Hertfordshire Almanac for 1884 and the last 1898 although he may well have been treasurer for a longer period. Because of this role he is undoubtedly mentioned in press reports of the Society's AGM, its annual show, and other public activities. For instance I note that he attended a lecture by Professor J. Wortley in St Albans Town Hall on the feeding and management of horses. My great grandfather, Jacob Reynolds, proposed the vote of thanks and the meeting was reported in the Herts Advertiser for 18th March, 1893. W J Horn was also on the committee that organised a ploughing competition (Herts Advertiser 20th November 1897).
While I have only indexed a few examples, his stock would have often been mentioned in stock sales such as the one held in Hatfield in March 1893 (see Easter Stock Sale at Hatfield). I also note that the auctioneers Harding & Low held an auction at the Red Lion, Hatfield on 3rd March 1894 which included "300 Loads of PRIME CLOVER and MEADOW HAY, and WHEAT and OAT STRAW, the property of Mr. A. J. Sherriff, Hatfield; Mr. W. J. Horn, Handside; Mr. A. Hill, Lemsford; Mr. Bradshaw, Chalkdell; Mr. E. Woollatt, Samwells; Mr. F. W. Low, Brideshall; Mr. Bennett, London Colney, &c.."
~~~~~~~~~~

The barns of Handside Farm, Welwyn Garden City, where John Bunyan is said to have preached.
Hertfordshire Countryside - February 1968
November 2008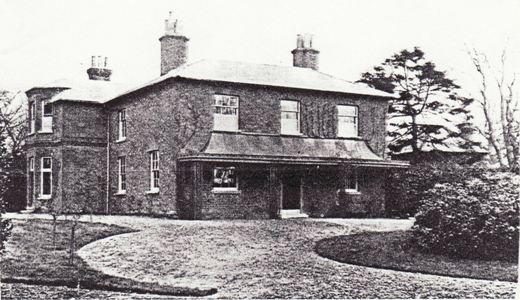 Handside Farm
After unsuccessfully trying to contact Pat Ashton (has anyone up-to-date information) my cousin James Horn (hornacc3 @t gmail.com) of Scone, NSW, Australia, a grandson of Thomas Cox Horn, provided a family tree of some of the descendants of William Cooper Horn (not included here) and also the following picture: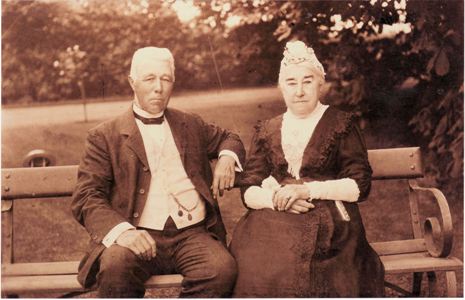 William James Horn and Sarah (nee Cox) on their Golden Wedding in 1910
October 2010
James Horn (hornacc3 @t gmail.com) has emailed to draw my attention to two very useful web sites relating to the Horn family and their farm. The Barn Theatre has a web page giving some valuable information on the history of Handside Farm. The Welwyn Garden City pages of the Herts Memories Network includes some memories recorded by Bill Horn in 1976.
November 2013
Barry Price (la.vigne.nieuil @t free.fr) wrote from France to say I see you have had queries re the Horn family of Handside Farm Lemsford St John (now WGC). I can give quite a lot of information on William Cooper Horn 1871-1964, including his ancestry (12 generations) & some original correspondence from him to my grandfather, if anyone is still interested.
As William Cooper Horn s a cousin of mine I wrote back asking about other possible cousin links (see Who is related to Who?) and Barry replied:
William James Horn was a grandson of Thomas Horn 1771-1845 of Bramfield, whose elder brother Edward was my 3 x great grandfather.

Edward married Ann Green born 1768 in Hitchin, who I believe had close relatives called Green living in Hexton in 1809. I would love to know more about this family.

Re intermarriages. I can give some info on cross-border alliances with Bedfordshire families. As it happens, my earliest memories are of living in Barton-le-Cley in the 1940s, within a mile of Hexton.

The Bedfordshire Horns intermarried with the farming Crouch family three or four times. Sarah Crouch my 4 x great grandmother married Edward Horn of Clophill in 1762. Her family originated from Hexton, & can be traced back to John Crouch born Hexton in 1485. This couple were the parents of the above Edward who married Ann Green. Edward & Ann had a grandson Frank Horn of Warren Farm Clophill who married in 1874 Alice, daughter of Thomas Little, farmer of Tring Grange. This Edward also had a niece Sarah who married George Crouch, farmer of Campton, her first cousin once removed, in 1826.

The above Frank Horn had a sister Emma who married in 1864 Frederick Crouch, son of Benjamin Crouch, of Miswell Farm Tring.

I'm afraid this little lot has more to do with Bedfordshire than Herts., but still might be of interest to you.
While this provides no obvious additional links to the complex cousin network of farming families I researched over a quarter of a century ago I decided to update the list of the children of William James Horn at the top of this page - to see if they linked in with the network. This revealed that they were also into close family marriages as follows:
Thomas Cox Horn farmed Chambers Farm, Shottesbrook, Berkshire. His first wife was Elizabeth Gertrude Low, daughter of William Low and Sarah Wells (Beadlow, Clophill, Bedfordshire), and granddaughter of Robert and Elizabeth Low (Beadlow, Clophill, Bedfordshire). His sister, Susan Horn, married Frank William Low (of Brides Hall Farm, Sandridge / Wheathampstead) who was the son of James Low and Ellen Chapman (Farm House, Willian & The Hall, Great Chishall, Essex), and grandson of the same Robert and Elizabeth Low.

Thomas Cox Horn's second wife was Constance Harvey, sister of Mary Harvey, who married Thomas's brother, William Cooper Horn of Brickwall Farm House, Lemsford, Hatfield. Their parents were John and Frances Jane Harvey of Great Appleford Farm, Godshill, Isle of Wight.

February 2018
These two cards were purchased as part of my research into the London View Company because (a) they were some of the earliest produced by this company and (B) because they have atypical backs.

It was only once I had received tham that I discovered that they had been sent to a relative of mine, Sarah Horn (nee Cox) of Handside Farm, Hatfield, in September and October 1905.
If you can add to the information given above tell me.