John Paul Bradford, of Ontario, Canada, writes I just received a PCC will from 1561 where Ralfe Springham, yeoman, identifies himself as "of Duckett in the parish of All Saintes in Hertforde". I have searched a number of 19th Century maps to no avail for Duckett. Best guess appreciated: would Duckett have referred to a manor on which he lived?
A search of Hertford Street and Place Names for "Duckett" drew a complete blank. There is no mention in the Victoria County History of Hertfordshire - which would appear to rule it out as a manor. Chauncy and Cussans also draw a blank. The Place-names of Hertfordshire lists a Ducketts in Much Hadham (associated with a John Dukkett in 1525) and a Duckett's Wood in Thundridge. Nothing relevant was found on my modern street map of Hertfordshire, or the old-maps or multimap websites
In such cases it is always worth doing a text search of the 1881 census CD and it comes up with a number of entries to Ducketts Farm, in the parish of Hertford St John, and it would appear that whatever was there was a group of agricultural cottages at the time. As the 1881 census CD does not include the route information used by the census enumerator I used the approach used in Locating Census Addresses on Maps to find that places were visited in the order Dicker Mill, Ducketts Farm, Blackfield Farm, Harrisons Farm, Jepps Farm, Dalmonds Farm and Elbow Lane. Blakefield and Dalmonds are listed in The Place-names of Hertfordshire. Knowing the area to look I then found Ducketts Cottages on Mangrove Lane, to the south of Hertford on my printed street atlas (but not on Multimap). Going online to old-maps produced the following, published in 1883: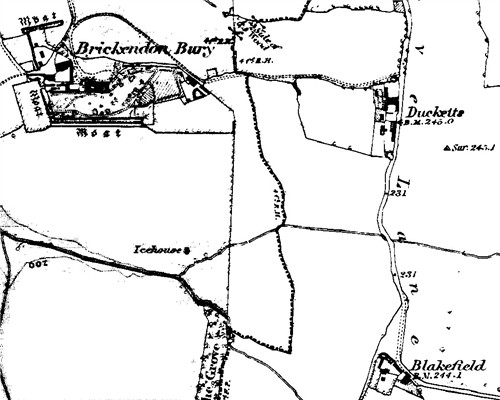 Mangrove Lane runs north/south and Ducketts is shown to the south of the drive to Brickendonbury, and north of Blakefield (Blackfield Farm of the census). It should be noted that there may have been changes as my street atlas shows Ducketts Cottages to the north of the drive and no buildings to the south, where Ducketts is show in circa 1880. An examination of a large scale modern OS map would be in order.
In addition I kept half an eye open for any possibly relevant mention of Springham. The only thing I saw was in the Victoria County History, which recorded that a Richard Springham was one of a number of people who jointly purchased a manor in nearby Cheshunt in 1564.
John Paul Bradford replied: Chris, let me first say thank you. I am stunned by the completeness of your answer. I just thought I would mention that Ralfe seems to have been a man in his prime with small children when he made up the will in 1561 (same year he dies). He mentions a William Springham as a brother and lists a Richard Springham as a witness. Now I wonder if that is the same Richard of the 1564 purchase in Cheshunt? Interesting. I shall have to head down to Toronto soon to see if I can look into the Victoria County Histories. Thanks for help. Very much appreciated!
The VCH reference is very short so I quote from it below:
In 1240 Henry III granted the lands of the cannons of Cathal to the nuns of Cheshunt, which lands became known as the manor of Cheshunt Nunnery. ...In 1536 the site of Cheshunt Nunnery, or the priory of the nuns of St Mary de Swetmannescroft, was granted to Sir Anthony Denny. The latter was succeeded by his eldest son Henry Denny, who in 1564 sold the estate to Richard Springham, Anthony Throckmorton and Richard Davys. In 1590, however, Edward Denny, younger brother of Henry, brought back the estate, which he sold in 1592 to Sir William Cecil. ...
October 2002
John Paul Bradford wrote: I just thought I would update you on the Springhams of Hertford. In the will of Ralph Springham(1561) he mentions the will of his own father. I have managed to track that down. It was made in 1553 and confirms that Richard is Ralph's brother. Furthermore, it identifies Richard Springham as "mercer of London". I have come across numerous instances of a merchant Richard Springham in London at this time. Looks like this is likely that Richard Springham. I also managed to obtain what appears to be Ralph's grandfather's will of 1531. Although buried at Hertford he gives money for an altar cloth at "the church and priory of Byford" and money for the monks there to say a trental of masses for his soul. I can not find a reference to a religious house at Bayford. If you have time to check your sources, I would love to have its name and the religious order with which it was associated.
The 1882 Kelly's Directory says "A chapel existed here as early as 1366, at which date it was dedicated and the right of interment within its precincts granted." I decided to check the Victoria County History and have posted what I found on a new Bayford page. It doesn't answer your question - but it gives a bit more background to the church at Bayford.
If you can add to the information given above tell me.