Elm Lodge, Goff's Oak, Cheshunt
July, 2007
Frances Terry (franwick @t fishinternet.com.au) of New South Wales, Australia, writes Would like to know exactly where in Cheshunt is Halstead Hill ... relative (Frances Jenkins - she was a teacher) lived at Elm Lodge, Halstead Hill. (Census 1881) I am writing a book about the family and would like to have some details for background about the area if possible.
There are pages on this web site which should help you with your task. Modern Street Maps allows you to search Hertfordshire as it is now - and if you select streetmaps.co.uk and type in "Halstead Hill" it will give you a map which shows that the road lies west of the centre of Cheshunt and south east of Goff's Oak. I haven't tried it but Google Maps also offers an option to see aerial photographs of the area.
Once you know where it is you should be able to find it on the large scale Ordnace Survey maps of the 1880s at old-maps. However the word "Halstead" of "Halstead Hill" is unreadable so you need to look first for Goff's Oak, and then for Barrow Lane.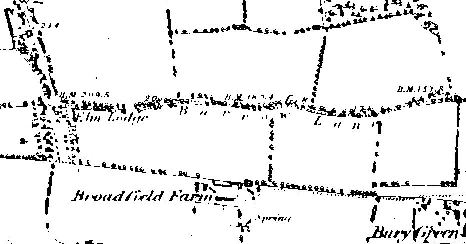 You should find the Elm Lodge was at the junction of Halstead Hill and Barrow Lane, not far from Broadfield Farm. [When I came to test this old-maps was giving an error report so I reproduce a small section of the map above.]
To get more details of the area there are a number of options. By searching the census returns online for 1881 (and also from 1871 and 1891) using the approach described in Locating Census Addresses on Maps in reverse you should be able to get a good idea of who lived in nearby farms and houses and what they did. Kelly's Directories will give details of the more important people and also provide a good description on the area - and some of these are available online. Recent photographs of the area are available online at Geograph.
Further sources are given on the pages for Cheshunt and Goff's Oak, including a number of books. One book, Cheshunt in Hertfordshire, is particularly relevant as it contains a page describing the immediate area of interest to you, including a mention of Elm Lodge. If you want a copy one is currently being auctioned on www.ebay.co.uk (reference 120141819498) at a starting bid of £4.99 - which is much cheaper than the other copies advertised online.