Norcott Hill Farm, Northchurch

July, 2009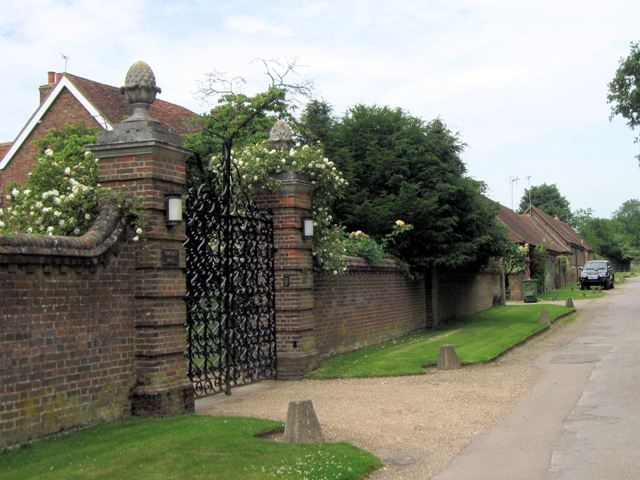 Click on picture to get details of all Norcott Hill pictures on Geograph.
As can be seen the modern view is virtually identical to the view in the old picture. However the big surprise was what was behind the iron gates.

Norcott Hall superficially looks like an old country mansion. It is clearly not the typical farm house and is not indicated on any of the old maps or local history books that I have. It is also not a listed building, The big question is "When was it built?"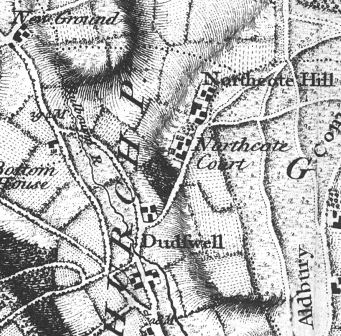 Norcott is is a manor in the parish of Northchurch and is first recorded as "Northcote" in 1300, as "Northcoterowe" in 1357 and as "Norcothill" in 1565. The history of the manor is described online in detail in the Northchurch section of the Victoria County History. In or shortly before 1597 the manor was divided into Norcott Court and Norcott Hill with the old manor house being at Norcott Court. The detail of Dury and Andrews' 1766 map of Hertfordshire (left) is the first to show them both clearly.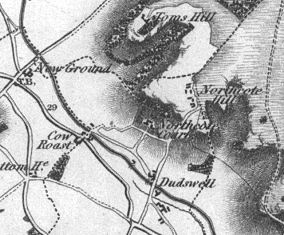 Bryant's 1822 map appears to be somewhat more accurate in that the roads/tracks shown are closer to the arrangement of modern public roads and footpaths.
Neither of these maps indicate which buildings are inhabited and which were farm buildings - but the 1841 census clearly indicates that there were only four inhabited buildings in the area. Norcot Hill Farm was occupied by James Chennels, a 35 year old farmer, with his wife, three children, four agricultural labourers (it was common to have live-in farm workers in the early part of the 19th century) and one female domestic servant. Norcott Court was clearly a posher place. The occupier was a 55 year old physician, Thomas Drevers, and the household included four female domestic servants and a page - but also three farm servants. In addition there were two cottages somewhere on Northchurch Common occupied by agricultural labourers.
| | | |
| --- | --- | --- |
| 1851 | | Hollingshead Wm, farmer, Norfolk Hill |
| 1866 | | Hollinshead Wm, farmer, Norcott Hill |
| 1882 | | Ashby Thomas, farmer, Dudswell & Norcott Hill |
| 1886 | | Ashby Thomas, farmer, Norcott Hill |
| 1890 | | Ashby Thomas, farmer, Norcott Hill |
| 1895 | | Ashby Thomas, farmer, Norcott Hill |
| 1899 | | Ashby Thomas, farmer, Norcott Hill |
| 1902 | | Ashby Thomas, farmer, Norcott Hill |
| 1908 | | [Ashby John, butcher & farmer] |
| 1917 | | Ashby John farmer, Norcott Hill |
| 1922 | | Ashby John farmer, Norcott Hill |
| 1926 | | Ashby John, farmer, Norcott Hill |
| 1929 | | |
| 1933 | | |
| 1937 | | Blackwell Thomas Geoffrey, Norcott Hill |
A check on Post Office / Kelly's trade directories provides a list of occupants of Norcott Hill Farm, and the following extract from the 1884 1:2500 Ordnance Survey (available from Old Maps) shows the building layout, and clearly shows that Norcott Hall had not been built.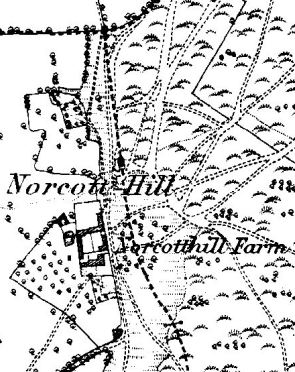 The map shows that the general arrangement of buildings around a courtyard was present in 1884, and the farm house and older farm buildings can clearly be identified in the modern photographs. The 1901 census shows that there was just the farm at Norcott Hill and it would seem that Norcott Hill Farm continued to be farmed by the Ashby family until the late 1920s.
In 1929 there is the first mention of (newly built?) Norcott Court Farm, farmer Horace Bedford, and no farmer is listed for Norcott Hill Farm in 1929, 1933 or 1937.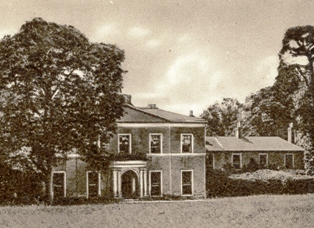 By 1937 Thomas Geoffrey Blackwell (1884-1943) was living at Norcott Hill. He was the deputy chairman of Cross & Blackwell and in 1935 had been living in Haresfoot, Berkhamsted, illustrated above. A simple comparison would suggest that Thomas told the architect: "Build me a bigger and grander version of Haresfoot." It would appear that Thomas Blackwell built Norcott Hall about 1936 - although I hope to be able to confirm this.
It is not clear whether Thomas Blackwell also farmed at Norcott Hill, but at least some of his successors did. By 1986 Ordnance Survey maps were referring to Norcott Hall Farm. More recently it was the home of Gordon D Claridge, whose company ran the Port of Lowestoft, and who died in about 1996. He also ran the farm (through a company with his name) and it would appear that the farm buildings were converted to housing shortly after his death. The latest O.S. maps show Norcott Hill, and Norcott Hall, with no reference to a farm.
To relax I take Franci for a walk every day and early in 2009 I decided to photograph the many footpaths and historical buildings near Tring and post the pictures on Geograph, with historical notes where relevant.

Where appropriate selected pictures will be used to expand the information available on this web site, and it may be possible to provide pictures of selected buildings, etc., on request.

Franci walking past some old farm buildings (now converted to housing) at Norcott Hill Farm
The farm and other buildings have now been photographed by Google Streetview.
| | | |
| --- | --- | --- |
| July 2009 | | Page created |
| April 2010 | | Google Streetview link added |