SAMM (and Quakers), Hitchin Area, circa 1700

July, 2010
Parker C. Sams (parkersams @t sbcglobal.net) of Findlay, Ohio USA, writes I have a genealogical problem involving a non-conformist family I hope you can help me with. The Quaker records that could be key in solving the problem are held by Hertfordshire Archives & Local Studies, but the family itself lived in Clophill parish in Bedfordshire.

Quaker records from the LDS library show that John and Amy Samm had Hannah (1691), John (1692), Nathaniel (1693) and Mary (1693). The mother, Amy, died in 1700. No marriage record has been found. This family were part of the Hitchin Monthly Meeting (MM). In what's available to me I have been unable to find any other record in England of this family, non-conformist and otherwise.

I working on a theory that either John Sr. or John Jr. was the John Samm who emigrated to Philadelphia in 1711 and who is also a promising candidate to be my ancestor. Some circumstantial evidence suggests that he could be, but that is still a big "could be." What would be helpful is any information about this family in the minutes of the Hitchin MM from say 1700 through 1712. The Hitchin MM records I've seen only include births, marriages and deaths. What I would be especially keen on, in the minutes are any disownments and certificates of removal, either to somewhere else in England or best of all to America.

According to information online the Hitchin MM minutes from 1668 to 1761 are held by the Hertfordshire Archives. They don't seem to be available over here and they don't seem to have been published. What would be the best way for me to have these minutes checked from 1700 to 1712?
I am afraid I cannot help on your immediate question, as I don't do searches in records offices, and I don't have any special recommendations as to who you may employ - apart from saying that HALS does provides a research service. What I can do is supply some possibly useful background.
General Advice
First there are a number of advice pages on my site which you may find helpful, if you are not already aware to the issues they address. My Ancestors Emigrated from Hertfordshire provides some ideas in linking an ancestor back to Hertfordshire. Right Name, Wrong Body is a warning that it was quite common from there to be several people living in an area at the same time who had the same name and similar ages. Amateurs often fail to check this out - grabbing the first one they find and assuming (sometimes wrongly) that it must be their ancestor. It is also clear, when viewed from this side of the Atlantic, that much of the research on the English origins of the early American settlers is seriously flawed. This is discussed in The Myth of Stanstead Abbey, Hertfordshire which shows that virtually all the references to the place arise from one minor clerical slip in a document of 1635. My research showed that 99% of the references on the World Wide Web are at least misleading or completely wrong., and it seems that initially a small number of people failed to spot the clerical error and everyone else copied what they had done without checking.
Book Survey of Hitchin Quakers
While I don't have access to the Hitchin Monthly Meeting minutes I do have access to some printed sources relating to Hertfordshire Quakers:
A Mirror for the Society of Friends was published by the Hitchin historian, Reginald L Hine in 1930. The book is subtitled being the Story of the Hitchin Quakers. This mentions that in (or shortly after) 1683 there was no meeting house in Hitchin and meetings were held in the house of William Lucas which stood where the shop of Messrs. Perks & Llewellyn, No. 9, High Street, now stands. In 1694 a meeting house was built in what was then known as Cod-piece Alley, but now known as Quaker Alley. Unfortunately, for your query, he says seems to say nothing of significance for the period 1700-1712, although the way the book is written means there may be some references later. The name Samm (and obvious variations) does not appear in the index.

The History of Hitchin, by Hine, contains a long section on The Quakers which is virtually identical, page for page, to the previously mentioned book.

A Quaker Journal, being the Diary and Reminiscences of William Lucas of Hitchin (1804-1861) was published in 1934. I have not seen this but I am sure Reginald Hine had access to this and other Lucas family papers/ I suspect that the journal is too recent to interest your, but it could be that some earlier papers still survive.

Old Hitchin, Portrait of an English Market Town includes a picture of the old Quaker burial ground in Hitchin. It records that the original meeting house was replaced by a new one in 1840, but in 1958 the Victorian meeting house was replaced by another on part of the burial ground of the original meeting house. The book includes a map showing the location of the original meeting house.

Friends in Bedfordshire and West Hertfordshire has a few passing references to Hitchin (as one of a number of meetings). It has brief mentions of the Samm family, recording that in May 1659 Andrew Parker stayed with John Samm of Houghton Conquest, Bedfordshire, and in the following persecution of Quakers, John dies in Northampton goal.

Nonconformity in Hertfordshire by William Urwick, published in 1884 includes some 17th century information about Hitchin in the very early days - but again nothing of great import to your query.
The Samm Family
I have checked a few sources which may not be available to you.
I have checked the indexes for Chauncy and the Victoria County History and there were no relevant references.
I checked the relevant volumes of the Herts County Records and the only relevant entry I could see was that on 24th April, 1693, at the Hertfordshire County Sessions held at Hertford, John Samm was sworn petty constable of Meppershall in place of William Fowler. Meppershall is actually in Bedfordshire, close to the Hertfordshire boundry, about halfway between Hitchin and Clophill.
I checked the Herts Family History Society book of Settlement Certificates and the most relevant to your period relates to a weaver, Abraham Sam, of Henlow, Bedfordshire, who moved to Hitchin in 1715 (HALS reference D/P53/13/2/090)
The book Wills at Hertford, 1415-1858 contains a full page of entries for Samm (various spellings) most of which are from the Hitchin area (it would be interesting to know if there is a similar cluster just over the county boundary in Bedfordshire). Three are of obvious relevance if you want to know which John Samm did not go to America. They were John Samm senior, grocer of Hitchin, (Inventory 1715/6, HALS ref 122HW54 11HR89), John Samm, grocer of Hitchin (Administration 1722/3. HALS reference H23/2213) and John Samm, grocer of Hitchin (1731, HALS reference 125HW12 12HR65). There is also a will for Abraham Samms, weaver of Hitchin (1730, HALS reference 125HW9 13HR42). There may also be other wills accessible on the National Archives web site - and I believe these might contain any will for someone dying in America leaving property in England. However I suspect that your John Samm did not leave any assets behind in England.
Are you aware of the Access to Archives web site - A quick check showed me that the Bedford and Luton Archives had a certificate to make the grave in the Friends Burying Ground at Pulloxhill for Philip Samm of Clophill, who died 2nd Jan 1781 age 80, and that a Joseph Samm, was a turner of Clophill in 1720/1, and there may be more relating to both Bedfordshire and Hertfordshire.
---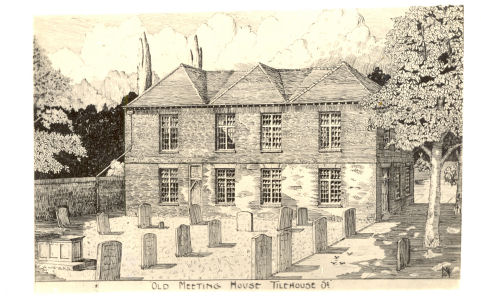 Old Meeting House, Tilehouse St., Hitchin.
Real photograph post card by Latchmore
If you can add to the information given above tell me.