Souvenir of Berkhamsted - posted August 1910

Early spelling variable - often spelt Berkhampstead. Also called Great Berkhampstead to distinguish it from Little Berkhampstead

The town of Berkhamsted includes the parish of St Peter's, Berkhamsted, St Mary's, Northchurch and the modern parish of Sunnyside.

In 1973 Berkhamsted became part of the new borough of Dacorum, which is named after an ancient Saxon hundred of the same name.

Under Construction

The information on Berkhamsted has been reorganised to provide menu access, so that more information can be introduced and more pictures posted in an easier to find format.- which may take some time.

Barkhamstead is a good Market Towne, and it had once a castle there of strength; the Ruines of it are there yet to be seene; it hath been the habitation for Kings and Princes, for the most noble Prince Richard Brother to the King of England, dyed there; which Richard was King of the Romanes, and Erle of Cornewall. This Castle ruined is also famous for the residence there of that most illustrious Royall Spark, Edward the Black Prince; and lastly it is memorable for being the birth place of King Richard the third. Barkhamstead hath two taverns allowed or kept by Stephen Besowth and Francis Baker.

John Taylor, The Taverns of Hertfordshire, 1636

The Town Hall, circa 1900, from Berkhamsted: An Illustrated History

More Links to be added
If you have a relevant question why not Ask Chris

If you know of other books, websites, etc, relating to this place, please tell me.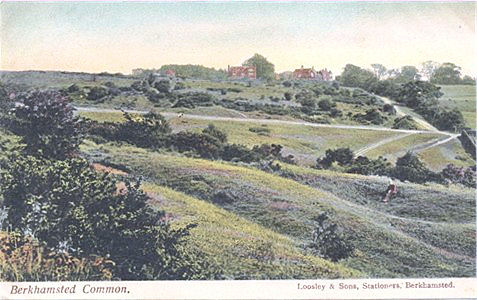 Berkhamsted Common (circa 1905)
postcard from Loosley & Sons, Stationers, Berkhamsted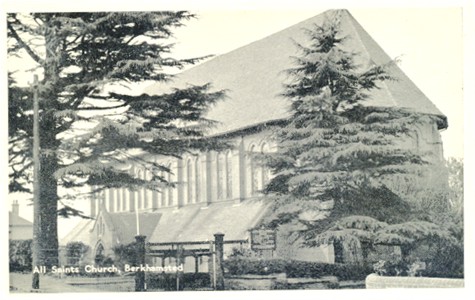 All Saints Church, Berkhamsted -TVAP card - undated
The Church was dedicated 2nd June 1906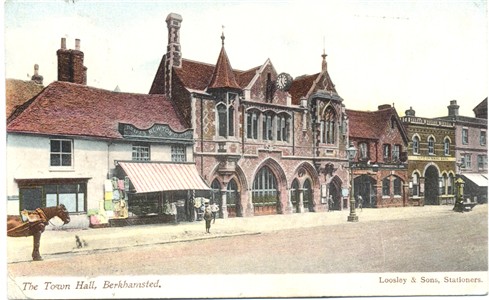 The Town Hall - posted 1904
The card was published by Loosley & Sons, who are listed in the 1902 Kelly's Directory as:
Loosley George & Sons, printers, booksellers, stationers, bookbinders, circulating library & news agents, 12 Castle Street & 164a High Street.
Extra postcard images.
click on thumbnail picture

Town Hall

Harefoot & Ashlyns

The Rectory

The Mill

Inns of Court
First World Was

Hunting by Newman
Berkhamsted

Parish Church
Painted PCs by A. Des Clayes

View from the South
| | | |
| --- | --- | --- |
| | | |
| March 2010 | | PC of Town Hall |
| April 2014 | | 1854 advert |