Adjacent Parishes: Chesham (Bucks), Flaunden, Hemel Hempstead, Kings Langley, Northchurch, Sarratt
Bovingdon was in the Hemel Hempstead Union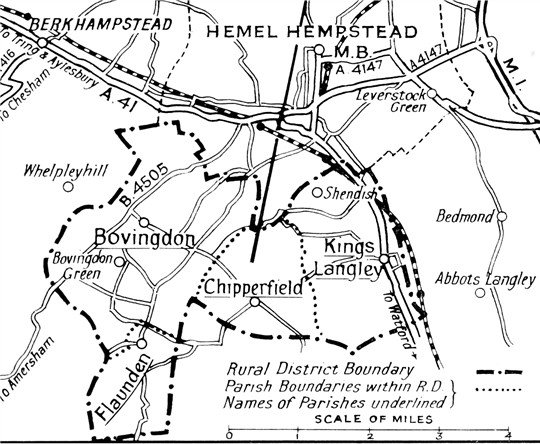 Map from Hemel Hempstead Rural District Official Guide (1971)
In 1973 Bovindon became part of the new borough of Dacorum, which is named after an ancient Saxon hundred of the same name.
BOVINGDON

St. Lawrence. C.of E. Entirely rebuilt in 1845 with the exception of the lower part of the walls of the west tower. As a result there is still a tomb-chest of circa 1400 on which there is an effigy of a knight in full armour. In the chancel there are several floor slabs of the 17th century, also some brasses of the same period.

Bovingdon and Flaunden Baptist Church. Bap. 1872
é Bovingdon Church
Valentine card 54934 JV
(photo taken 1906)

Bovingdon Church è
The 'Art' Series by H. W. Flatt
[Boxmoor]
Posted 1906
Ryder Memorial, Bovingdon
Valentine card 54931 JV
(photo taken 1906)
(posted 1907)

A picture of Bovingdon, taken about 1950, from a pictorial envelope produced by John Dickinson's of Apsley, showing The Bell and Wheatsheaf pubs, with the Ryder memorial well.
From The Gazette "Heritage Extra" of 24th September, 1998.
BOVINGDON
Bovingdon is a villiage 27 miles from London, 2½ miles south-west of Boxmoor Station, 4 miles south-west of Hemel Hempstead, 4 miles north-east of Chesham, 8 miles north-west of Watford and 4 miles south of Berkhamsted. The population is very much scattered. . Bovingdon is a perpetual curacy, in Dacorum Hundred, containing 4100 acres, and a population in 1841 of 1,072. The assessment to the Income Tax was £5,370 in 1842. Colliers, Whelpley Ash, White Hart Cross, Marchants, Shantock Hall, Mauldens, Venus Hill, and Bulstrode, are places in this neighbourhood.
Post Office Directory, 1850

The funeral cortege of Granville Dudley Ryder passing the Bell on its way St Lawrence Church in 1879
From: Bovingdon - A Celebration of Our Village
Book: Bovingdon - A Celebration of Our Village
Book: Bovingdon - History of a Hertfordshire Village
Book: Royalty to Commoners: Four Hundred Years of the Box Moor Trust
Book: A Hertfordshire Valley includes a chapter on Bovingdon.
| | |
| --- | --- |
| | There was a post office in Bovingdon as early as the 1850s when James Austin is listed as the 'receiver' of mail. The Skinner family then ran the post office until about 1890 when the Beaven family took it over. Cornelius Beaven was a general blacksmith who ran a small shop in the cottages on the corner of Church Street (opposite the Bull) and latterly his son Joseph started bicycle repair work there. Next door, Cornelius' sister Eliza Beaven ran the village post office. |
Methodists in Bovingdon in 1825
James Allsey, Unice Allsey, Mary Read, Elizabeth Nightingale, Elizabeth Puddefitt, Sarah Reed, Joseph Kemp, sen., Joseph Kemp, jun., Mary Kemp, William Eames, Thos. Clark, Keziah Eames, Fanny Eames, Charity Eames, Martha Rose.
See Methodism in the city of the Proto-Martyr and the St Albans Circuit
"Web": Bovingdon History and Census Data - Sarah Brown - Online 1841 and 1871 census
Web site: Bovingdon Village web site contains some local history.
Web Site: Our Dacorum (associated with Hertfordshire Memories)
Web site: Gazette - Important local History pages
See also Dacorum and Vital Records
(NOTE: While Bovingdon adjoins the Buckinghamshire border there is no connection with Bovingdon Green, Bucks)
If you know of other books, websites, etc, relating to this place, please tell me.
| | | |
| --- | --- | --- |
| June 2010 | | Ryder Memorial (JV PC) |
| June 2011 | | Our Dacorum |