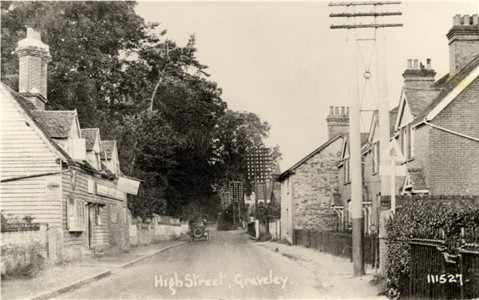 Graveley High Street - circa 1925?
About two miles from Stevenage, on the side of the road, is the Church and Village of
Graveley
; it was formerly G
raveley-cum-
C
hisfield
, and there were two Churches, one of which at Chisfield has long since been suffered to go to ruin. ...
Graveley Church is a neat structure with an embattled tower and four bells;it is dedicated to St. Mary. A stone on the floor has an inscription to the memory of William Smith, Esq., High Sheriff of the County in 1713; it states that he had three wives, two of whom were buried here, and that he died 24th February, 1729, in the 85th year of his age. A handsome tablet on the north wall is to the memory of Mrs. Margaret Sparhauke, with others of her family ; an inscription on the floor of the nave is to Simon Degge, of Derby, great-grandson to Sir Simon Degge, and there are other in scriptions to the memory of former Incumbents. In the Churchyard are two oval tablets under the east window of the Church, to the Rev. Francis Needham, nephew of Sir Henry Penrice, of Offley, and Rector of this Parish forty years, and his wife, Sarah Needham, and to Mary Lane and Thomas Lane, F.R.S., her son. Chauncy records an old Latin inscription in the Church to Benedictus Quarles, who died in 1587. There are two handsome memorial windows and an ancient screen. The living is a Rectory, of the value of £430, with 40 acres of glebe land, in the patronage of Rev. J. Pardoe. The Parish Register of Graveley dates from 1553.
The Manor formerly belonged to the Barrington family, and afterwards by marriage descended to the ancient family of Throckmorton. The Manor House stands near the ruins of an old Chapel. A modern writer says, "The little ruined Church of Chisfield, which was once a separate Parish, but has for many years been united with Graveley, is beautifully festooned with ivy, and forms a most picturesque object amidst delightful rural scenery." A stone coffin was found in good preservation near the Church. It is stated that the old Roman Road from Verulam passed through Graveley. The united Parishes contain 1817 acres; the population is 443.
Ruins of Chesfield Chapel

Chambers, Publisher, Stevenage

Posted 1906
Corey's Mill, Stevenage
Published by J Chipperfield, Stationer, Stevenage
Early divided back - circa 1903

Corey's Mill, three-quarters of a mile south west, is a hamlet of this parish. [Graveley] The old mill was destroyed by fire in 1878. (Kelly's 1902)

Corey's Mill in 1864
See also Vital Records
If you know of other books, websites, etc, relating to this place, please tell me.
| | | |
| --- | --- | --- |
| | | |
| March 2010 | | New PC of Chesfield Ruins |
| June 2010 | | New P Cs of Graveley Church |
| October 2010 | | Corey's Mill, 1864 |