Willian Church, Victoria County History

Adjacent Parishes: Baldock, Bygrave, Graveley, Great Wymondley, Letchworth, Little Wymondley, Norton, Weston.

It is in the Broadwater Hundred and the Hitchin Union

If you have a relevant question why not Ask Chris

If you know of other books, websites, etc, relating to this place, please tell me.
[This village has been used to compare different gazetteers and directories.]
Willian is not mentioned in the 1823 Pigot's Directory under either Hitchin or Baldock..
~~~~~~~~
WILLAN, a parish in the hundred of Broadwater, county of Hertford, 2¾ miles (E. by N.) from Hitchin, containing 269 inhabitants. The living is a vicarage, in the archdeaconary of Huntingdon, and diocese of Lincoln, rated in the king's books at £5. Francis Pym, Esq. was patron in 1816. The church, dedicated to All Saints, had been recently beautified, at the expense of £250.
Topographical Dictionary of England, 1831
The Baldock entry in the 1839 Pigot's Directory list the Rev. William Wollaston Pym as living at Willian Rectory but otherwise does not mention the small village.
[Further information about William Wollaston Pym, including a family tree, is included in the book Sentimental Journey.]

| | | |
| --- | --- | --- |
| An early (circa 1905) Valentines Series post card of the village green and parish church. (Same picture with title on white strip posted 1906) | | Similar view in Bedford Series |
Willian is a small village, in the Hundred of Broadwater and Union of Hitchin, 36 miles from London, 3 miles east of Hitchin station. south-west of Baldock, and north of Stevenage. The church is dedicated to All Saints, and the living a vicarage, endowed with the rectory, value £588. The present incumbent is the Rev. W. W. Pym,M.A. The area in acres, in 1841 wass 1,900 and the population 291. The Assessment to the Income Tax, in 1842, was £3,075.
Roxley is ½ mile south.
.Pym, Rev. William Wolleston, M.A

Ellis William, blacksmith

King John, 'Three Horseshoes'

Logsden Ellis, farmer

Rudd William, grocer

Saville Richard, farmer

Sworder Charles, farmer

Tween George, farmer

Letters are reveived through Hitchin
Post Office Directory for Hertfordshire, 1851
The Village of Willian, which is two miles and a half from Hitchin, by a cross road, and about two miles from Graveley, is between the two high roads leading to the north. The Church is of considerable antiquity, and has been recently restored and beautified; it is dedicated to All Saints, is of stone and flint, and has an embattled tower and two bells. It contains a number of ancient inscriptions and memorials; one in lengthy Latin to the memory of Thomas Wilson. who died in 1656; there are several to former incumbents of the living, and an ancient monument to the Lacon family. The following epitaph in this Churchyard to Ann Chapman has been recorded as curious:-
"A double Surgeon she; she often restored to health
The pined wretch, as oft the poor to wealth."
The living is a Vicarage, with rectorial tythes added, of the value £613 per annum, with glebe and residence, in the patronage of F. Pym, Esq. The Village and Cottages have been greatly improved since 1864, when a large portion of the Parish was purchased by C. F. Hancock, Esq. There are good Parochial Schools. The area of the Parish is 1854 acres; the population 344.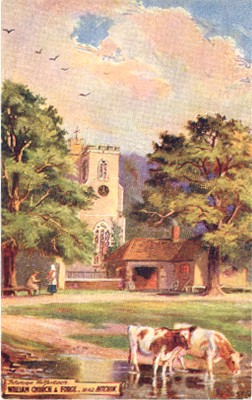 << Postcard of "William" Church published by the Regal Art Publishing Co (RAPCO) in their Picturesque Hertfordshire series from a painting by Alex Austen.
Willian is a parish in Broadwater hundred, Hitchin Union and county court district and in the rural deanery of Hitchin and arch-deanery and diocese of St Albans. The parish extends to the town of Baldock and the village stands between the old and new north roads, 36 miles from London, 2½ miles east from Hitchin station, 3 from Hitchin, and 2½ miles south-west of Baldock. The church of All Saints is an ancient stone and flint structure, probably erected in the latter part of the fourteenth century, consisting of chancel, nave, south porch and an embattled tower with turret containing 3 bells; in the chancel is an ancient monument to Edward Lacon esq. 1625 and Joan his wife, 1624, with kneeling figures of both and of their children; against the wall is a small brass with effigy to Richard Golden, a former vicar, 1446; within a circular-headed niche are two small effigies of a man and his wife kneeling at a desk and beneath an inscription to John Chapman B.D. fellow of Trinity College, Cambridge, and formerly vicar here, 1624; there are also memorials to the Pym family. 1838-52; that of Way, 1662-73; Rooke, 1755-87 and others. The register dates from 1683. The living is a rectory, yearly value £588, with residence, to the gift of Francis Pym esq. of the Hassells, Sandy, Bedfordshire and held by the Hon. and Rev. Lewis William Denman M.A. of Magdalene College, Cambridge. Charles F. Hancock esq. of Hendon Hall, Middlesex, is lord of the manor. The soil is light loam; subsoil chalk. The chief crops are wheat, beans, barley and green crops generally. The area is 1854 acres; 1207 of which, including nearly the whole village, was purchased in 1868 from the family of the late Baron Dimsdale by Mr. C. F. Hancock, of Bond street, London and Hendon Hall, Middlesex, who very much improved the condition of the labourers, having rebuilt the greater portion of the cottages, from designs and under the superintendence of the late Owen Jones, giving them each a garden and planting these with fruit and other trees; besides draining the whole village at his own expense, he has also erected at a short distance from the village a fine mansion called Roxley House. Ratable value, £3.326; the population in 1881 was 299.
Parish Clerk, Edward Chapman.
Letters through Hitchin, the nearest money-order office. There is a wall letter box near the church, cleared on week days at 6.16 p.m.
National School, erected in 1872 with mistress's residence, at a cost of £2.80, for 85 children, with an average attendance of 51; Miss Sarah Bloom, mistress
Carrier - Aylott, to Hitchin daily
Denman Hon. & Rev. Lewis William, M.A. Rectory

Hannock [sic] Charles R. Roxley House; & Hendon Hall, Middlesex

Howes Teh Misses, Punchardon House.

Chapman Edward, blacksmith

Drage John, Three Horseshoes

Griggs William, baker

Logsdon Edward, farmer, Lordship frm

Savil Henry, farmer, Pixmore farm

Studman Dl. Willian Arms, & btchr

Sworder Chas, frmr, Manor House frm

Watson Joshua, carpenter & wire wrkr
Kelly's Directory for Hertfordshire, 1882
Willian, formerly Wylie (2 miles N.E. from Hitchin Station, G.N.R.), is very ancient, mention of it as a property dating from the times of the Mercian kings. The village lies 1 mile W. from the Great North Road. The church is thought to date from the Conquest, but only an arch in the chancel is Norman. Note (1) the monument to "Edvardus Lacon" (d. 1625), and Joanna his wife (d. 1624); (2) small brass to Richard Goldon, a former vicar (d 1446-?1417). A tiny graveyard surrounds the church. Roxley Court (½ mile S.) is the property of Colonel Mortimer Hancock.
The Little Guides: Hertfordshire, 1903 edition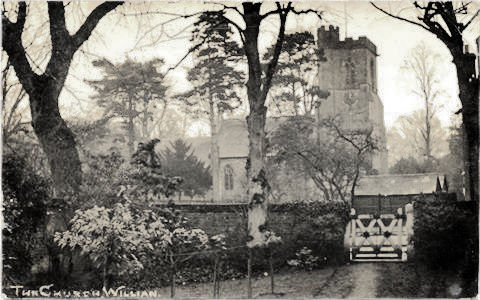 << Willian Church - early undated postcard
The Little Elephant with a Howdah
WILLIAN. Many who come on this homely place with its green and its ponds, its tall trees, its medieval church, and its
thatched vicarage 400 years old, must think it an endearing English scene, fit to be preserved for ever; and so it is to be, for it stands within the green belt bought by Letchworth's Garden City.
Limes and chestnuts strive to out-top the gargoyles of death and the other dread powers peering out from the 15th century tower. Graver medieval heads, 14 in all, support the chancel roof, and tiny heads below them add to the delicate arcading. The 15th century woodcarvers added their quaint fancies to the posts of the choir stalls, where we see a sphinx-like monster with barbed tail above the Baptist's head on a charger; and strangest of all is a perfect little elephant bearing a howdah with openings carved like medieval church windows. Part of a Tudor screen is left in the 15th century chancel arch, which matches the arch of the tower. The walls of the nave and the chancel are the work of Norman masons.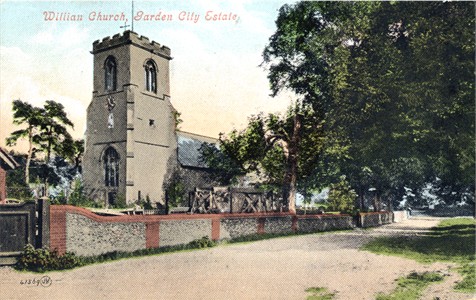 Willian Church - Valentine Card No 41569 - Photo taken 1903. >>
Two vicars of long ago are here in brass and stone, Richard Goldon having a portrait brass of 1446 on the chancel wall, and John Chapman, who died in 1624, appearing as a small kneeling figure in stone with his wife. By the altar kneel more stone figures, Edward Lacon with his wife and three children. The father, who is in armour, died in the year Charles Stuart came to the throne. Thirty years later, when Cromwell ruled in Charles's place, another monument was set here with the busts of a man and his wife looking out from dark recesses. He is Thomas Wilson, who died while he was serving as Prefect here under Cromwell's military system of local government, when the whole of England was divided into ten areas and each area was ruled by a major-general.
Kings England: Hertfordshire, circa 1938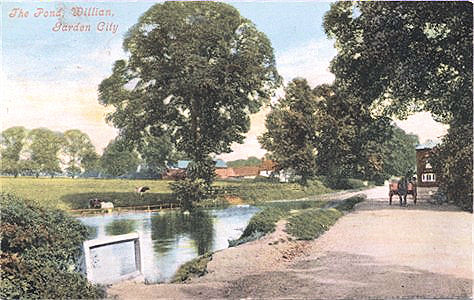 << The Pond, Willian, Garden City, posted 1905 (publisher Valentine)
Willian adjoins and has now been incorporated in Letchworth Garden City. Part of the village was rebuilt in the latter part of last century, but the whole remains pleasantly rural and picturesque. Willianbury 18th century with 19th-cent. modifications. The church of All Saints is chiefly Perp. with late Norm. chancel arch. Carved chancel seats (?15th cent.). Monuments to John Chapman (1624), Edward Lacon (1625), Sir Thomas Wilson (1656). Brass to Richard Goldon, vicar.
The Little Guides: Hertfordshire, 1957 edition
The following medieval variations of the name are recorded in the Place-Names of Hertfordshire:
Wellien, Wellyen, Welye, Wilewe, Wilia, Wilian, Wilie, Willen, Willia, Wilye, Wilyen, Wyleyn, Wylie, Wylien, Wyliestrate, Wyllyne, Wylye, Wylyene, Wylyes
Book: For information relating to the Pym family see Sentimental Journey
Topics: War memorials and Rolls of Honour - give details of War Memorial
If you know of other books, websites, etc, relating to this place, please tell me.
| | | |
| --- | --- | --- |
| February 2009 | | Page updated |
| January 2011 | | Valentine card of Church dated |
| November 2013 | | Kings England extract added |