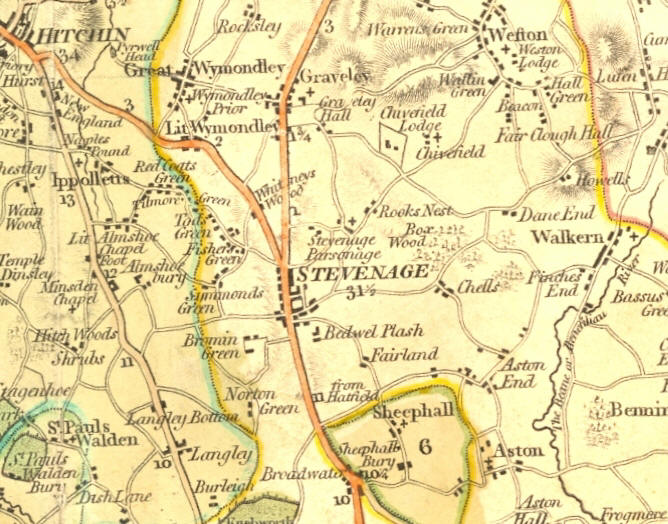 Detail of Charles Smith's map of Hertfordshire, 1808
---
STEVENAGE, a town on the Great North Road, has shifted from its original position. It once stood farther N.E. and close to the church; but after a terrible fire which destroyed a large proportion of its houses the village was gradually rebuilt more directly on the famous old coaching road. The first paper mill in England is said to have been built in this parish. Several of its ends were standing when the regular coaches were on the road.
The old Church of St Nicholas, ¾ mile N.E., is reached through an avenue of limes and chestnuts, headed by a new litch-gate. It is largely Early English. Note the octagonal pillars and pointed arches of the nave and the two small chapels attached to the chancel. The font at the W. end is under an Early Norman arch. There are several modern windows of stained glass, and a good brass, early sixteenth century, in the chancel. The church at the S. End of the town was designed by Sir A. W. Blomfield about forty years back, but has since been much enlarged. Half a mile farther S. on the main road are six almost equidistant mounds, thought to be of Danish origin.
At the old Castle Inn, E. side of High Street, great numbers of persons have been shown on the rafters in a barn the coffin of Henry Trigg, whose will was proved in 1724; one of its provisions was that his body should be disposed of in that way. Little more than a mile N.W. from the station, at Redcoats Green, stood, until 1893, "Elmwood House," the home of the Hermit of Hertfordshire. This man, James Lucas, was descended from a good family, but for reasons never satisfactorily explained he lived alone, and in a most filthy condition, from October, 1849, to April, 1874. A concise and reliable account of this peculiar man is issued by Messrs. Paternoster and Hales of Hitchin.
Hertfordshire - Little Guide - 1903
---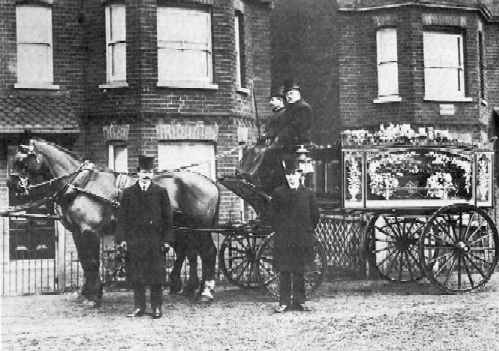 William Austin's Hearse, Stevenage, circa 1906.
The family ran an undertaking business for six generations
from Hertfordshire in Old Photographs