| | |
| --- | --- |
| | |
| | Holy Trinity, Leverstock Green, 1849 |

Leverstock Green is a "modern" parish, formed from parts of the parishes of St Michael's (St Albans), Abbots Langley and Hemel Hempstead. The church, shown above from an article in the Illustrated London News, was consecrated on 30th October, 1849. It became part of Hemel Hempstead New Town in the 1940's and is now part of the Borough of Dacorum.
Barbara Chapman maintains a web site, The Leverstock Green Chronicle, which contains exceptionally comprehensive notes, maps and pictures detailing the history of Leverstock Green and anyone with an interest in the area should visit it.
Holy Trinity Church
Leverstock Green

Published by Downer

Rev. George Finch (born Watford, 1836) was the son of John Wood (born Watford 1789, landed proprietor in 1861) . In 1861 he was curate at West Dereham, Norfolk. In 1871 he was the curate at Chickley, Buckinghamshire and in 1881 and 1891 he was vicar of Leverstock Green. See Finch/Royd Marriage at Aldenham, 1867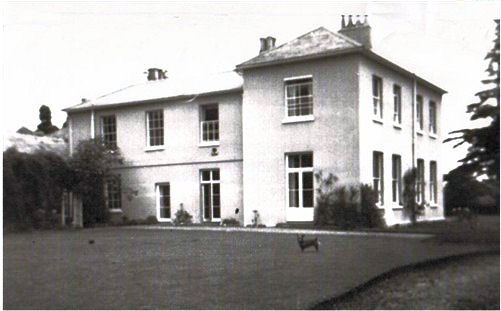 A rear view of Chambersbury circa 1950 from Barbara Chapman's site.
Family names in Leverstock Green from the 1851 Census
from The Leverstock Green Chronicle
ABBISS ABBOTT ALLEN ALWOOD ASHWELL ATTWOOD AXTELL
BAILEY BARNES BARNS BEEK BENNETT BLEC BOULTON BOWRA BOYS BRADWIN BREWER BRIANT BRIDGE BRITAIN BROWN BUCKINGHAM BUCKOAK BURAGE BURGESS BUTLER
CARPENTER CARTER CATLIN CHARGE CHILD CHUTTER CLARKE COLE COLMAN COOCK COOK COOPER
DANCES? DANES DEAR DELL DIMMOCK DIXON DOGGETT DOLLING DOLT
EAST EASY EBBERN EDMONDS EDWIN ELBORN ENGLAND EVANS
FARINGBOROUGH FINCH FINDELL FOSTER FRANKLIN FREEMAN FRIEND
GEORGE GIFKINS GINGER GURNEY
HALE HALL HALSEY HANNELL HARDING HARROWELL HART HAWKINS HEADECH HEMLEY HERRIDGE HOLDSWORTH HOLLAND HOW HOWLETT HUTCHINS
JAMES JEFFERY JENNINGS JOINER
KARL KENT KENTISH KIFFORD
LATCHFORD LEA LEE LINFIELD LONNON LOVELL LOVETT LUCK
MARTIN MATHEWS MILLARD MOSS MUCKLE MUN N NORWOOD
ODELL ORCHARD OSTLER
PAGE PANGBORN PARKER PARKINS PARTRIDGE PEARRY PEAT PEDDER POINTER PUNTER
RACKLEY RICHARDSON RICKETT ROLPH ROSE
SAUNDERS SCRIVENER SEABROOK SEARS SEGROVE SELLS SHEPHERD SHUFFIELD SIMMONDS SIMMONS SIMONDS SLOW SMART SMITH SOUSTER SQUIRE STEVENS
TARBOX TRAVELL TRIPP TURNER
WAITE WALLER WARD WARNER WEBB WELLS WHITE WHITEHEAD WILKINS WILLSON WINCH WINGROVE WOOD WOOLCOTT WRIGHT
Leverstock Green, West View

The "Art" Series, by H. W. Flatt

Posted 1913

Sent to Mr. Alf Dellar, Bacons Farm, Church, Street, Thriplow, near Royston, Cambridgeshire by "E.A.W." who had recently moved to No. 1. Belconey Cottages, Leverstock Green.
If you know of other books, websites, etc, relating to this place, please tell me.
| | | |
| --- | --- | --- |
| | | |
| July 2010 | | P C of church (1913) |
| September 2012 | | P.C. of West View |
| January 2013 | | Royds reference added |