The Brook

Water End

North Mymms

Published by George G Knott, Photographer, North Mymms. Hatfield.

Posted 1911 but earlier back
1 m. after leaving Barnet Station the railway enters Middlesex again, and continues in that county for 6 m., until it reaches NORTH MIMMS, the station for which is Potter's Bar.
North Mimms Place, W. of the railway, was built in 1580. It contains many good rooms with oak-carving and tapestry. It belonged to the Dukes of Leeds, and before their time to the Coningsbys. During the ownership of Thomas Coningsby, a Royalist leader in Herts, the house was plundered by the Parliamentarians.
The ch. (St. Mary), which stands in the park, is a fine Dec. building with a spire. The N. chapel is the burial-place of the Coningsbys. There is a monument to Robert Knolles, also of North Mimms Place, of the date 1458. There is also a brass to a priest. There is a large monument to Lord Somers, Baron Evesham, and lord chancellor in the time of William III., d. 1716. The monument was erected by his sister, Lady Jekyl, of Brookman's Park, which is on the other side of the railway.
S. of Brookman's Park is Gobions. The two parks are now thrown into one, but in the latter there stood until a few years ago a mansion once the property of Sir Thomas More. A lofty castellated gateway in the park is called The Folly
S.E. of Gobions is the little village of NORTHAW. This manor also belonged to the abbey of St. Alban. The village stands pleasantly amongst woods on the borders of Enfield Chase. The church was rebuilt in 1810.
After passing North Mimms the railway reaches Hatfield Park, which it skirts on its W. side until it reaches HATFIELD STATION
Tourist Guide to Hertfordshire 1891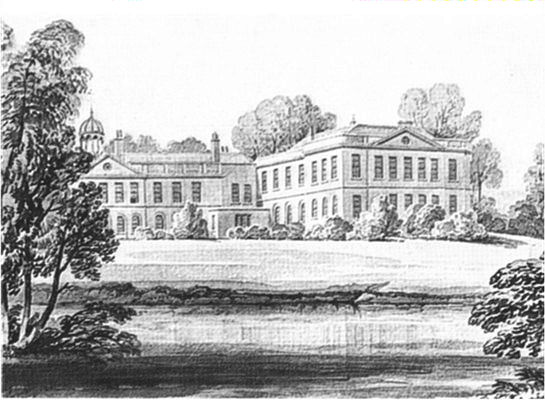 Gubbins, North Mymms, 1840
Adjacent Parishes: Enfield (Middlesex), Hatfield, Northhaw, Ridge, St Peters (St Albans), South Mimms (Middlesex)