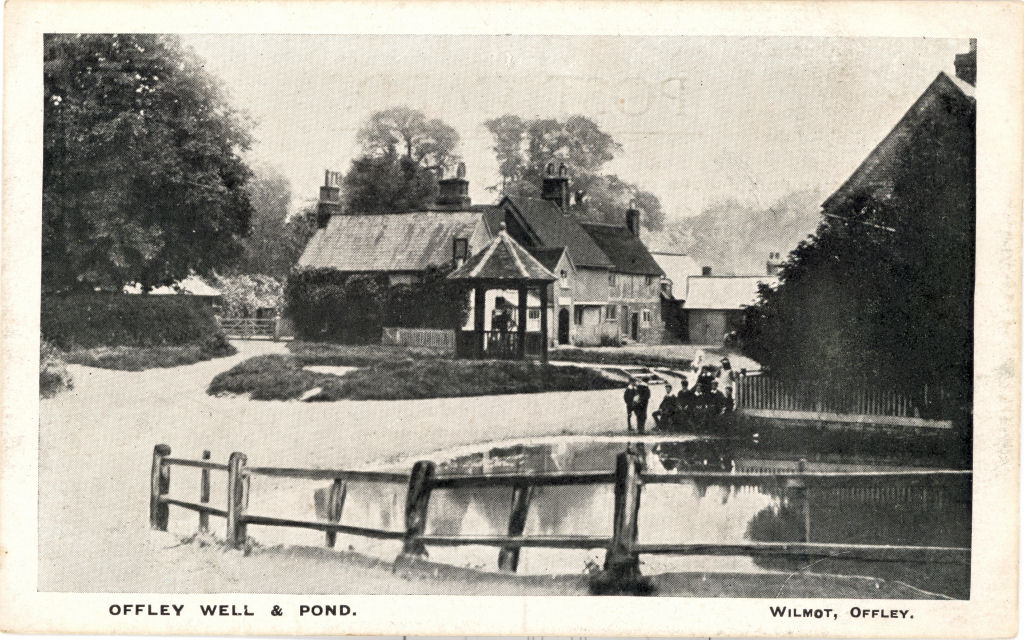 Offley Well and Pond - published by Wilmot, of Offley, c1903
About 4 m. S. W. of Hitchin, high up on the hills, is GREAT OFFLEY.
This place is supposed to take its name from Offa, King of Mercia, who had a residence here, in which he d. in 794. The manor belonged after the Conquest to the St. Legers, and afterwards to the family of Hoo. Anne, one of the daughters and coheiresses of Thomas de Hoo, created Baron Hoo and Baron Hastings in 1449, married Sir Geoffrey Boleyn, a wealthy citizen of London, and was great-grandmother of Anne Boleyn. The manor afterwards became the property of the families of Spencer, Penrice, Salusbury, and Burroughs.
Offley Place was built in 1600 by Sir Richard Spencer. The .greater part was pulled down in 1806, and it was rebuilt in the Gothic of the period. There are in it portraits of John Burroughs, Bishop Morley, Lady Jennings, with the black page-boy who saved her life, and of the Penrices.
In the church (St. Mary Magdalene) are many monuments of the families which owned Offley Place. Against the wall of the chancel is that of Sir Henry Penrice, judge of the Admiralty Court, and chancellor of the diocese of Gloucester. He d. 1752. He is represented standing with a lady beneath a tree. There is a tradition that Sir Henry and his wife were once neighbours, but at feud, and that meeting under a tree during a thunder storm, they made up the quarrel by an engagement of marriage. There is also a monument of Sir Thomas Salusbury, judge of the High Court of the Admiralty, d. 1773. Both these monuments are by Nollekens. In the aisle is the monument of Sir John Spencer, who d. 1699, aged 22, with figures of Sir John and his mother, and angels in clouds above.
An inscription over two old tiles let into the S. wall states that "These tiles were found within this church in 1777, which prove that King Offa was buried here." How they prove it is difficult to say, and the common tradition, as given by Matthew Paris, is, that he was buried in a chapel on the banks of the Ouse at Bedford, and that chapel and tomb were carried away by a flood.
The modern brick tower, which has been added on to the old church, was built by Sir Thomas Salusbury.
In the churchyard is a monumental pillar to Charles Ward, a well-known huntsman, who acted in that capacity for twenty-eight years with the Hertfordshire hounds.
Foster, Tourist's Guide to Hertfordshire, 1891