| | | |
| --- | --- | --- |
| THERFIELD is a village and scattered parish, upon the chalk range, extending to the Cambridge border, 3 miles south from Ashwell station on the Hitchin and Cambridge line of the Great Northern railway, 3 miles south-west from Royston and 8 east-by-south from Baldock, and in the Northern Division of the county, Odsey hundred and petty sessional division, Royston union and county court district, rural deanery of Baldock and archdeaconry and diocese of St Albans. | | From Robert Morden's Map 1695 (1753 or 1772 edition) |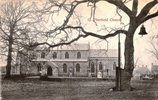 The church of St Mary the Virgin, erected on the site of the former church, at a cost of £4,600, exclusive of the chancel, rebuilt by the Rev. J. G. Hale M.A. rector 1870-1907, is an edifice of flint and rubble stone in the Decorated style from designs by Mr. G. E. Pritchett, architect of Bishop Stortford, and consists of chancel, clerestoried nave of four bays, aisles and a tower, erected in 1911 and containing 6 bells, dated respectively 1689, 1626, 1656, 1597, 1608 and 1707: the church affords 510 sittings. The register dates from the year 1538. The living is a rectory, net yearly value £538, including 66 acres of glebe and residence, in the gift of the Dean and Chapter of St. Paul's, and held since 1907 by the Rev. Frederick Roberts Blatch M.A. of Oriel College, Oxford.
The Congregational chapel is a building of flint, capable of seating 250 persons, and was erected in 1836 and restored in 1867 at a cost of £300.
Boteman's charity, of £34 17s yearly, arises from 38 acres 24 poles of land, left some time previous to 1580 by one Boteman, of Sandon, and is distributed in fuel. Money Crofs charity, amounting to £2 a year, left in 1772 by John Clerke, is given in bread.
Here are four manors; the Ecclesiastical Commissioners are lords of Therfield manor; Rev. George Archer M.A. rector of Stilton, Peterborough, of the manor of Mardlebury; H. Phillips esq. of the manor of Gledshaw or Gledseys, and the rector of the Rectory manor. The principal landed proprietors are Francis John Fordham esq. of Royston, John Phillips esq. of Royston, H. Phillips esq. of Royston, the trustees of the late Rev. Sir Frederick Arthur Gore Ouseley bart (d. 1889), and Mrs. T. S. Usborne.
The soil is mixed, heavy and light: subsoil, chalk and clay. The chief crops are wheat, barley, beans and some roots. The area is 4,704 acres; rateable value, £3,005; the population in 1011 was 681 in the civil and 579 in the ecclesiastical parish.
Kelly's Directory for Hertfordshire, 1914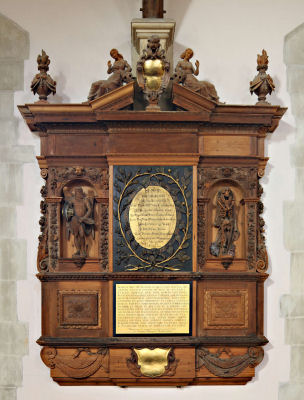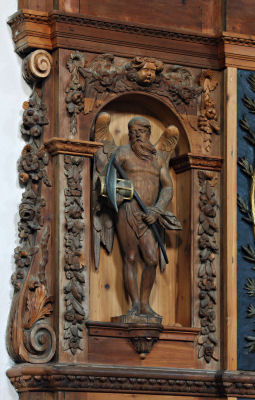 There is a very detailed account of the Turner Monument, Therfield, and its history, in Digital Atlas Annual Report, 2010. Monuments of this type are almost always made of stone - but the Turner Monument is made of wood. It was in the chancel of the old church and had been have been damaged as a result of the problems that led to the church being demolished and rebuilt. In the 1960s the monument was restored to it current condition,
Hertfordshire Inns lists two old public houses in Therfield. The Bell is a 19th century building, but there has been a Bell on the site since at least 1707, when it was owned and occupied by a widow, Mary Green. It was bought in 1801 by John Izard Pryor, brewer of Baldock. In 1750 William Figgis, carpenter of Therfield, mortgaged the Fox and Duck to Thomas Crockett, victualler, of Royston. It was rebuilt in the 19th century.
Web Site: www.therfield.net now contains transcripts of the all the censuses between 1841 and 1901, memorial inscriptions, and useful links to other web sites. It also contains census data (taken by the vicar) for 1803-1807, press reports from the Times, and is an essential for anyone whose ancestors come from the parish,
Therfield Church Gate

no publisher - after 1912

as church tower complete
Note Thatched cottage.
The Park, Therfield

Published J. Bishop

Circa 1910

In 1902 Samuel Porter Bullen

was at Park Farm
Books: Then there were two and Village Chronicles
Therfield Village with tree covered village green (detail showing shop)

Post card by Robert H Clark
If you know of other books, websites, etc, relating to this place, please tell me.
| | | |
| --- | --- | --- |
| May 2010 | | Links to books |
| October 2010 | | Church moved to new page, two P C added |
| July 2011 | | Reformatted and update on Therfield.net |