The first Toll-gates or Turnpike-gates in England, are supposed to have been established here in 1663. (15th Charles II.) The Act was entitled, "An Act for repairing the Highways in the Counties of Hertford, Cambridge, and Huntingdon." They were ordered to be erected at Wadesmill, near Ware, in Hertfordshire; at Caxton, in Cambridgeshire; and Stilton, in Huntingdonshire. The preamble stated, amongst other things, that "by reason of the great trade of barley and malt that came to Ware, and is to be conveyed by water to the City of London," the road is "very ruinous, and became almost impassable, insomuch that it became very dangerous to all his Majesty's liege people that pass that way." The Turnpike at Wadesmill, which is in the Parish of Thundridge, and several in connection with it, lately stood as memorials of "the good old times."
The living of Thundridge is a Vicarage, of the value of £123 per annum, in the gift of R. Hanbury, Esq. A handsome vicarage-house was erected a few years since. The Charities produce £45 per annum. Population 456; acreage 2160.
From Young Crawley, Guide to Hertfordshire, 1880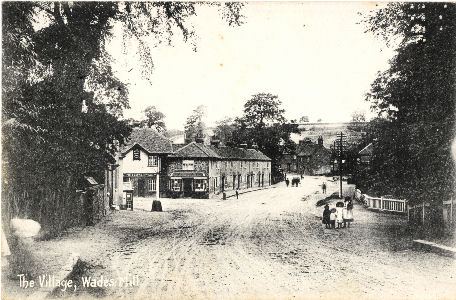 Wades Mill Village
Published by L. C. Andrews, Post Office, High Cross. Posted 1913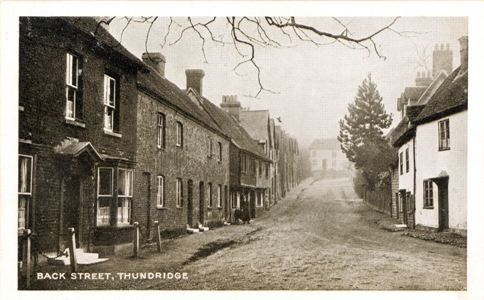 Back Street, Thundridge
Published by C. Pritlove, The Post Office, Wadesmill RA card
Charles Pritlove was listed as sub-postmaster in 1912 and 1926
Mill House, the building on the left, with the posts in front, was a Youth Hostel between 1931 and 1935. In 1933 it is described as: Youths' Hostel Association (Mrs. E. Jones, proprietress) board & lodging; bed and breakfast; accommodation for cyclists & rambling clubs.