Adjacent Parishes: Ashwell, Bygrave, Clothall, Rushden, Sandon
It was in the Buntingford Union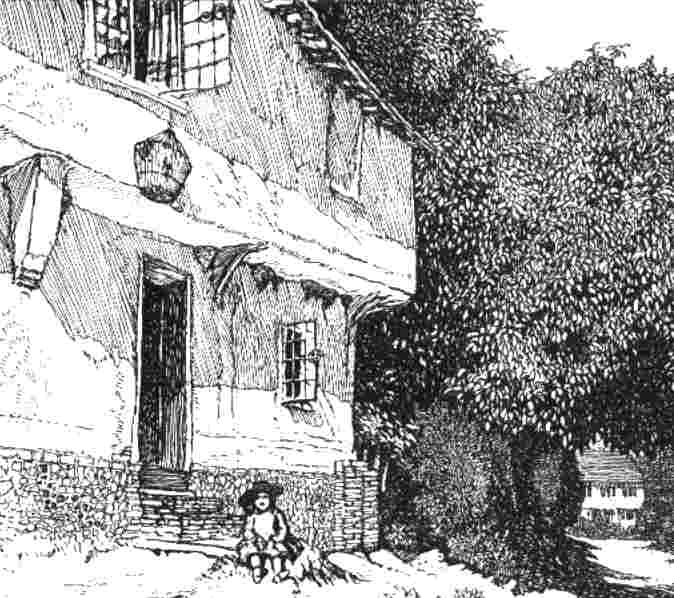 An old cottage at Wallington
From Highways and Byways in Hertfordshire
The village of Wallington is little more than the church, the Plough Inn, and a few humble homes — there are several thousands of such villages in England. It stands upon a slope, and, in striking contrast to so much of the scenery between here and Baldock, the lower end of the village lane — I cannot call it a street — is in a leafy hollow. Just below the Plough Inn the hedge is almost choked by the hops which clamber over it, and an old woman who is gathering sticks tells me that they grew there more luxuriantly once. I am told, too, that people in Wallington live as long as they please; there is a woman now in the village who is eighty-six years of age, and "takes in washin' reglar." In the parish church, dedicated to St. Mary, there are some sadly mutilated monuments, but as experts have warned me that it is of no great interest, architectural or historic, I loiter with an easy conscience among a few folk beside the village spring, which being surrounded by a low circular wall, is a fitting spot for local assemblies. I learn, among other things, that there are no schools anywhere in the neighbourhood, save those of the church, for "there arn't no chapel people in these parts."
From Highways and Byways in Hertfordshire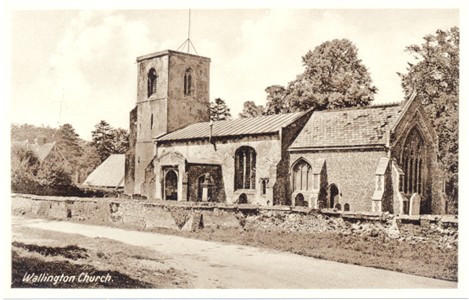 Wallington Church - see Packets of Postcards
Church Monuments
In the Chancel, three old stones, Brass and Inscription lost: One is thought to have been for the Chief Justice Prisot. [see PRISOT, Wallington, 15th Century]

In a chapel on the North Side two Altar Tombs: One in the Arch between it and the Chancel with Arms of Boles on the side.

The same Arms there on another Stone for John son of Thomas Bolles of this Parish, Esq; buried 1695.

In the Chapel Windows two Coats: One Sable with a Bordure Argent three pickaxes of the 2d. The other, Gules on a Chief Argent 3 Mallets (or something similar) Sable. This is also upon an Altar Monument in the same Chapel.

In the window a King sitting.
From Salmon History of Hertfordshire, 1728
Topic: Rectors of Wallington, 1309-1870
Book: Then there were two
Book: Village Chronicles
If you know of other books, websites, etc, relating to this place, please tell me.