Towns & Villages in Herts

Rushden
Adjacent Parishes: Clothall, Cottered, Sandon, Wallington
It was in Odsey Hundred and the Buntingford Union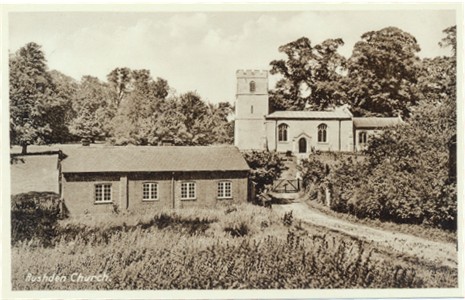 Rushden Church - see Packets of Postcards
Rushden, formerly Risendene and Risden (5 miles S.E. from Baldock), has a stuccoed brick church, Dec. and Perp., Chauncy saw in it "no inscription, Monument, or other Remark," but in 1754 the monument of Sir Adolphus Meetkerke, Kt., was brought here from St. Botolph's, Aldergate. Meerkerke was Ambassador from Flanders to the Court of Wueen Elizabeth, and the author of several volumes. Note the canopy in the nave, thought to have covered a statue of the Virgin. In the reign of Henry II the patronage of the church was given by William Basset, Sheriff of Leicestershire, to the Canons and Church of St Peter's, Dunstable.
Hertfordshire - The Little Guide, 1903
Census: There is a list of surnames from the 1841-1901 censuses on the HCM web site.
Book: Then there were two
Book: Village Chronicles
Web: The Rushden Village Site includes a pictorial tour around the village and some local history pages. At it represents an old country activity I was interested to see there was a group of Rushden Lace Makers
If you know of other books, websites, etc, relating to this place, please tell me.
| | | |
| --- | --- | --- |
| | | |
| May 2010 | | Links to books |
| July 2010 | | Link to village webg site |