Who is Related to Who?

Page 2
In fact the above marriages are part of a complex series of cousin marriages involving the descendants of Thomas Burchmore (1729-1806) of Flamstead. The key links in the network are shown below and are of additional interest because they include Robert Smith (1786/7-1865), who with his son Edmund (1825-1870) were the tenants of Heath Farm, Sandridge. This was the farm that Jacob Reynolds took over in 1871.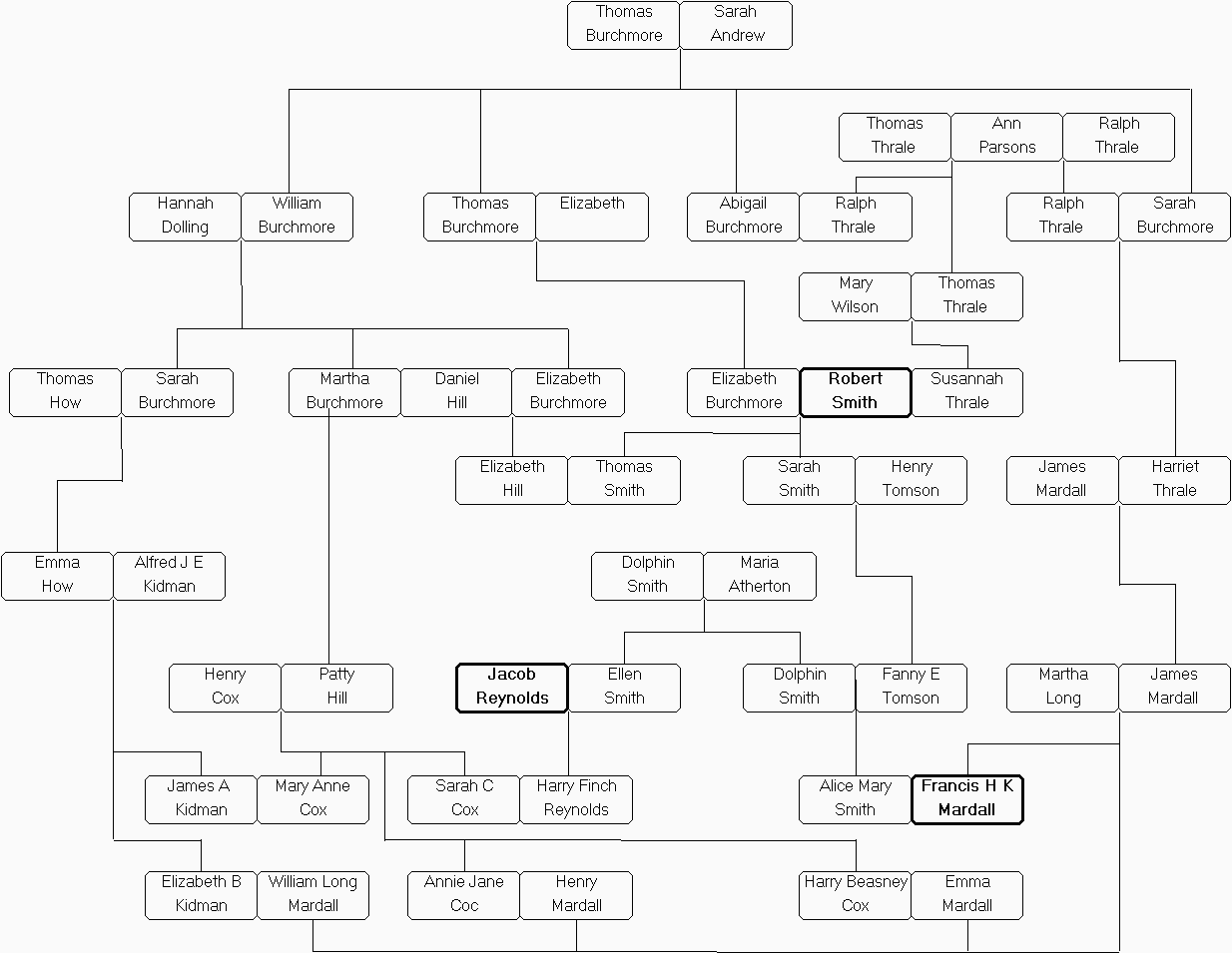 It is worth noting two unusual features of this genealogical map. Marrying your late wife's sister was illegal according to church law. Daniel Hill (1797-1861) married Elizabeth Burchmore (1798-1826) in Flamstead parish church in 1821. After her death he couldn't marry her sister, Martha (1800-1887) at Flamstead - because someone may have objected, so he married her at St. Pancras in 1827. Much more unusual are the two Burchmore sisters Abigail (1770-18??) and Sarah (1767-1820) marrying identically named half brothers, Ralph Thrale (1766-1836) and Ralph Thrale (1778-1852). (see Right Name, Wrong Body?)
The above family tree only shows individuals who provide a link in the cousin marriage network around Jacob Reynolds and Frank Mardall. A "full" family tree would show very many more people, and some more cousin marriages.
See also Sarah Andrew, Maria Atherton, Martha Burchmore, Thomas Burchmore, William Burchmore, Hannah Dolling, Henry Cox, Sarah Constance Cox, Daniel Hill, Patty Hill, Harry Finch Reynolds, Jacob Reynolds, Dolphin Smith, Ellen Smith
If you can add to the information given above tell me.
Page updated November 2007