Mike Gray (mike_c_gray @t hotmail.com) of Culver Road writes: I am trying to find any old photographs of the bakery which existed at 90 Culver Road, and which has now been converted to 3 separate dwellings. We have been told it is Victorian in origin, but it could be Edwardian, and became a bookbinders in 1992. Any help or pointers would be great. I have researched Kelly's directories where it is listed in the early 1900's, and historic sources in the library, plus the museum in Hatfield Road, but with no success so far.
A quick check of the information available to me is unhelpful, and you will undoubtedly seen all the street directories, maps, etc. in the St Albans Central Library and if you haven't already done so you should check what is held at HALS, in Hertford. I noted that houses in Culver Road were numbered up to 88 (evens) in Culver Road in the 1901 census - but the bakery would only have been listed if it had residential accommodation. I also noted that A. Tyler & Sons were bakers at 90 Culver Road in 1908. I also checked my (very incomplete) press index of references to the Bernards Heath area from the Hertfordshire Advertiser and came up with with an Arthur George Tyler of 34 Sandridge Road, St Albans who was working as a milkman in 1916 for my great grandfather, Jacob Reynolds, and who was called up for military service. (See Old News: May 1916 and June 1916.) He might have been ones of the sons of the A Tyler of 90 Culver Road.
As to pictures the omens are not at all good and finding something may be a matter of luck.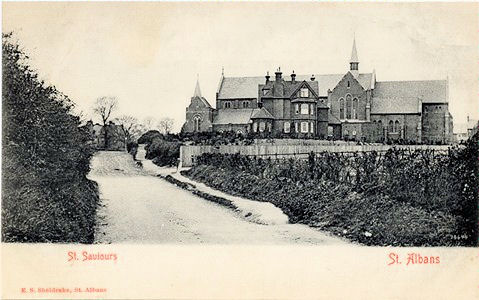 Commercial postcards of streets of Victorian terraced workmen's houses are very unusual as the market would have been very small compared with photographs of other parts of St Albans. If any were ever published of any part of Culver Road they would probably only have been sold by a local shop or produced by a local photographer. In this context it is interesting that "E. S. Sheldrake, St Albans" published the above postcard of nearby St Saviour's Church circa 1910. He apparently lived in Culver Road in 1901. (I have not checked him out in the street directories in St Albans library.) Churches are more popular subjects that terraced housing - but he may have produced some other postcards of the area as well.
Trade adverts and trade cards are a possibility. The drawing of Heath Farm comes from an advert published in the St Saviour's church magazine (I think there are copies of the magazine at HALS). It is possible that the bakery also placed adverts in this magazine - but I suspect that few adverts were accompanied by drawings of the building from which the business operated.
Another very long shot are pictures of events - and the most likely events are likely to be street parties associated with coronations, etc. Some may show some of the buildings in the street in the background - and a bakery may well have played an important role in providing the food! If you were very lucky ....
Finally there may be some "snapshots" (often printed as postcards) taken by people who lived in the street. There may well be a few families living in St Albans descended from circa 1900 Culver Road ancestors who have identifiable pictures taken in the road. (Not impossible - two of my great grandfather's descendants still lived in houses built on land which 100 years ago was part of his farm.) It would therefore be worth a "heritage" letter to a local newspaper.
I wish you luck. I am still looking in case there was a commercial postcard showing my great grandfather's home, Heath Farm, and my grandfather's impressive house at the top of St Peter's street only appears "by chance" in postcards of the Cricketers' public house!
[The building was probably built with local bricks - and if any are named in the frog this might help identify who built the building and when. See St Albans Brickmakers.]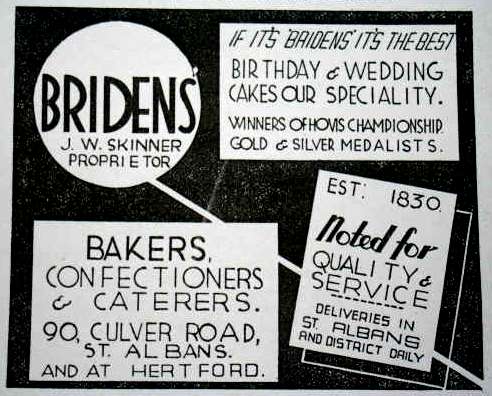 Commenting on the above Mike Gray writes: Quite by accident, I came across your page on The Bridens (BRIDEN, Bengeo, Hertford, mid 19th century). Through researching my house's history which we have corresponded on before, I came across a 1946 advert in Kelly's Directories which shows that the Bridens opened a bakery around that time at my address, the proprietor listed as J W Skinner (which is the same as your 1937 entry on the Bridens page). Copy of the advert is attached. It has to be the same family / business I think.
I am sure it must be the same firm. I wonder if the 1946 advert in Kelly's directory effectively announced its opening - as there is no advert in the 1949 Kelly's Street Directory for St Albans. Culver Road would have been off the beaten track, and rather down market, for most people in St Albans who would have brought a copy of the directory. The advert doesn't include a phone number and I suspect it didn't bring in much extra custom. A look at other years in the St Albans library collection of directories may tie down the start and finish dates more precisely. Definitely there was no bakers shop there in 1966.
Mike then confirmed J W Skinner was the proprietor of Bridens and is listed under this address in Kelly's Street Directories from 1946 to 1954 inclusive. I am not sure about 1955. In 1956 it is listed under the Danish Rye Bread Co, and it is listed up to 1942 under Tylers which I believe was also a bakery. Presumably the war years (1943 - 1945 inclusive) may have interrupted either the bakery or Kelly's directories.
I know that Kelly's Street Directories for St Albans were interrupted during the First World War, and guess the same happened in the Second. I also note that in Kelly's Hertfordshire Directory for 1937 Tyler & Co are listed as bakers at both 154 London Road and 90 Culver Road, St Albans, with telephone number 695.
If you can add to the information given above tell me.