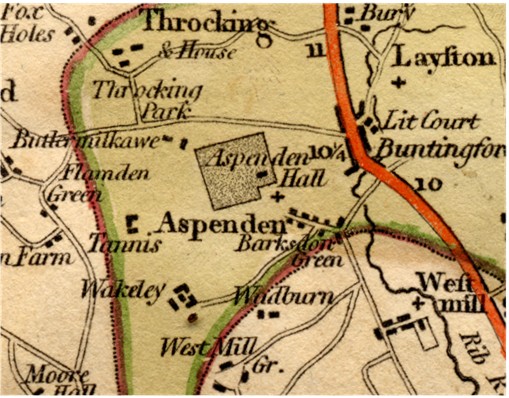 from Charles Smith's map of Hertfordshire, 1808
Aspenden (4 miles N.W.) lies close to the Old North Road, or Ermine Street. This parish was the birthplace of Seth Ward and here the famous historian, Macauley, went to school. The flint-built church retains a small Norman window. The ancient piscina, aumbry and credence table were revealed during restoration work in the late 19th century. An Easter Sepulchre should be noticed. This church contains a number of fine medieval tombs, one of which was brought here from St. Michael's, Cornhill, after the Fire of London. Aspenden rectory is a most picturesque old residence.
Braughing Rural District Official Guide 1971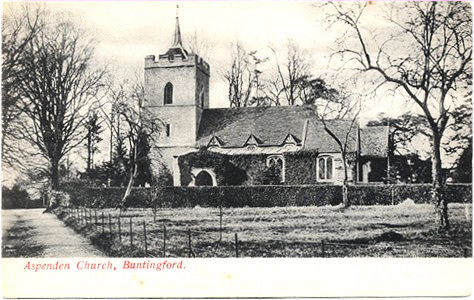 Aspenden Church
Published by E. E, Darville, stationer, Buntingford
St. Mary, Aspenden. C.of E. Nave and chancel are late 11th century but south chancel chapel is 15th and remodelled in 1622: here are various tomb chests and recesses. The south porch, built in 1526 with small open windows now has the spaces fitted with stained glass of the four evangelists (two on each side) by Morris and Co: perhaps the last Pre-Raphaelite glass. The embattled tower is of late 14th century with a spike of 1721.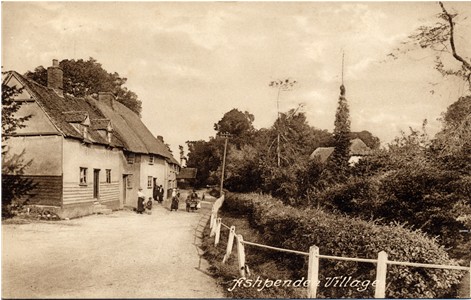 Ashpendon [sic] Village
Published by A.G. Day, Buntingford, Frith's series No 74390, posted 1927 - number suggest picture taken 1923.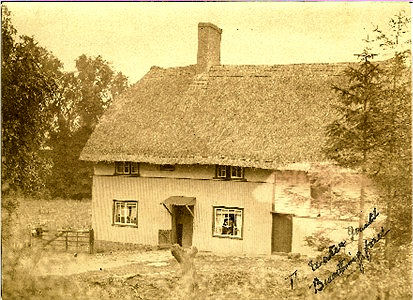 The Water Mill, Aspenden
No date but possibly circa 1900
Theresa E. Smith (tesmith40 @t comcast.net), provided a scan of the above photograph and also one of Buntingford. She writes "I have made contact with someone who is related to the BODDY family and since I have relations to the KNIGHT family we have the Water Mill in common. I mentioned the Water Mill and Pauline told me about a book written by Philip Plumb with a photo of the Water Mill.
The book referred to, Buntingford, by Philip Plumb, contains a different copy from the same plate, and the text reads:
Aspenden Water Mill c. 1900. The watermill has been non-working for many years but records of a mill go back to at least the seventeenth century and it remained in the ownership of the same family, Boddy and Knight, until recent housing developments. It has recently been restored and additions made at the rear. Remnants of the mechanism are still housed in the section on the right.
The Manor of Berkesdon