Bramfield
Adjacent Parishes: Bengeo, Hertford St Andrew, Stapleford, Tewin, Watton at Stone
It is a detached part of the Cashio Hundred and surrounded by the Hertford Hundred. It is in the Hertford Union
Brandefelle is mentioned in the Domesday Book (1086)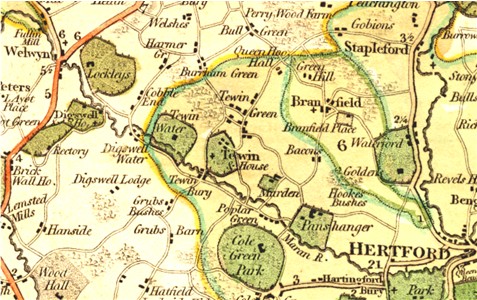 Detail from Charles Smith's Map of Hertfordshire, 1808
St Andrew. So much restored in 1840 that it appears an Early Victorian building. The West tower is hardly taller than the nave roof and has a spire. The tower arch is characteristically thin and bodyless. - PLATE. Chalice. 1562; Paten, 1617; Breadholder, 1757. - MONUMENTS. Two epitaphs to George Viscount Grandison 1699 and the Rev. Edward Bouchier 1775, of identical design.
from The Buildings of England: Hertfordshire
Book: A Short History of Bramfield
Book: The Carrington Diary
[NOTE: There is also a St Andrew's, Bramfield, in Suffolk]
See also Vital Records
If you know of other books, websites, etc, relating to this place, please tell me.