Buckland & New Chipping
Adjacent Parishes: Barkway, Layston, Reed, Sandon, Therfield, Throcking, Wyddial
It is in Edwinstree Hundred and the Buntingford Union
[Note: There is a Buckland in Buckinghamshire adjoining the county boundary, and unqualified references to "Buckland" in the Tring area may well refer to the Buckinghamshire village.]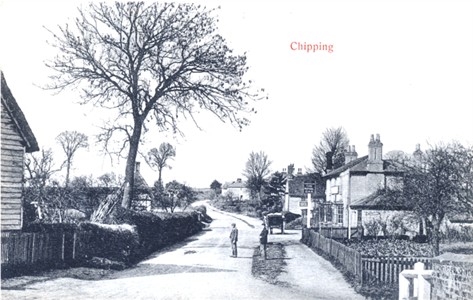 Postcard of Chipping (circa 1905?) in Robert H Clark series
Buckland (7 miles N.) is crossed by the Roman road of Ermine Street on which stand both the village of Buckland and the hamlet of Chipping. The parish church was erected in 1348 but has a font of Barnack stone which is possibly 900 years old. Fragments of 14th century glass remain in some of the windows of this church.
Braughing Rural District Official Guide 1971
See also Vital Records
If you know of other books, websites, etc, relating to this place, please tell me.
Page updated November 2007