Ickleford
Adjacent Parishes: Henlow (Beds), Hitchin, Holwell (was Beds, but transferred to Herts in in 1897), Pirton, Shillington (Beds)
It is in the Hitchin Hundred and the Hitchin Union
ICKLEFORD, or Ickleton, derives its name from its situation on the River Hiz, 2 miles north-east of Hitchin station, in the Hundred and Union of Hitchin and Pirton. The village is situated near Icknield Street. The church is dedicated to St Katherine, and the living is a rectory; the present incumbent is the Rev Richard Neale Duguld Brown, rector, The parish contains 940 acres, and a population of 579. The Income Tax assessment was £2,080, in 1842. There are national schools.
Three public houses are listed in the Traders section:
Day Thomas, Old George & carpenter
Gurney John, Plume of Feathers
Primett Charles, Green Man & farmer
Post Office Directory, 1851
All three of these pubs were still open in 1995, together with another old pub, The Cricketers.
(Hertfordshire Inns & Public Houses)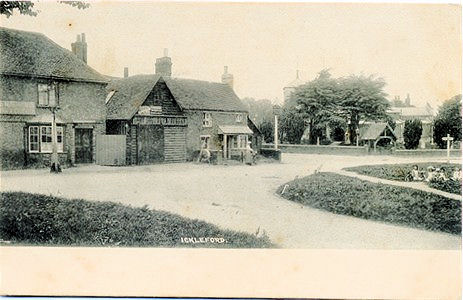 Ickleford - Early 1900s Frith Card (unnumbered)
The public houses shown are the Green Man and the Old George
Book: An Ickleford Scrapbook
Website: Ickleford Parish Council Web Site: with pictures of the village and history pages which include information on the village pump.
See also Vital Records
If you know of other books, websites, etc, relating to this place, please tell me.
Page updated June 2008