Holwell
Holwell was in Bedfordshire until 1897
Adjacent Parishes in Hertfordshire: Hitchin, Ickleford, Pirton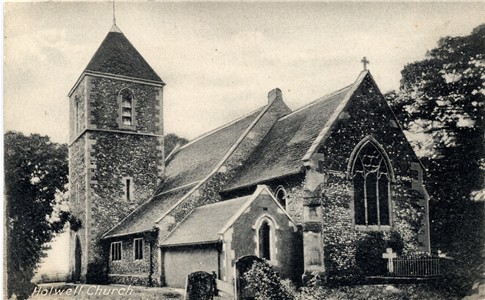 Holwell Church (no date or publisher details, virca 1920?)
Holwell is a village and parish, 2 miles south from the Henlow station on the Bedford and Hitchin branch of the Midland railway and 3½ miles north-west from Hitchin; this parish, formerly in Beds, was transferred by Local Government Order, to Herts in 1897; in the southern division of Bedfordshire for parliamentary purposes, Bigglesdade petty sessional division, Hitchin union, rural deanery of Shefford, arch deaconry of Bedford and diocese of Ely, situated on the borders of Bedfordshire. The Great Northern main line and a branch of the Midland railway runs through the parish on the east.
The church of St Peter, originally in the Perpendicular style, was rebuilt in 1877, at a cost of £2,500, under the direction of the late Mr. Ewan Christian, architect, and reopened May 8th, 1879, by the Bishop of Ely: it is now a building of stine in the Decorated and Perpendicular styles, consisting of chancel, nave, south porch and a western tower containing a clock and 2 bells: there is a small and curious brass to Robert Wodehouse, priest, 1514, a benefactor to the church: the pulpit and the east wall of the chancel are adorned with mosaic work: in 1907 a new baptistry was formed at the west end, and has a mosaic floor and oak panelling: a new vestry was also built. ... ...
Kelly's Directory for Hertfordshire, 1912
Census: There is a list of surnames from the 1841-1901 censuses on the HCM web site.
See also Vital Records
If you know of other books, websites, etc, relating to this place, please tell me.
Page updated December 2007