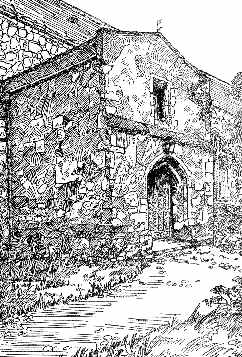 Porch of St Mary the Virgin, Pirton, from Alderman
Pirton
Adjacent Parishes: Hitchin, Holwell (was Beds, but transferred to Herts in in 1897), Ickleford, Offley, Shillington (Beds)
It is in the Hitchin Hundred and the Hitchin Union
The following account come from The Beauties of England and Wales; or Original Deliniations, topographical, historical, and descriptive, of each county, embellished with engravings, Volume IX, by John Britton, London 1807
At PIRTON, called Peritone in the Domesday Book, the mound on which stood the Keep of the Castle of the Limesies yet remains, surrounded by a ditch. Ralph de Limesy, an eminent Norman soldier, to whom this township, with many other possessions, was given after the conquest, founded a Church here: he was founder, also, of the Priory of Hertford, to which Priory a manor in Pirton, of his donation, belonged; but his principal manor continued in his posterity in the names of Limesy, Odingsels, and Clinton, for many generations. A younger branch of the Odingsels had likewise a manor in this township, which at length became the property of Roger Lupton, Provost of Eton, who gave it to that College in the reign of Henry the Eighth; but it has been recently sold for the purpose of redeeming the land tax on other estates belonging to that foundation.
John Britton, The Beauties of England and Wales, London 1807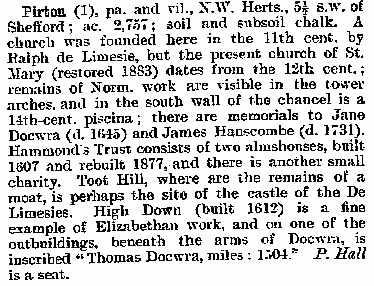 From Cassell's Gazatteer of the British Isles 1899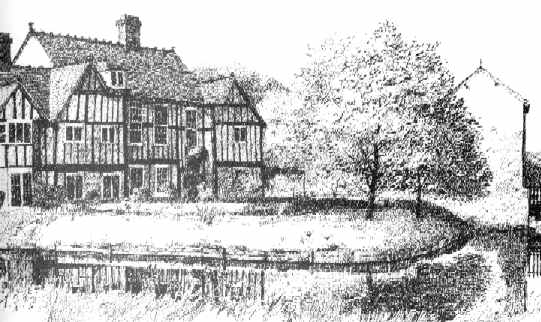 Pirton Grange from Journeys into Hertfordshire
Book: A Foot on Three Daisies - Pirton's Story
Topics: War memorials and Rolls of Honour - give details of War Memorial
See also Vital Records
If you know of other books, websites, etc, relating to this place, please tell me.
Page updated January 2006