According to The Place-names of Hertfordshire Wigentone was first mentioned in the Domesday Book (1086) and other early recorded spellings are Wegynton, Wigeton, Wiggeton, Wiggetone, Wigintone, Wygenton, Wygintone, Wykenton, Wykington, Wykinton.
---
Wigginton is a parish and village, pleasantly situated on a commanding eminence, near the Grand Junction canal, 1½ miles south from Tring Station on the main line of the London, Midland and Scottish railway and 34 from London, in the Hemel Hempstead division of the country, Dacorum hundred and petty sessional division, Berkhamsted rural district, Aylesbury county court district, and in the rural deanery of Berkhamsted and archdeaconry and diocese of St Albans. Electricity is available. The church of St Bartholomew is a small, low building of flint with stone facings ...
There is a Baptist chapel in the village, opened in 1904. The executors of the late Lord Rothschild, Lady Haddon and Captain V. Williams esq. who is lord of the manor, are the principal landowners. The soil is loam; subsoil, strong clay. The chief crops are wheat, oats and barley. The area is 1675 acres; the population in 1931 was 750.
By the Counties of Buckingham and Hertford (Alteration of County Boundaries) Order, 1906, which came into operation April 1st, 1907, part of Hawridge, Bucks, without houses or population, was added to Wigginton civil parish.
Kelly's Directory for Hertfordshire, 1933
---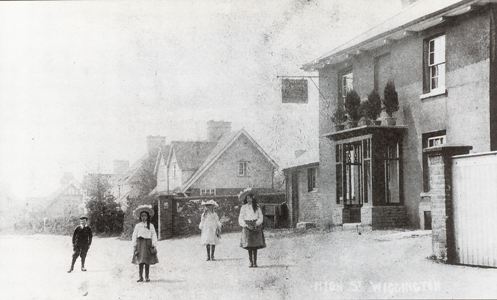 The Brewhouse Public House, High Street (now called Chesham Road), Wigginton, from a postcard early in the 20th century. (from Around Tring) It is now a private house.
see BUSBY/HORWOOD, Wigginton, mid-19th century
---
Book: Wigginton - My Village by Adoption
Old News: A Fist Fight at Wigginton - resulting in a death in 1827.
Web Site: St Bartholomew - includes a history page plus details of the Wigginton Local History Society
If you know of other books, websites, etc, relating to this place, please tell me.