Wilstone lies between Puttenham and Long Marston and shares a border with Drayton Beauchamps (Bucks)

Mrs Thomas Chas. Denchfield is listed as a shopkeeper at Wilstone in Kelly's Directory for Hertfordshire, 1926.

Long Row, Wilstone, Tring
Posted 1927 - no publisher information

Wilstone is a small hamlet and chapelry of Tring, from which is 2 miles north-west and 6½ miles east of Aylesbury. The village is pleasantly situated in a valley under the hills, on the Aylesbury canal. The church of St Cross, built and opened in 1877, but not yet consecrated, is an edifice of flint and brick, in the Early English style, consisting at present of a nave only, seating about 200 people; the Rev. John Frederick W Trumper B.A. of St John's College, Cambridge, is a curate in charge. Straw plaiting is the principal employment of the females here. There is a small Baptist chapel, seating 120. The area is 690 acres; the population of Wilstone, with Little Tring and Tring Ford, in 1881 was 563.
Post Office. -- George Hanwell, receiver. Letters arrive at 6.50 a.m.; dispatched at 6.10 p.m.; Sunday at 11.10 a.m. Nearest telegraph & money order office is at Tring.
National School (mixed), built in 1851, for 100 children; average attendance, 76; Miss Alice Goodson, mistress.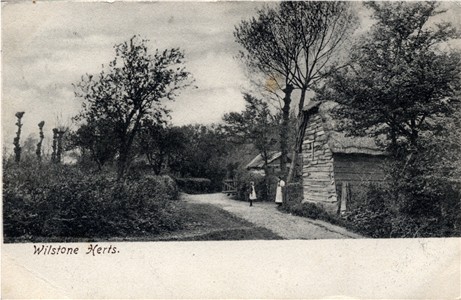 Wilstone, Herts - posted 1904 - showing thatched barn.
Also known with printed "With Christmas Greetings and Best Wishes"
Attendance Officer, W. Baines, Tring.
Cartwright William, beer retailer

Chappin Robert, boot maker

Goodson Thomas, blacksmith

Grange James, farmer, Manor Farm

Greening Joseph, farmer, Chapel farm

Gregory George, farmer

Hanwell George, baker, Post Office

Hare Joseph, wheelwright

Mead Thomas, farmer, Gubblecot

Newman William, farmer, Gubblecot

Price Thomas, farmer

Reeve James, Half Moon P.H.

Rose Thomas, butcher

Tomlin Joseph, shoe maker

Waring Thomas, hay & straw dealer

White John, baker

Woodman Henry, farmer Kelly's Directory, 1890
This advert, for a substantial property in the hamlet of Wilstone, with a bakehouse and slaughterhouse, appeared in the Bucks Herald on 29 September, 1860. It was to be sold or let with early vacant possession, so the occupant, Alfred Rodwell was about to leave.

The building may well still be standing. Does anyone know where in the village it was?

See also RODWELL, Wilstone, Mid 19th century
The reservoir was built to provide water for the Grand Junction Canal, the pumping station being at Little Tring.
Western (Wilstone) Reservoir

Picture ref JV 63186 was taken in 1909 published by Valentine

Postcard also issued by G. T. De Fraine & Co, Tring circa 1919
The Reservoir, Wilstone
Picture "4" by L P Coy

The reservoir is now also an important wetland nature reserve. The present bird watching hide is where the shooting hide can be seen in the middle of the picture. However duck shoots were held up to six times a year, only ending in the early years of the 21st century.
| | |
| --- | --- |
| Additional view from the Wendover Arm of the Canal | |
Very low water levels in 2011 exposed the remains of the medieval ridge and furrow arrangement of farming and something of the construction of the reservoir.

Click on picture for more details
Useful Links


St Cross in 21st century

Online copy of books on church & village

Friends of Tring Reservoirs
See Links with China in the 1881 census
There are web pages for Tring, Little Tring and the Grand Junction Canal
See also The Story of Wilstone
If you know of other books, websites, etc, relating to this place, please tell me.
| | | |
| --- | --- | --- |
| July 2010 | | Page updated |
| May 2015 | | Faultt correcyed and minor changes |
| November 2017 | | Book "The Story of Wilstone" |