CATLING, Hemel Hempstead area,

c. 1815

September, 2010
John David Stables (dave.stables @t sky.com) of Chester-le-Street writes: I have two pocket watches with the names George Catling and James Catling printed on the chapter rings of the dials in lieu of numerals. The watch cases are hall marked 1814 and 1815 respectively and both watches were retailed in Hemel Hempstead as evidenced by the retailer's name, Varney and Ellett, and address on the movements. The watches are hall marked London and would almost certainly have been made in London even though the retailer would have probably had the wording 'Watchmaker' on the shop frontage.

The balance cock of the George movement has two very finely engraved figures. What they are I am struggling to make out; when magnified it is very apparent they are special figures and quite deliberate. The one on the left looks like a Roman centurion to my eyes; have a look and see if anything comes to mind.

The James Catling movement has an engraved stringed musical instrument (ukelele or similar) superimposed on what appears to be a musical score. Such watches at that time would only be available to wealthy people and invariably custom made to order. The musical engraving suggests the owner had some relationship to music. Being retailed in Hemel Hempstead suggests the owners were from the town or the surrounding district.

I did come across the retailer's name, Varney and Ellett, some time ago in a business listing for Hemel Hempstead. Familysearch show a George Catling born 10th March 1799 and a James Catling born 12th September 1800 to John and Mary Catling. This would mean the watches were given to the boys when they were 15 years old (coming of age at that time possibly?) assuming I have the correct information in respect of the owners. Any help you can offer to enable me to trace in respect of births, deaths, addresses, occupations, etc. would be appreciated to allow me to marry this info with the fine watches in my possession.
Eliminating some other "candidates"

Catlin/Catling would appear to be a name significantly associated with Hertfordshire. For instance a normal familysearch for James Catlin(g) between 1795 and 1805 comes up with 7 different individuals - 4 in Hertfordshire, 2 in Suffolk, the other in Northamptonshire. A similar search for George comes up with 3 in Hertfordshire and 1 in London. This suggests that the name Catling is locally relatively common and one be aware of the warnings in Right Name, Wrong Body? In such cases one needs to eliminate possible alternatives, as well as following the most obvious leads,

What we know is are the names James and George Catling, the dates of the watches, the fact that they were sold (if not actually made) by Hemel Hempstead watchmakers. To buy such personalised expensive watches the family must have had some financial position. However one cannot assume that they were very rich, as these may well have been intended as an ostentatious display by what we might now consider was a successful middle class family. The ornamentation of the watch suggests a possible musical connection.
A preliminary survey eliminated the following:
George Catlin(g), Professor of music at Hertford. In the 1851 census he was 38 and born in Suffolk. I could find nothing to link him with Hemel Hempstead, He was clearly too young to use the watch when it was made. [See also CATLIN, Hertford, mid-19th century]

James Catlin, baptised at Great Gaddesden (just north of Hemel Hempstead) in 1797. He was almost certainly the James Catlin who married Elizabeth Herbert at Great Gaddesden on 7th May 1823. He turns up in several censuses with his wife Elizabeth and is clearly comparatively poor - for instance in 1851 he was living in a cottage at Frithsden, working as a gardener, with his daughter being a plaiter. (Straw plaiting was the way many of the wives and daughters of farm labourers, etc., supplemented their income. See The History of Straw Plait in Hertfordshire.)

A James Catlin died at Leverstock Green (just east of Hemel Hempstead) in 1823 aged 39. He appears to be the James in the family of John and Mary Catling, of Denham, Suffolk. The children (with dates of baptism) were James (3 October 1783), Thomas (4 October 1785), Mary Ann (24 September 1787), Edward (24 September 1787), Harriett (22 March 1789), Henry (27 June 1790) and George. (16 Oct 1791). This is of interest because James had a brother George, while Edward turns up in St Peter's Street, St Albans in the 1861 census.- but does not appear to have been there long, and the occupation in the family would put them at the lower end of the tradesman scale - it is not clear whether he had a small shop or worked for someone else. I did not see any other Hertfordshire links and as there are much stronger candidates I have ruled them out. On the other hand they may represent a cousin branch of the family described below who had moved to Suffolk but kept links with this area of Hertfordshire.
John Catling (1768-1831) of Hemel Hempstead

A much more promising line involves John Catling, the son of William and Mary, who was baptised at Hemel Hempstead in 1768. (His siblings were James 1765, Thomas 1766, Mary 1770, Elizabeth 1772, Joseph 1774). John was too young to appear in the Hertfordshire Militia Ballot Lists but there are two William Catlings (possibly father and son) which the Militia Lists show were farmers (Places mentioned Boxsted End, Crouchfield, Bury Mill End and Boxmoor). This would suggest that his father and grandfather might both have been farmers on the west side of the River Gade at Hemel Hempstead, the town centre being on the east side.

The Swan Inn, Boxmoor

This Inn occupied a good position on the Sparrows Herne Turnpike Road between Watford and Aylesbury, about half way between Two Waters and Bourne End. It would have been very busy serving the passing traffic, at least until the coming of the railway in 1837. It is first recorded in 1758 when John Lawrence was the inn keeper. The picture is from a Valentine post card (54034 JV) taken in 1906.
The children of John and Mary Catling were Mary (bapt 1790 at Hemel), Harriet (1793 at Hemel), Elizabeth (bapt 1797 at Hemel) George (bapt 1799 at Hemel), James (bapt 1800 at Hemel) and John (bapt 1802 at Bovingdon) and Ann (bapt 1808 at Bovingdon).

In 1808 John took the licence of the Swan Inn, at Boxmoor [Hertfordshire Inns & Public Houses] and in June 1819 the County Chronicle [HALS] reported the theft of his large red setter dog. called Pero.
In 1826 John made his will (see copy from National Archives). describing himself as a victualler of Boxmoor, Hemel Hempstead. If you strip out the complex legal arrangements for the trust fund (common in wills of this period) the basic information is that the executors were his wife Mary, his son George and his son-in-law William Smith. He set up a trust fund of £9,800 (part of a holding of £10,000 3½% Bank of England annuities) in trust For his wife, then equally between his children, and finally to any grandchildren. His children are identified as George, James, John, Mary (wife of John Bovingdon), Harriet (wife of William Easton), Elizabeth (wife of William Smith) and Ann Catling. The residue was to go to his wife. He died at Boxmoor and was buried at Bovingdon in 1831. His widow Mary died in 1839 at Kings Langley, and was buried at Bovingdon.
George was born on 7 April 1799 and baptised at Hemel Hempstead on 10 May 1799. He would have been 15 when his watch was made. He married Elizabeth Want (baptised Abbots Langley, 1800, daughter of James & Elizabeth Want) at Bovingdon on 27th April 1827. George turns up in the 1841, 1851, 1861 and 1871 censuses, from which we learn his wife was called Elizabeth and he had the following children: George (1829), Henry (1831), James (1833), Daniel (1835), [Gap?], Thomas Kent (or Want?) (1844), and Sarah (1845). He would appear to have initially lived with his family in Bovingdon, moving to Flaunden about 1843 and was farming 160 acres and employing 4 men at Flaunden in 1851. By 1861 he was living at Boxmoor (with wife and 4 youngest children) and was described as a "retired famer and fundholder." He was listed in the 1866 Directory as a farmer at Boxmoor and in 1870 he was elected as a trustee of the Boxmoor Trust in a disputed election. He was not elected in the rerun (Royalty to Commoners). In 1851 he was living at Duck Hall (Two Waters, on the south side of Boxmoor) and was described as farmer of 5 acres. With him were his wife and sons James and Daniel (with their wives and children) and daughter Sarah. His sons were described as "Gardeners" (but this might mean "market gardeners" if the family was still well-to-do). George died later in the year and his wife Elizabeth died in 1875.
I did not investigate further but the A2A index shows that HALS holds a document, relating to land at Duck Hall: "New building plots between Felden Plain, Russell Place and Catling Street, with plan and deed of arrangement concerning estate of Henry Catling of Fisherton Anger, Wiltshire DE/Ls/T92 1859 - 1863". This would suggest the area was being developed - quite possibly by the Catling family. Catlin Street is still there.
James was born on 12 September 1800 and baptised at Hemel Hempstead on 9 October 1800. He would have been 15 when his watch was made. The only definite reference I have found to him showed him as lodging in a household in Bovingdon in the 1841 census. His occupation was listed as "Independent" - suggesting he had a private income. In 1851 he was still in Bovingdon and this time described as an "Annuitant." A James Catling was recorded as dying in Hemel Hempstead in 1858 - but as the index does not give an age the identity must be uncertain without more evidence.
There is nothing to directly link him to the musical theme on the watch but it is interesting that he was described as "independent" when both his brothers were sometimes described as farmer. While he may have been able to live without working one might well have expected him to augment his income by also following the family farming tradition and must wonder why he did not.
The fact that there is no evidence of him having married or have children may explain why the two watches are still together. Items of this quality would normally be passed down the family. But if, as seems likely he died a bachelor without issue in 1858, the watch might well have gone to his older brother, and the two watches have remained together ever since.
John was baptised at Bovingdon on 29 October 1802. He married Charlotte Leach (baptised 1801 at Abbots Langley, daughter of Joseph & Maria Leach) on 11 November 1839, at St Alphage, London Wall, London, and apparently the couple had no children. At the time of the 1841 census the couple were at Felden Cottage, Bovingdon and his occupation was given as "Independent", In the 1851 and 1861 census the couple were at Heath Farm, Boxmoor, (in the area often referred to as Couchfield) and he was described as a farmer of 63 acres employing 4. He died in 1864, and in 1881 his widow was living at Heath Cottage, Couchfield, Hemel Hempstead. She died in 1890.
John is of interest for two reasons. The information about him confirms the idea that the family were well-to-do, However it would clearly be inequitable if John did not also get a similar watch. This would have passed to his widow on his death, and as she didn't die until 1890 the watch would be unlikely to rejoin the other two.
It is clear that the family identified above clearly had enough money for John to buy expensive pocket watches for George and James, and probably also for John. However they did not live in particularly grand houses, or employ large numbers of servant, or carry out activities which might cause them to feature in books such as History of Hemel Hempstead, Bovingdon, A Hertfordshire Valley, The Book of Hemel Hempstead & Berkhamsted, The Book of Boxmoor, or Royalty to Commoners.
This query has clearly answered the original question as to the ownership of the watches but in doing so raises many more questions about the family. It is not planned to follow these up but it is worth summarise where further information might be found. and it is important to understand where they lived and its relation to Boxmoor Common.
The map is a detail of a map of Boxmoor Common as it was in the late 18th century, with the proposed route of the canal marked on it. It shows several of the places where the Catling family lived. It is taken from the book Royalty to Commoners which provides an excellent history of the Common. It should be realised that 200 years ago the village of Boxmoor did not exist and the name was applied to the water meadows along the the valley of the Bulbourne down to Two Waters, where the River Gade entered from the north.
Some of the earliest references to the Catling family link it to Crouchfield (centre top of the map). Crouchfield included Heath Farm, which is where John Catling (1802-1864) was living circa 1850. The Sparrows Herne Turnpike ran along the southern boundary of the moor and in the south east corner of the map the Swan Inn is marked. This is the inn run by John Catling (1768-1831) from 1808, and the road, called Box Lane, runs south to Bovingdon. where there are further Catling connections. About halfway along the turnpike between the Swan and Two Waters the small group of houses are Duck Hall, and a lane from there ran south to Felden and Bovingdon. It is clear that George had commoner rights on Boxmoor - and it may well be that other members of the family held such rights at one time or another.
Further detailed research should involve finding out more about any property they occupied or ownes in both Hemel Hempstead and Bovingdon starting with the tithe maps and land tax., plus any other surviving manuscript records associated with the town of Hemel Hempstead, the parish of Bovingdon, and also the Boxmoor Trust. Manorial records might also include valuable additional information.
Varney and Ellett, Watchmakers

It would be interesting to investigate the watchmaker aspect of the case further - but the information I have is more limited. For the time being I simply give a list of the watch and clock makers from contemporary trade directories and record the following observations:

Hemel Hempstead

Watchmakers

1797

John Ruth,

William Vevey [?Varney]

1823 & 1828

Samuel Gatward

John Ruth

George Varney

1839

Edward Bish

William Frowd

George Varney

1846

William Frowd

James Raggett
Nicholas Ellett, aged 58, was buried at Hemel Hempstead in 1817.

A William Varney, aged 60, was buried at Hemel Hempstead in 1837. He was almost certainly too young to be the William Varney, watchmaker, in 1797.

George Varney is recorded as a watchmaker in the High Street in the 1841 census, and was buried, aged 62, at Hemel Hempstead.
George Varney's Tombstone

St Mary's Church, Hemel Hempstead

All the stones in the churchyard have been moved and leant against the walls and this is one of the easier to read stones. The death of Miss Ann Varney (his sister?) in 1853 is recorded on the stone. The majority of surviving stones are ubreadable.
Dave responded: Chris, I am 'over the moon' with what you have found out and what you have come back with, all of which makes very interesting reading. In particular, the possibility of a third watch. Being a member of two horological societies should allow me to search for the potential third watch by a request being published in the societies journals of which each member receives a copy. It is a long shot but probably as good as starting point as any; if it does bring fruition I will let you know. May well be that the watch may have been scrapped, lost, or gone overseas, etc., and we will never know if it ever existed. Another possibility, may be there was a fourth watch belonging to the father and with his name on the dial.

On Wed Oct 1 2008, the Hemel Hempstead Gazette ran a feature on the two watches in its Heritage section and I was hoping this may have brought some responses from people in the area; unfortunately no responses materialised. [... It could be worth following this up with the new information.]

I find it interesting that an Innkeeper had such a large amount of money, maybe it had been inherited, or maybe the Swan Inn was a very successful coaching inn bringing in huge amounts of passing trade, or a combination of both. All very interesting, and with £10,000 behind him at that time there would have been ample money to buy the watches. I wonder what such a large sum would equate to at today's prices. Regarding the theft of the dog, I had picked that up during a web search but did not relate the Innkeeper as someone who would have been wealthy enough to purchase such items for his offspring.

Thanks for continuing with the Varney and Ellet side of the equation. Whilst the company would very likely be listed as a watchmaker, the actual watches would have almost certainly been made in London. At that time there were three watch making centres in Britain, London, Liverpool and Coventry and very many different trades were involved in making a watch. This was done on a cottage industry basis whereby watches during manufacture would pass from one trade to another, many of whom worked in their own homes.

Dave writes: St Lawrence Church, Bovingdon has come back with some interesting info on the Catlings buried in Bovingdon which I have attached.

| | | | | |
| --- | --- | --- | --- | --- |
| Age | Name | Date of burial | Grave No | Grid Ref |
| 65 | CATLING, Sarah | 20/12/1909 | 548 | G15 |
| 73 | CATLING, James | 28/05/1906 | 548 | G15 |
| 66 | CATLING, Emily | 16/03/1901 | 547 | F/G15 |
| 88 | CATLING, Charlotte | 17/01/1890 | 540 | E15 |
| 40 | CATLING, Daniel | 28/06/1875 | 547 | G15 |
| 74 | CATLING, Elizabeth | 28/06/1875 | 546 | F15 |
| 73 | CATLING, George | 08/11/1871 | 546 | F15 |
| 61 | CATLING, John | 26/08/1865 | 540 | E15 |
| 59 | CATLING, James | 29/11/1858 | 541 | E15 |
| 72 | CATLING, Mary | 19/04/1839 | 542 | E15 |
| 62 | CATLING, John | 25/02/1831 | 542 | E15 |

There are a number of points of interest.

1. The James you reported as dying in Hemel

in 1858 is recorded as being buried in

Bovingdon in 1858 which suggests a strong possibility of him being George's brother as a result of the comments in item 3 ..

2. It appears that the two brothers,

George

and

John

are buried in Bovingdon with their wives.

3. There are a six

Catli

n

g

graves very close to each other if the grave numbers follow a logical sequence. If this is the case it makes me wonder whether the family reserved an area within the graveyard.

4. Two of

George

's offspring,

Daniel

and

James

and their wives, are are also buried here.

5. There appears to be no record of the

Catling

sisters that went on to marry being buried in the Bovingdon cemetery registers?

Later this year, I am hoping to visit the area and supplement my records with pictures of graves/headstones if still there /readable. If so I will send you copies of the pics.

Sue Vasis (ifa @t algisvasis.f9.co.uk) of Wakefield writes: Happy to confirm that George Catling(1799-1871) is my 3x great grandfather & James Catling (1800-1854) his brother. Their parents were John Catling (1768-1831) & Mary (nee Saunders? c. 1767- 1839). My aunt has a piece of jewellery inscribed with John & Mary's names but, unfortunately we don't have any watches! I am descended from George's 4th son Daniel (1835-1875) who married Emily Lucas of St. Paul's Walden at St. Pancras Old Church on 25th Feb. 1868. They had 3 children, including my great grandfather, George Aubrey Catling (1872-1950).
Is there a story behind the marriage of Daniel and Emily? St Pancras seems to have been a little bit like Gretna Green (The first place you entered as you left England and entered Scotland). Many Hertfordshire couples who did not want to be seen to be getting married in their home parish went to St Pancras to get married, no questions asked! One of my ancestors (Daniel Hill) married his second wife there - as she was his late wife's sister - and such a marriage was banned under canon law.
Sue responded: I've always wondered why Daniel Catling & Emily Lucas married in London rather than either of their own home parishes. Their first child was born only 2 months after the marriage, but was that particularly unusual at the time? Those of Daniel's siblings who did marry, all married in London. George Catling (1828-?) married Caroline Sophia Bassil (1822- ?) at St. Pancras Old Church on 27 Mar. 1856. Henry Catling (1830-1859) married Elizabeth Chilton Jeffery (?- 1910) at St. Pancras Old Church on 21 July 1854. Thomas Want Catling married Clara Susanna Lucas (sister of Daniel's wife, Emily) at St. Olave's, Southwark on 17 Oct. 1865. I thought the family may have possibly have London connections?
It would be interesting to see if there were any common witnesses who were not obviously members of the Catling or the brides families. St Pancras Old Church was conveniently placed near Euston railway station for anyone travelling by train from Boxmoor - but Southwark is not so conveniently situated. Were the other brides pregnant as well? We are now in the Victorian era, and the old custom of waiting until the bride was pregnant (to ensure she was fertile and there would be offspring) was definitely becoming unfashionable.
May 2011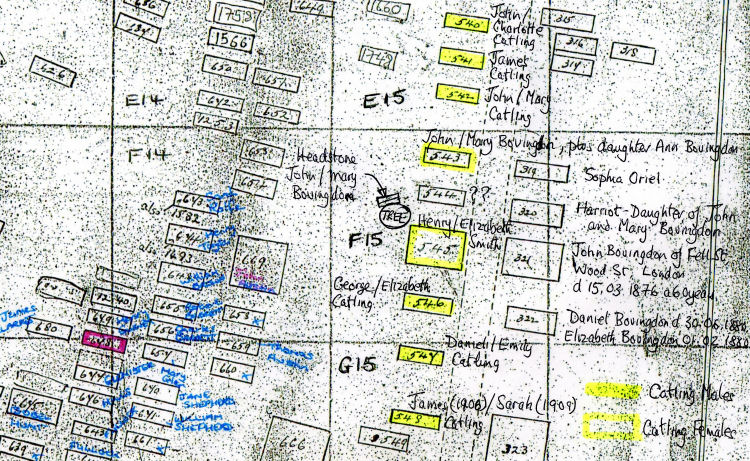 Dave reports that he has now visited Bovingdon Church and sent the above map and writes: Recently returned from my trip to the HH area to follow up on the pocket watch research, in particular the Catling family graves in Bovingdon churchyard. ... One of the attachments ... is a map showing the Catling grave locations within their grid references.

The headstones for watch owner James Catling (Grave 541, E15) and watch owner George Catling's son James and wife Sarah (Grave 548, G15) were nowhere in the vicinity, although they were recorded as being in existence in 1980. John and Mary Catling's headstone (Grave 542, E15), I eventually found propped up against a tree to the north west of the grave location and was extremely difficult to make out the inscription. John and Mary who ran the Swan Inn at Boxmoor were the father and mother of George and James. You will notice on the grid map a number of Bovingdon graves close to the Catling graves. Additionally I have just been advised by Sue Vasis that grave 544 (F15) is that of Hannah, aged 78, relict of Wm. Webb, daughter. of James Bovingdon formerly of Croxley Hall. Yet another link with Bovingdons & Catlings .