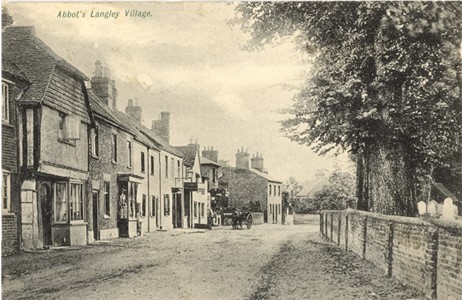 This card is looking along the road from the other end of the High Street to the previous card. On the right one can see some tombstones behind the churchyard wall. The shops and houses are those that can be seen in the distance in the above card The card was sent in January 1906 from 45 St Mary's Road, Watford, to the writer's sister, Miss Edie Randall, Coldstream Ranch, Vernon, British Columbia, Canada. It was published by Coles, Photographer, Watford.
Marina wrote: I was looking at your postcards and really enjoy looking at all the places in Hertfordshire and surrounding areas. I found a postcard on the page titled Abbots Langley that had been addressed to Miss Edie Randall who was my Great Aunt! Reuben's sister. She came to Canada and lived at Coldstream Ranch with her brother Reuben and their mother Emma (Thorn) Randall (who was from Hawridge). Edie married and lived out her days in Canada. Her sister Gussie was probably the writer of the postcard. [See Randall connections with Watford and Canada]
~~~~~~
ABBOTS LANGLEY, 1½ miles east [of Kings Langley], in Cashio Hundred, is so called from having been at an early period granted to the Abbey of St Alban's, to supply it with clothing. Nicholas Breakspeare, the only English pope, was born here. The living is a discharged vicarage, value £350, in the patronage and incumbency of the Rev. Richard Gee, M.A. The manor now belongs to Sidney College, Cambridge, and Trinity College, Oxford. The area is 5,100 acres, and the population, in 1841, was 2,115. The assessment to the Income Tax was £10,780 in 1842. Here is a National School for boys and Girls.
HUNTON BRIDGE is a large hamlet in the parish of Abbots Langley, 1½ miles south-west, BEDMENTS is a large hamlet, 1 mile north; LEVESDEN GREEN is 1 mile south; KITTER'S GREEN is another hamlet.
[Public Houses and Beer Retailers:]
Ambrose, Mrs. Elizabeth, beer retailer, Kitter's Green
Axton, Jeremh. J, White Hart, Bedmont
Barter, George, Bell, Bedmont
Chalk, George, wheelwright & Compasses, Troley Bottom
Downer, Benjamin, King's Head
Eames, James, George, Nash Mill
Hodgson, John, Unicorn, Gallows Hill
Simons, Robt, beer retailer & butcher
Slow, John, Bell, Primrose Hill
Smith, Wm. jun., Three Tuns, Nash Mill
Trapp, John, bootmaker & beer retailer
Post Office Directory, 1851