Greetings from Bushey - by S. Giles, Bushey - Posted 1906
St James, Bushey Heathbourn Road, Bushey Heath Elstree Road, Bushey Heath
Herkomer Road, Bushey High Street, Bushey Elstree Road, Bushey Heath
---
Bushey is a large village, now practically the S.E. suburb of Watford. The Station (London & North Western Railway) is in a hollow between the village itself and the High Street, Watford; cyclists must be careful of the descent towards the town. Near the centre of the village is a small green and pond, and here stands the partly Dec. church of St James, rebuilt in 1871 by Sir Gilbert Scott. The E.E. window, triple lancet, is to the memory of Edwards Marjoribanks of the Hall (d. 1879) and his wife. Silas Titus, whose name is remembered for his supposed authorship of the notorious pamphlet Killing not Murder, was born at Bushey and buried in this church; there is a headstone to his daughter in the graveyard.
Bushey Heath (1 mile S.E. from the above) is on the Middlesex border. It is now an ecclesiastical district, formed in 1889; the church, an E.E. brick structure, dates from 1838; the porches were added in 1882. The district is very healthy.
Little Bushey is E from Bushey Heath, which it almost joins.
Bushey Mill is on the river Colne, ¾ mile N.E. from Watford Junction [railway station].
Hertfordshire Little Guide 1903
---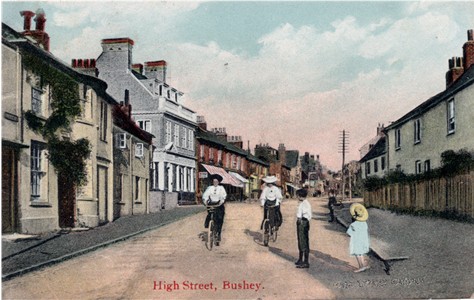 High Street, Bushey, with ladies cycling
Published by Middleton & Sons, stationers, Bushey - posted 1908?
---
Sources
Book: Bushey (in the Archive Photographs Series)
Book: Watford and its surroundings. 1906 Homeland Guide.
---
There is an attractive local museum and art gallery in Bushey, website www.busheymuseum.org. The Friends of Bushey Museum's December 2004 Newsletter gives details of a newly published book St Peters: The Church on the Heath: An Illustrated History and the web site contains details of a large number of other books relating to Bushey available by mail order.